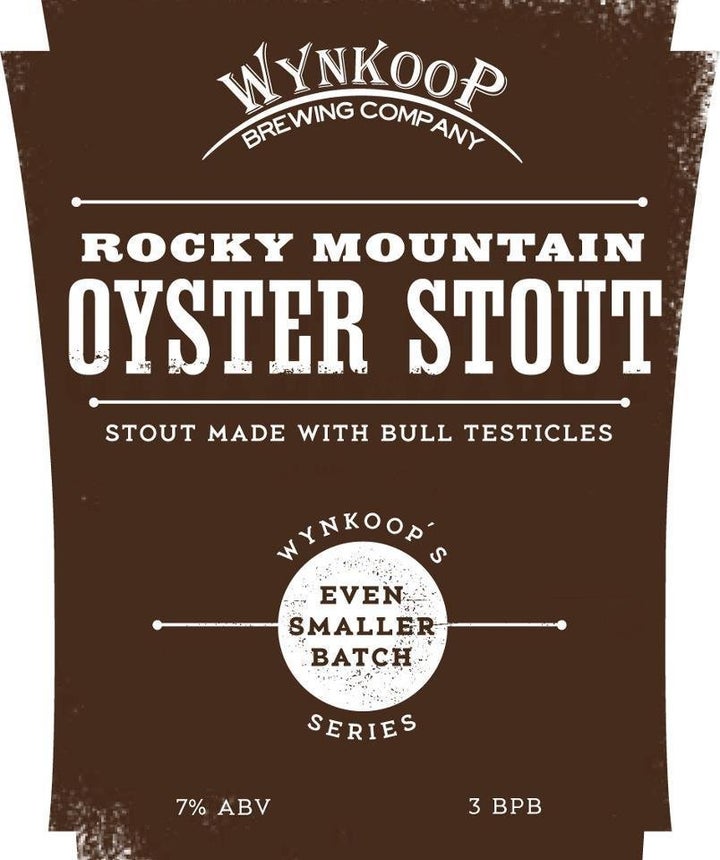 It's probably safe to assume that this ballsy new beer from Wynkoop has some nutty undertones. Okay, puns aside, what started as an April Fool's Day prank has now become a reality -- Denver's Wynkoop Brewing Company will be tapping the first keg of their Rocky Mountain Oyster Stout beer -- yes, made with real bull testicles -- Monday, Oct. 8.
Watch the original April Fool's Day video from Wynkoop, featuring head brewer Andy Brown, promoting the beer when it was just a joke, above.
Yes, the beer was inspired by our April Fools spoof video this spring, in which we claimed to have released a beer made with bull testicles.

Why actually make such a meaty treat? Months after doing the video (the idea for which hit me while sampling Odell Brewing's recent and very delicious oyster stout for Jax restaurants), we and our fans are still laughing. Very important, that laughing.

We've also met folks around the country who saw the spoof and loved it. (Hello Hawaii!)

Plus, when we sent out the press release and the video link last April, we heard from brewers and beer writers who thought the beer was for real and loved the idea. They wanted samples. So did many patrons who came to the pub to try the beer.

So we've turned our joke into a reality.
"We've been making ballsy beer for the past few years," Wynkoop brewer Brown said. "And this is great proof of that."
So, what does the bull testicle beer taste like? A Wynkoop staffer says in the original April Fool's Day video with tongue firmly planted in cheek that, "the results of our efforts is a luscious, creamy stout that delivers loads of flavor -- everything from roasted barely and coffee, to chocolate and nuts."
Rocky Mountain Oyster Stout is an assertive foreign-style stout, slightly viscous, with a deep brown color. It has equally deep flavors of chocolate syrup, Kahlua, and espresso, along with a palpable level of alcohol and a savory umami-like note.It finishes dry and roasted with a fast-fading hop bite.

The beer is 7% ABV and has 3 BPBs. That's balls per barrel.
All jokes aside, Marty Jones, head of Wynkoop marketing, says that the beer is made with "Colorado-grown base malts, roasted barely, seven specialty malts (including special B and smoked malt) and Styrian Goldings hops." Jones said that there is also an added "small dose of sea salt" which Brown says, "gives the beer an extra layer of Rocky Mountain oyster flavor and additional texture."
The beer will be available at Wynkoop next week and at their table at the Great American Beer Festival, Oct. 11-13 in Denver.
Related
Popular in the Community