A stunning new art exhibition is slated to open in Toronto this month that chronicles one artist's transition across the gender spectrum.
From artist Wynne Neilly comes "Wynne Neilly: Female to 'Male,'" a self-portrait project that documents Neilly's journey from female to "male" through "weekly photographs, recorded vocal changes, documents and objects that represent a segment or moment in his gender exploration," according to a statement sent to The Huffington Post.
The exhibit will open on July 23 at the Ryerson Image Centre in Toronto at 33 Gould Street on the Ryerson University campus. In anticipation of Neilly's opening, The Huffington Post chatted with the artist to discuss his project, what he is trying to communicate through his work and what he hopes attendees will take away.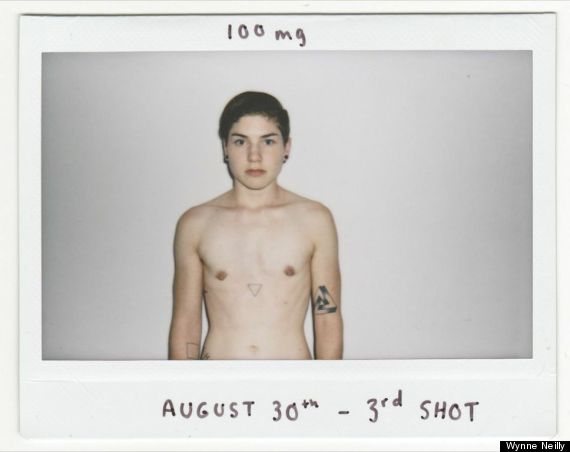 The Huffington Post: How did you get the idea for the project? Wynne Neilly: Because I am a trans identified, queer visual artist, I am always thinking about how my queer environments and experiences can be translated conceptually into art. I knew that I was going to be starting hormones and it felt like this time sensitive experience that I wanted to be able to look back on and analyze in it's entirety at some point in the future. I had been photographing the queer/trans community in Toronto for a while, but I have never had intimate access to someone's physical transition in order to document it fully. I was about to go through this "second puberty" and I knew right away that I wanted to photograph myself every week for as long as I felt was necessary. I didn't have a digital camera at the time because I had sold it perviously to save up for top surgery, so I purchased a cheap instant camera and started getting my friends or roommate to take my photo every friday (the day I administer my testosterone shot). I didn't know where the project was going when I started this routine, but my priority was being able to have access to a visual representation of these stages in my transition. At the same time I began photographing myself I was meeting with the coordinators and directors at the R.I.C. After they saw my work in progress , we all came to an agreement that it would be a good idea to go forward with this and make a multi faceted show out of my experience.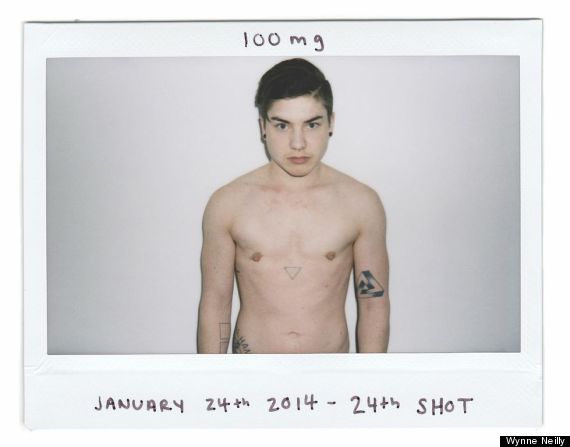 Were there any points where you wanted to stop or had second thoughts about documenting the project? Why or why not?Yes and no. I knew at the very least I would be documenting this experience for myself first as a sort of archive. I very briefly had seconds thoughts in regards to showing the work, due to receiving unsupportive and ignorant feedback from my family. At the end of the day I realized that trans representation in art is really important and the reason that I am making my experience vulnerable and accessible is to hopefully help with the very ignorance I have experienced in my own life. Receiving a lack of support from someone really only fuels the purpose behind the art that I make.
The Huffington Post: The word "male" appears in quotes. Why is this?I very strongly identify with being trans. My trans identity is not binary in the ways that society probably expects it to be. When heteronormative or mainstream society imagines a female born body transiting to a body that is perceived as masculine, there is an automatic reading of that person being "female to male" or FTM. This FTM experience might be very relatable and true for many trans people, but it is also completely wrong for others. I don't identify as being male at all. Putting it in quotations challenges what it means to be a trans masculine individual. Having "male" in the title acts to eliminate some of the stigma behind thinking there is only one way to transition, and there is only one type of trans experience.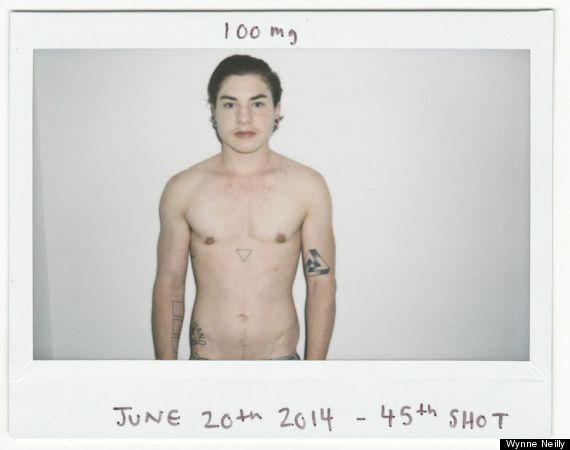 How do you feel about representations of transgender people in the media in recent months? Do you think things are getting better? What still needs to be addressed?I think that in the last little while, trans representation in the media has been both positive and negative. It is however, extremely refreshing to see women like Laverne Cox and Janet Mock having a strong voice being represented in the media in recent months. Both of these women are doing amazing and important things for the advocacy of trans rights, especially for trans women of colour because those are the people that are unfortunately targeted the most. I do think things are getting better in a lot of ways but it does not mean that we as a society are in a place of comfort. It is so important for people to understand the effect that intersectionality has on trans people and their ability to live safely and comfortably in a community where suicide, violence and unemployment rates are alarmingly high.
What role do you think art has in addressing those representations?Art can help create a common ground and an accessible platform for which mainstream society can connect with and better understand queer and trans identities.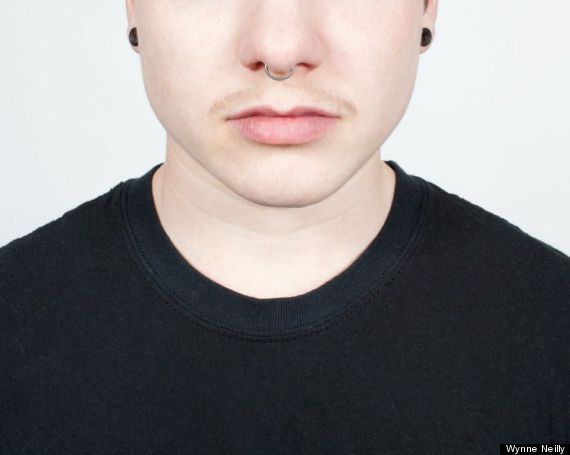 What do you hope viewers take away from the exhibition? I was talking to my roommate about my upcoming show and some of my previous work that had been shown last year and their view was that my work essentially hands the viewers on a silver platter all the information that they might not be aware of, or understand. It is important to me that the viewer can walk away from this exhibition feeling less ignorant, more educated, and can understand that this work is about MY trans experience, not all trans experiences.
Before You Go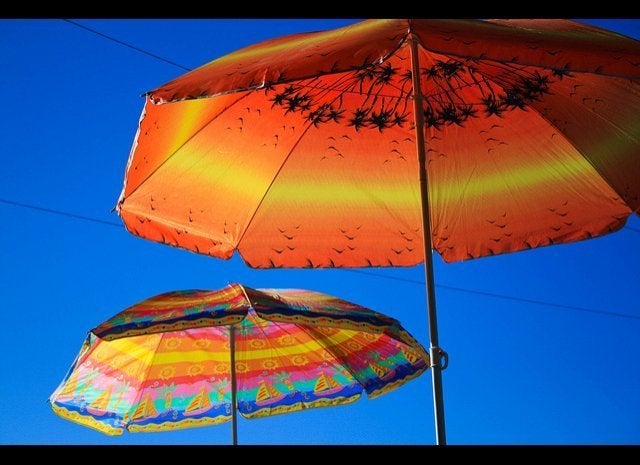 15 Things To Know About Being Transgender By Nicholas M. Teich
Popular in the Community