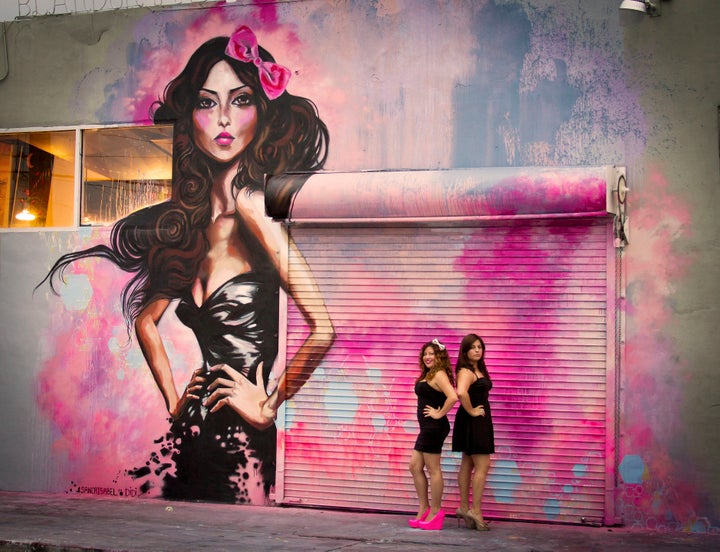 Wynwood -- Miami's freshly-anointed hipster claim to fame -- is the place for street art, and its newest resident goes by the name of "Sofia Rose."
Painted in a week by local artists Diana Contreras and Cristina Isabel Rivera, the mural adorns the wall of what will be Style CTZN at 218 NW 25th St. Store owner Ysset Boan commissioned the pair to create the image of a woman who personified strength, individuality, and just plain fun femininity.
"I wanted to communicate the message that there are female street artists, and what better way than painting a giant beautiful woman," Rivera told HuffPost Miami. "We barely slept during the week, I cannot explain the rush I felt during this creative process, it was very beautiful. I wasn't tired, I just wanted to keep planning and painting."
The two are busy: a Geisha-themed wall is in the works at the Bird Road Art District, Contreras' "Tutu Girls" series will be exhibited at Bloomingdales, Rivera is creating a documentary about the Miami street art scene, and the to-do list goes on.
Current gig:
Diana: Elementary art teacher by day and artist by night.
Cristina: I'm an artist, my passion is art in all it's forms. I practice painting, photography and film. My favorite thing to do is to combine these 3 mediums. I love collaborating with other artists.
Years in Miami:
Diana: 26 years.
Cristina: 27 years, I am a Miami native.
Favorite childhood memory in Miami?
Diana: I'm not a native but I've been here since 5. My favorite childhood memory is racing my friends to see how fast we could get to Dadeland Mall through the back, which included jumping the fence and running through the highway.
Cristina: Going to "La Esquina de Tejas" in Little Havana to have a mamey shake and croquette with my mother and sister.
Current neighborhood:
Coral Gables.
Favorite 'Only in Miami' moment?
Diana: In the parking lot of Home Depot, Cristina and I were stopped by the "Granizado" man. He was very flirtatious and funny. He let us ride his Granizado bicycle cart, take photos, and be interviewed. He said he was so in love with Cristina that he wanted to do Brujeria on her!
Cristina: Oh so many, walking down Flagler and Eighth Street is always funny and slightly uncomfortable. Men honking their horns every minute and asking if I need a new friend!
What's your idea of a perfect day in Miami?
Diana: A sunny day at the beach with good friends, eating delicious Peruvian food.
Cristina: Waking up in the morning, knocking on Diana's door to go to Latin American cafe by our house to have the cheapest breakfast. We chat over pastelitos about our ideas and further develop our work together. Painting murals make us happy, so a perfect day would be one in which we are painting together.
Prefer 395 or 195?
Both: 395
Story continues after slideshow.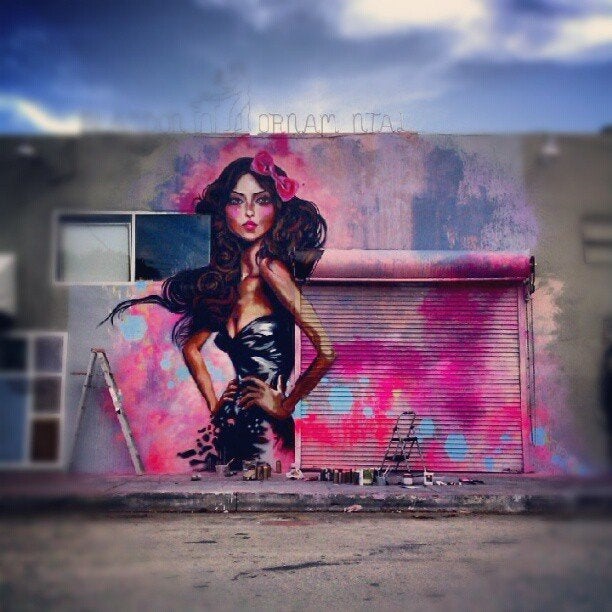 Sofia Rose Comes to Life
Where do you take out-of-towners?
Diana: Everywhere. I like to make sure they see a little bit of everything that Miami offers. South beach, Bayside, the Grove, Wynwood, Brickell, and the Everglades.
Cristina: The beaches, the galleries and events in Wynwood, art walks, local music shows at Churchills, Bardot and The Stage, and of course all the yummy Cuban restaurants on Calle Ocho.
Why do you hate Miami?
Diana: People can be superficial."Sunny place, shady people."
Cristina: The focus on material vs. substance attitude. I left Miami to live in San Francisco for five years. I absolutely loved it there but this is home, and although the people here can be this way, I would love having the chance to change their mind with my art.
Why do you love Miami?
Diana: The weather is great! Summer all around! I need to live in a tropical place.
Cristina: The beaches. I love being able to wear flip flops and go for a swim year round! And most importantly, the growing art community, this city is definitely progressing.
What are three local meals you can't live without?
Diana: Lomo Saltado, Fritanga, and Abuela Maria ice cream from Azuar for dessert!
Cristina: Pastelito de queso, ropa vieja with rice/beans and sweet plantains, and croqueta preparada.
In a word or two or three, Miami is:
Diana: Miami is...Sucia Life!
Cristina: Home, fun and loud.
How did "Sofia Rose" come about?
Diana: We knew we wanted a strong, classy, beautiful woman. I researched fashion trends for 2013 but ended up with the classic LBD. I wanted to make sure the mural would be timeless, like a Hispanic Audrey Hepburn. It took approximately seven days of painting. We had worked together on other murals but never collaborated like this! I feel this is my strongest piece and loved collaborating with Cristina.
Had you done a project like this before?
Cristina: Yes, we have a mural in the Bird Road arts district and plan on working on many more large walls! However, this is my favorite mural. I feel it delivers a powerful message to women and also communicating to male artists that we can also paint in this male-dominated area.
Since a lot of Miami street art is dominated by men, what does the addition of "Sofia Rose" mean?
Diana: It is definitely dominated by male artists, so I am happy to be adding a feminine touch to the walls. I think we are showing that women can create amazing murals just as well as men. I love hearing the comments that we are inspiring others and not just women. I am also curator of "The Good Wall" which is located at the Goodwill in Little Havana. This position has made it possible to allow more women the opportunity to paint on this wall.
Cristina: The street art scene is definitely dominated by men. Not only here but all over the world. There are only a handful of women I know that are working on walls. I hope this piece not only inspires women in Miami to create more art, paint in larger areas like walls in Wynwood and other art districts, but also to start collaborating amongst each other. I have heard incredible feedback from men and women here. Everyone I talk to seems to know about our mural and I am happy to have made such an impression on the community. Girl power
What's some of your favorite Miami art?
Diana: The Few & Far mural, Johnny Robles's Detached Woman, Krave's big booty girls, Brandon Opalka's truck, Atomik's oranges, and anything in the Rubell Family Collection.
Cristina: Street Art in Wynwood by local and international artists like Trek 6, Brandon Opalka, Pixel Pancho, Lo Castro, Lebo, GG, Elio Mercado and Roa. Besides visual art Miami is full of very talented musicians, some of my favorite local bands are Arboles Libres, Ketchy Shuby and Raffa and Rainer.
How does Miami inspire you artistically?
Diana: I am inspired by the colorful people, foods, fashion, and sunshine.
Cristina: The artists. We all know that nobody thinks about Miami's art scene except for the annual Art Basel in Miami Beach, but there are many artists working hard and collaborating to change this. Satellite art fairs in Wynwood and other art districts are growing, the scene here is definitely expanding and more artist are collaborating. There is so much talent here, it's a huge city with great opportunity. I am excited about the endless artistic possibilities and look forward to growing with my hometown.
This article has been updated to include information from the store owner.
Related
Popular in the Community