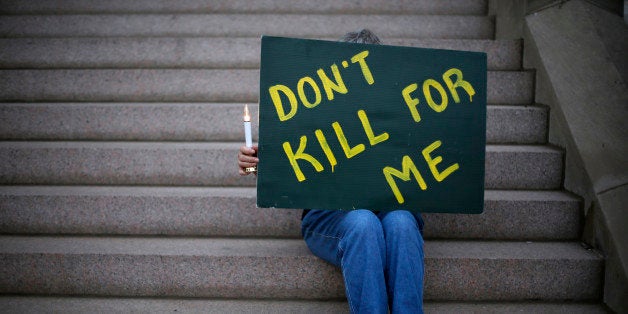 WASHINGTON -- A Wyoming legislative committee voted against a measure to abolish the death penalty last week, instead opting to endorse death by firing squad.
The state's Joint Judiciary Legislative Committee voted to support a bill that would allow the the Wyoming Department of Corrections to use a firing squad to execute an inmate if the proper drugs can't be found for a lethal injection.
According to the Death Penalty Information Center, Wyoming currently authorizes execution by gas chamber if lethal injection is ever found to be unconstitutional, but it doesn't specify what to do if the drugs for lethal injection simply aren't available.
Only two other states have provisions allowing for firing squad executions. Utah officials can execute by firing squad if lethal injection is ever found unconstitutional. It also allows inmates who chose to die by firing squad prior to May 3, 2004 to use that method. According to the Associated Press, Utah last used a firing squad to execute someone in 2010.
Oklahoma allows electrocution as a back-up to lethal injection, but firing squads can be used if both of those methods are deemed unconstitutional.
State Rep. Stephen Watt (R) was one of the lawmakers who voted against the firing squad bill last week. He was shot and seriously wounded while serving with the Wyoming Highway Patrol and said his opposition was based on his personal experience.
Want more updates from Amanda? Sign up for her newsletter, Piping Hot Truth.
REAL LIFE. REAL NEWS. REAL VOICES.
Help us tell more of the stories that matter from voices that too often remain unheard.
BEFORE YOU GO
PHOTO GALLERY
U.S. State Capitol Buildings