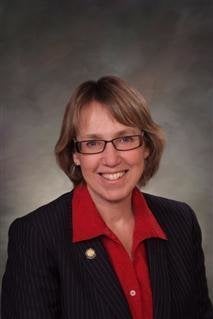 A Wyoming legislative committee voted Monday to advance a bill to legalize domestic partnership in the state, while killing a bill to permit gay marriage.
The state House Corporations, Elections and Political Subdivisions Committee issued the split decision Monday afternoon following a contentious two-hour hearing. While supporters of gay marriage described the need for Wyoming -- which is nicknamed the Equality State -- to pass the bill to ensure said equality, opponents offered a number of arguments against gay marriage, including moral and public health concerns. The gay marriage bill failed in a 5-4 vote, while domestic partnerships passed 7-2.
"Homosexual behavior is harmful to the mind, body and spirit," state Rep. Lynn Hutchings (R-Cheyenne) said.
Hutchings, who is African American, called on supporters of gay marriage to "stop carpet-bagging on our civil rights movement," saying that there is no comparison between the two. She said she rejects the comparison because she believes that people choose to be gay. Hutchings also said her ex-fiance had once been gay and decided to become straight.
Rep. Cathy Connolly (D-Laramie), the state's only openly gay elected official, told her colleagues that the legislation is needed in order to provide equality in the state. She and proponents cited a number of issues, related to end-of-life care and medical decisions as well as other, more common matters, as reasons to extend marriage to gay couples in the state.
Connolly told committee members that gay couples in the state would be able to access the state's 291 protections for married couples with the passage of either bill. Under the terms of the domestic partnership legislation, the status would also be extended to heterosexual couples in Wyoming, and to any two people who share a residence but are not romantically involved. The domestic partnership bill has been viewed as having a better shot at passage than the gay marriage bill. Gov. Matt Mead (R) has indicated he's in favor of domestic partnerships and is opposed to gay marriage.
"We are better individually and collectively when the ones we love are protected," Connolly said.
Sen. Bruce Burns (R-Sheridan), a co-sponsor of the domestic partnership bill, said that he rejects the perception that the bill is pro-LGBT, and emphasized instead the benefits the bill extends to heterosexual couples and others who co-habitate. He told legislators that his aunt has shared a house with another woman in a "platonic relationship" for more than three decades, and this bill would allow the two to legalize their relationship and make medical decisions for one another. He also noted that under the bill, two siblings who own a house would be able to enter into a domestic partnership. Legislators did amend the bill to prohibit minors from entering domestic partnerships.
Opponents centered their arguments primarily on religious, moral and health issues. In addition to her civil rights comments, Hutchings said that she opposed the bill because of AIDS cases nationally, while another witness said she has found research connecting homosexuality to higher cancer rates. She did not cite the research. A male witness raised questions about health as well.
"Anatomy is not made for two women or two men," he said. "The colon is not made for that type of behavior."
Robin Goodspeed identified herself as a "former lesbian" who has advocated for gay marriage in the past. She said she chose to become straight and that she had been a lesbian due to childhood sexual abuse. She declined to tell legislators the "horrible, sordid details of my life in the queer community."
"I chose to have sex with women," she said. "There were dire consequences for that." She did not elaborate as to the nature of those consequences.
Rep. Dan Zwonitzer (R-Cheyenne), who aired the hearing live on UStream, praised Connolly for being able to sit next to opponents during the hearing. Zwonitzer has been a vocal supporter of gay rights in the state, helping to defeat gay marriage bans in the past.

"I wanted to publicly thank Rep. Connolly," he said. "I can't believe how unimaginably horrible it would be to sit next to someone being that downright insulting. For you to sit through that, I can't believe how hard that would be."
REAL LIFE. REAL NEWS. REAL VOICES.
Help us tell more of the stories that matter from voices that too often remain unheard.
BEFORE YOU GO
PHOTO GALLERY
Gay Marriage In The United States