From my vantage point high atop a grassy promontory, there in the valley below was a majestic bull moose cautiously stepping into a fast-moving river. Mid-way to the other side, water now waist level, he paused as if contemplating whether this jaunt was worth it.
Then, sure-footed and purposeful, he trudged on. As he emerged, his shiny brown coat glistened with rivulets of water. In an instant, the 1,800 pound creature thrust himself into thick bramble and utterly disappeared. This sighting was just one of many thrills I had in the wilderness surrounding Jackson Hole, Wyoming.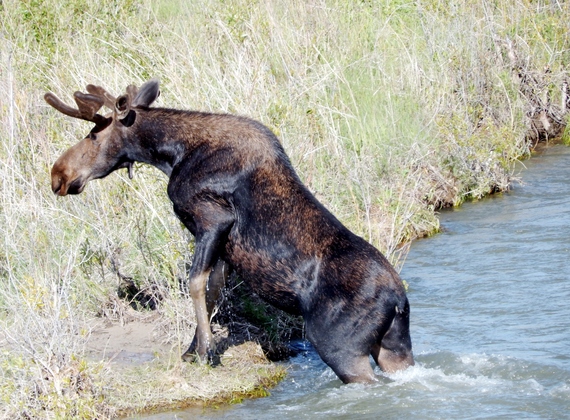 This year, Jackson Hole is celebrating its centennial. Visitors have been drawn here since the late nineteenth century as dude ranches flourished and wealthy easterners sought the rustic lifestyle of the west.
However, a hundred years ago, few people lived in this little town nestled in an isolated valley and surrounded by majestic mountain peaks. Originally, the town site was built around a square plot of land used for grazing cattle and horses. This area eventually became the town square and in 1931, as part of a federally-sponsored effort to beautify the nation, the land was filled, leveled and planted with trees.
Today, the square is on the National Register of Historic Places and one of its outstanding features is the iconic elk antler arches which make a great backdrop for tourist photos.
I checked out an authentic "western" hotel -- the Wort -- with its S-curved bar inlaid with thousands of silver dollars. I gave in to the romantic old-west atmosphere and imagined a rootin'-tootin', real-life cowboy crashing through the bar's swinging doors, throwing me over his shoulder and riding off into the sunset. (I can dream, can't I?) Another hangout not to be missed: the famed Million Dollar Cowboy Bar with its rooftop figure of a dude atop a bucking bronco. At this bar you never know who may be sitting on the next stool. Recently Sandra Bullock celebrated her birthday here with a gaggle of girlfriends.
On a somewhat more restrained note, the National Museum of Wildlife is worth a visit. Its collections include Audubon, William Merritt Chase, Georgia O'Keeffe and Andy Warhol. The town sponsors monthly art walks and it was my good fortune to be there on just the right day to visit numerous art galleries and enjoy a glass of Chardonnay with some local artists. There's a new $35 Million arts center, a Broadway-ready theater, and an international juried film festival -- important additions to this once sleepy outpost.
Answering the Call of the Moose
Spring Creek Ranch is set more than 700 feet above Jackson Hole and a mere 5 miles away. My approach to the property was over a mile of winding switch-backs through forests of aspen and pine. Finally, before me like some deliciously anticipated present, the 1,000-acre ranch itself. During my stay, I took advantage of the deep black Wyoming sky to meet Dr. Samuel Singer and his collection of large telescopes to spend an extraordinary night exploring the heavens. Another ranch special event: its Wildlife Safari Adventure (featured in 1,000 Places To See Before You Die).
Phoebe, the tour guide, is a wildlife educator, researcher and enthusiast with extensive knowledge of the area. With her expert guidance, I came across pronghorn antelope, bison, elk, and coyotes roaming wide-open plains and even a shy brown bear that, once he spied us, instantly disappeared into the brush. There was an Osprey nest comically assembled high atop a telephone pole where no predators could reach it and, thrill-city, that aforementioned, velvet-antlered moose. Spring Creek Ranch is on the Conde Nast Traveler Gold List. No surprise there.
Nowhere
Heading south out of Jackson Hole, after 30 miles I came to a fork in the road, Hoback Junction. I was told to turn left and that a further 26 miles would take me to the middle of magical nowhere, otherwise known as the Jackson Fork Ranch. The ranch, including an intimate four-bedroom lodge, is a western landscape set amidst pole pines, cottonwood, spruce and Douglas fir. Its 1,400 acres encompass a big bunk building where the workers live.
During my stay, I met several of them and got the distinct feeling that this smooth-running operation was due, in large part, to the warm, family-feel of the place. Warmth is an important factor here as the harsh winters can seem endless and, with nothing around for 50 miles, it defines the word isolation. The warm feel continues in the lodge, furnished with luxe western décor: leather, suede, Indian blankets and stone fireplaces. Lucky me -- my visit was in summer so I was able to observe birds, fish, flowers and wild animals literally shaking off their winter sleep and coming to life again.
One morning I wandered down to the Percheron horse barn and breeding area. Dallin Summers oversees this program along with his wife Megan, and the newest addition to the ranch, adorable Madison, their cute toddler. I had a carriage ride with a two-horse hitch of world-class champion Percherons sashaying down a dirt road, their long mains and tails flying merrily behind them. Later that day Alix, of Sleeping Indian Outfitters, was my guide for a horseback ride through fast moving rivers and up steep mountain trails.
Once we arrived at the peak, we stopped to take in the panoramic view before us. There was a sweet summer breeze, there were fields of pink and yellow wildflowers dotting the hills and alpine valleys - and there was I, atop a pretty chestnut steed. Exhilarating.
American Buffalo
Heart-pounding in quite another way: having a hayride on a flat-bed truck into a meadow where 300 hungry bison were waiting for treats. Yes, mammoth furry heads bobbing and soulful brown eyes gazing up at me -- expecting food! How could I refuse? Containers of round, hockey puck-like appetizers had been provided for just this moment.
Should I place the goodies into their drooling maws? Come on now! But I did place the food on the truck's edge where they easily gobbled it. The cows had given birth just a week or two before so we had the added delight of curious bison babies timidly approaching the truck. They ate out of my hand!

There are lots of things you won't find anywhere near this place. There are no souvenir shops, movie theaters, or strip malls within 40 miles. No Starbucks, no Taco Bells. Just peace, quiet and bountiful beauty. The ranch's owner, Joe Ricketts, likes to say:We have everything Yellowstone National Park has -- except the crowds!
In Jackson Hole, the Snake River journeys through the town. It is said that by such a river it's impossible to believe one will ever be tired or old. Every sense is awakened. Taste it, feel its chill. Watch its racing current, its steady renewal of force. It is transient, and eternal. I've been told that Wyoming is a true get-away, a healing place, and that it is a gift to be here. I couldn't agree more.