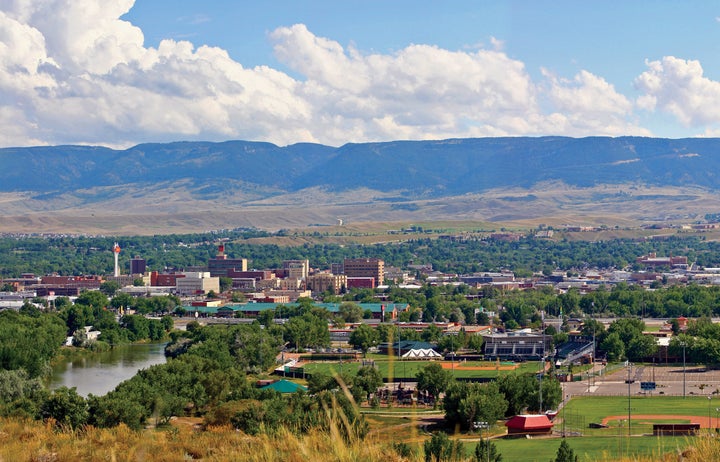 Wyoming is a proud state of just 585,000 people, and since our statehood in 1890, we've experienced 13 economic booms and 13 busts. The booms have been, over the past 75 years, largely due to natural resource growth: coal, oil and gas, etc. The busts have been caused by plummets in commodity prices and production levels for these sectors.
Casper, geographically situated as Wyoming's central economic hub, historically has been an energy center ― good-paying jobs matched by good times. But when times have been bad, there has been no backstop or other economic engine.
Today, the times are changing. Casper's downtown has seen amazing turnaround in just the past four years. The root spark plug has clearly been young professionals and millennials. They like Casper's lifestyle. And why shouldn't they? The outdoor recreational opportunities are A+. We have Casper Mountain, with both downhill and cross country skiing; hiking and mountain biking trails galore; blue-ribbon fishing on the North Platte; Alcova Lake; and 10 miles of paved biking/walking trails along the Platte.
These amenities are notably accessible within 30 minutes of drive time. Even more importantly, they are the result of community engagement and private/public partnerships. "Volunteer strong" are the operative words. Rotary Park on Casper Mountain is an example. Rotary's committee is 57 strong. On any given Saturday, 25- to 75-year-olds will be building trails and constructing information trail maps and kiosks, armed with bobcats, shovels and wheel barrels. Plus donuts, coffee and much comradeship.
But beyond outdoor recreation is the latest vibe: Casper's downtown. In the past four years, six new restaurants, plus a brewery and an outdoor gathering place for concerts, etc., have enhanced the dynamic energy of an already loved downtown. All of this can be found within three blocks of our downtown's center. The suburban out-movement has stopped, and millennial energy has driven synergy to Casper's downtown. 
HuffPost is hitting the road this fall to interview people about their hopes, dreams, fears ― and what it means to be American today.
Out of hardship and tough economic swings, Casper ― and Wyoming ― are emerging with their sights on new economics, new entrepreneurship and new beliefs that, "Yes, we can."
At the state level is a "global" framework: ENDOW (Economically Needed Diversification Options for Wyoming). This effort has been driven by Governor Matt Mead with full legislative support. The purpose is to develop a 20-year economic diversification plan for Wyoming.
Planning attempts have come and gone in the past. Most were top-down and set in the timeframe of a governor's tenure in office. ENDOW is different, with grassroots-up, diverse citizen voices and a 20-year reach.
"Will it work?" was the question asked at a recent civic organization meeting in Casper. The answer was definitive. Wyoming and cities like Casper have no choice. Minerals revenue and trickle-down buying power are stalled and slumping. Wyoming's future must ― and will ― depend on innovative gumption. The essentials include: great broadband, superlative education, vibrant downtowns, entrepreneurial eco systems, seamless internships and professional mentoring for people ages 14 to over 30.
Wyoming has a friendly factor. During the eclipse of 2017, thousands of out-of-staters descended on Wyoming and Casper. Here in Casper, the town was rocking! Locals were proud beyond imagination to hear over and over again "what friendly people live here" and "what a great town... the downtown, the mountain, Alcova, the river and, most of all, friendly and caring people."
Casper and Wyoming are anything but backward, ho-hum places. Each define "what America was and should be." Volunteer strong. Supportive of one another and strangers, too. Prepared and ready for the future.
REAL LIFE. REAL NEWS. REAL VOICES.
Help us tell more of the stories that matter from voices that too often remain unheard.