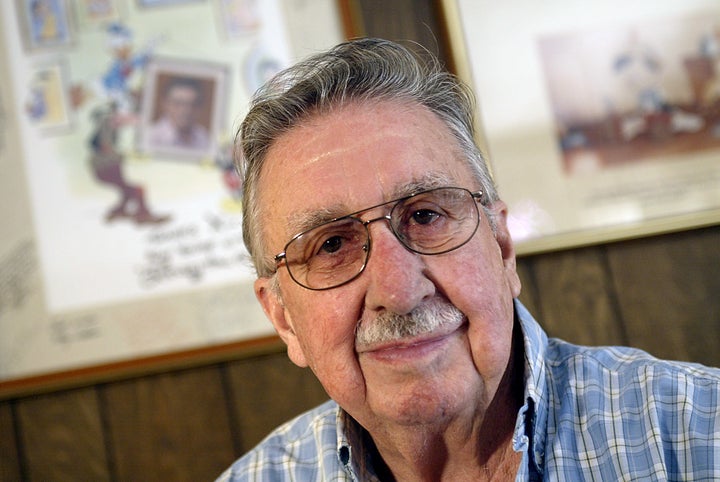 Xavier Atencio, the Disney Imagineer who helped bring to life iconic theme park attractions such as Pirates of the Caribbean and the Haunted Mansion, died on Sunday. He had just turned 98.
Known as X Atencio, his legacy went beyond what visitors viewed on the rides. In addition to the scripts for the Pirates and the Haunted Mansion attractions, he also wrote the lyrics to their memorable songs: "Yo Ho (A Pirate's Life)" on Pirates (music by George Bruns), and "Grim Grinning Ghosts" on the Haunted Mansion (music by Buddy Baker).
"Some may not know that when he wrote the lyrics for 'Yo Ho' he had never actually written a song before," Bob Weis, president of Walt Disney Imagineering, said in a statement. "He simply proposed the idea of a tune for Pirates of the Caribbean, and Walt told him to go and do it."
Born Francis Xavier Atencio on Sept. 4, 1919, he joined Disney in 1939 and worked on several movies, including "Pinocchio" and "Fantasia," before his career was interrupted by World War II, when he joined the Army Air Corps.
After the war, Atencio returned to Disney and lent his artistic talents to TV shows like "The Mickey Mouse Club" and "Walt Disney's Wonderful World of Color." He also helped to create the stop-motion sequences in the title scene of the 1961 film "The Parent Trap" and in the "Spoonful of Sugar" scene in the 1964 movie "Mary Poppins."
In the mid-1960s, Atencio's career changed course when Walt Disney called him into his office and asked him to join the Imagineering unit that created theme park attractions.
Atencio had never written a script before the Pirates assignment.
Pirates was the last ride that Disney would directly supervise. Disney died on December 15, 1966, just three months before the attraction opened. But Atencio helped him to experience it in a way.
In an interview with D23, Atencio recalled:
"We mocked it up on a soundstage in full size and we pushed Walt through it, we rigged up a cart that moved about the same pace the boat would and we moved him through and we had the Auctioneer up here and he said, 'What do ye offer this buxom wench?' and on the other side a pirate yells, 'Six bottles of rum, etcetera, etcetera.' But it was hard to hear, and I said, 'I'm sorry Walt you can't hear stuff too clearly.' And he said, 'If you go to a cocktail party you tune in on one conversation, and then you tune in on that one. Every time they come through they'll see something new.' And I thought, 'Why the heck didn't I think of that?'"
After Pirates, Atencio penned the dialogue for the Haunted Mansion ride as well as its signature song.
While many of the rides Atencio worked on were later modified and updated, his voice can still be heard in several places, especially in Disneyland.
When the Haunted Mansion breaks down, it's Atencio who tells riders that "playful spooks have interrupted our tour."
It's also his voice crying out from a coffin: "Let me out of here!"
In the Disneyland version of the Pirates ride, Atencio's voice still greets guests as a talking skull that appears before the drop.
"Pssst! Avast there," the skull calls out. "It be too late to alter course."
Atencio's skull also has one of the ride's most famous lines: "Mark well me words, mateys: Dead men tell no tales."
On the east coast at Walt Disney World, Atencio worked on the If You Had Wings and Space Mountain rides at the Magic Kingdom along with three attractions at Epcot: Spaceship Earth, World of Motion and the Mexico pavilion.
Although he retired in 1984, Atencio remained with the company as a consultant and was a popular speaker at both Disney events and expos. He was named a Disney Legend in 1996.