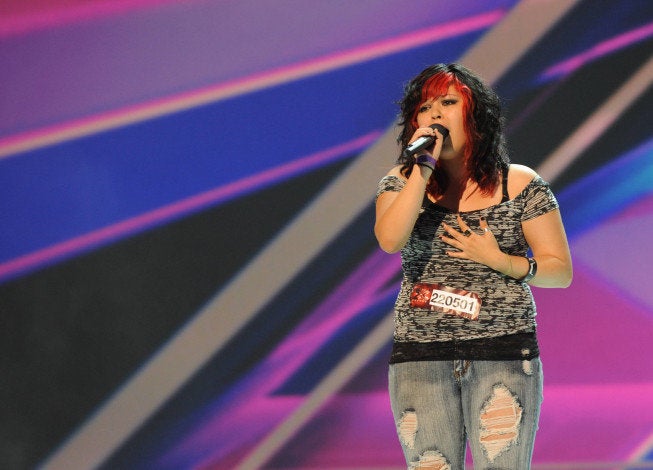 We kicked off episode 3 of "X Factor" in Kansas City, where the big news in the arena was that poor, delicate Simon Cowell was feeling under the weather and was skipping the auditions, presumably to roll around on a bed covered in $100 bills.
In his place, the cruel and capricious mentor sent Louis Walsh, the diminutive Irish entertainment manager who has judged the British version of "X Factor" since its creation in 2004. He is, as UK fans can attest, far more obnoxious than Simon, so feel grateful that he was only drafted in for the Kansas City round. (I bet you were all just admiring his accent, weren't you?)
Then we headed back to San Francisco and Austin with Simon, where the editors decided to make up for the lack of snark in the first hour by selecting some of the Englishman's most scathing remarks for part two. And yet ... we saw more good performers in this two-hour installment than in the both premiere episodes combined.
Vino Alan: "Trouble"
The 39-year-old musician had a beautiful graveled tone as he tackled the Ray LaMontagne number, with a soulful raspiness that instantly had the crowd engaged. Though Britney didn't approve of the tattoos all over his head, all four of the coaches responded to the rawness of his voice.
Coaches' verdict: Yes x 4. L.A. admitted that he was prepared not to like it, but heard something unique in his voice. Louis said he had great stage presence and "something very interesting." Britney said "I was inspired, I think you're very good." Demi agreed, "There's something I haven't heard in this competition yet." (Later, another singer called Brandon Hassan also nailed the song in Austin -- it was clearly a lucky track.)
Tate Stevens: "Anything Goes"
The 37-year-old road worker came complete with cowboy hat and country twang, but joked about loving rap when the coaches asked what style of music he liked to sing. Luckily, his voice was as good as his sense of humor -- he had a smooth, deep tone and nailed the Randy Houser number. He even earned the first standing ovation of the night from the crowd.
Coaches' verdict: Yes x 4. "I love your voice, I'm so excited to have seen you perform today," Demi gushed. "You've got an amazing, authentic, effortless country voice," Louis agreed. "You're my favorite so far," Britney said. "I'm only mad at you for waiting so long to do what you're doing -- you're the best thing we've seen in this town," L.A. told him.
Diamond White: "It's a Man's Man's Man's World"
This cute as a button 13-year-old described her apartment as a shoebox and said she wanted to succeed to help both herself and her mom. Simon refused to hear any more Adele songs, so she chose to tackle the James Brown classic, after being warned by the grumpy Brit that she needed to be fantastic. She wasn't quite fantastic, since she hit some flat notes throughout, but considering the complexity of the song and her age, it was an impressive performance.
Coaches' verdict: Yes x 4. Demi praised her ability to work the stage and said she had the X Factor. Britney said she totally rocked, and Simon said she was "incredible."
Ally Brooke: "On My Knees"
This effervescent student reminded me of Nicole Scherzinger, but I didn't hold that against her. She was drowned out by the music in places, but gathered strength as she went. It was a quiet but controlled performance, hitting some amazing grace notes, and the crowd and judges seemed to be with her all the way through ... and then she wouldn't. stop. singing.
Coaches' verdict: Yes x 4. When Simon finally got her to shut up, L.A. praised her "special voice" and said he was impressed. Demi said Ally blew her away. Britney said she should be on Broadway because her voice had "such a theatrical dynamic" (veiled insult?) while Simon said they were looking at a future star.
Sister C: "Hell on Heels"
The creatively titled trio of sisters with C-names tackled the sassy Pistol Annies number with surprising swagger, harmonizing beautifully and easily charming the judges with their country twang.
Coaches' verdict: Yes x 4. "I've been looking for a group like you for a long time," Simon admitted.
Jeremiah & Josh: An original number called "Now Life Starts"
We didn't hear much, but the guys were easy on the eyes and harmonized well, and Britney and Demi were certainly impressed.
Coaches' verdict: Yes x 4. "Your voices are magical ... I wish you could wake me up in the morning," Britney swooned, going beet red when Simon pointed out her fiance was in the audience. "Singing!" she insisted.
Panda Ross: "Bring It On Home"
The 42-year-old barista was in the hospital with pneumonia the day before she auditioned, but was determined to show up -- mostly because she wanted to seduce Simon. Her voice was bluesy and soulful, and she used the lyrics to promise to buy jewelry for Simon, which was worth the price of admission alone.
Coaches' verdict: Yes x 4. "I can't deny how good that was -- you moved this room," L.A. said. "I loved every bit of it," Demi agreed. Britney called her charming and hilarious, while Simon, her future husband, said that she sounded like a legend. "I absolutely love you. I've always wanted a panda." Of course, after the adrenaline wore off and she was backstage basking in the afterglow, her pneumonia flared back up and she was taken out by paramedics with an oxygen tank. Thankfully, she seemed to be in good spirits even as she was lifted into an ambulance, so we hope she's back to full strength for boot camp.
Jessica Espinoza: "Nobody Knows"
A charming 22-year-old from the South Side of San Antonio, Jessica had clearly been through a lot of struggles, but didn't have a pity-party over it, which made her all the more endearing. She clearly felt every word of the Pink number, with a raw and raspy tone that had Britney and Demi tearing up.
Coaches' verdict: Yes x 4. "Wow, you are really special," L.A. declared. Britney said she has a strong voice that she loved. Demi called her amazing. Simon did his "I didn't like it ... I loved it" shtick, calling it his favorite audition of the day.
Citizen: "Don't Let Go"
A super cheesy boy band who had their own motivational speech that actually included the words "we are one, we are CITIZEN." They picked a dated En Vogue number, drowned it in vibrato and then shouted through it. Simon looked as if he was in danger of slipping into a coma throughout, but the crowd cheered because they were all pretty.
Coaches' verdict: Yes x 3, a no from Simon. "Great song choice, great arrangement," L.A. enthused, while Britney decided it rocked. Demi said she loved their harmonies. Simon rightly deemed it 10 years out of date, saying the vocals were out of tune. I don't care what the other judges said, I'm with Simon -- they were bland and mediocre, so they're in my bad column. If they make it through the coaches' houses round, it'll only be because there were too few groups to choose from.
CeCe Frey: "Unchained Melody/Ain't No Other Man"
This week's token bitch, CeCe roamed around and antagonized the competition, insisting that no-one else in Kansas City was as good as her -- which, given "X Factor" history, either meant she was terrible or obnoxiously good despite her awful personality. She "CeCe-fied" the Righteous Brothers classic, which apparently meant singing it exactly as it was originally arranged, but flatter and with less personality. The coaches stopped her midway through the first verse, allowing her to switch to the Christina Aguilera track instead. That was better, although she kind of sounded like Christina karaoke, with all the obnoxious vibrato and half the range. She certainly had the attitude and stage presence to pull off the energetic song, though.
Coaches' verdict: Yes x 4. Louis called her talented and ambitious, Britney said she was "the whole package," L.A. admired her style and attitude, Demi said her attitude was "awesome." Because the music industry totally needs another diva ...
Deangelo Wallace: "With You"
Backstage, the 19-year-old student declared he was better than Britney, and certainly wasn't lacking in confidence ... sadly, he was entirely lacking in talent. The coaches all left the table in protest, which sadly allowed the delusional contestant to keep singing. To compound matters, Deangelo decided to steal his microphone (worth around $3000) when he left the arena. Needless to say, he exited the competition in a cop car, not a stretch limo.
Rizzloe Jones: Freestyle Rap
Blond and baby-faced, this 18-year-old student looked more like a boy band reject than a rapper, and the coaches were understandably dubious when he announced that he would be making up a rap on the spot. He certainly had the ability to spit with speed, but half of the time his words were indecipherable and the few rhymes I could make out seemed to be "you know it" over and over again. Maybe he has more ability when he has the time to write his own lyrics, but speed does not equate to quality in my book.
Coaches' verdict: Yes x 4. The crowd loved it and so did the coaches. L.A. said he liked Rizzloe's flow, calling it "really good." Louis noted that he lit up the room. Britney called him a "Young Vanilla Ice," and seemingly meant it as a compliment, while Demi said he surprised and impressed her.
Who was your favorite performer of the night?
"The X Factor" airs Wednesdays and Thursdays at 8 p.m. ET on Fox.
REAL LIFE. REAL NEWS. REAL VOICES.
Help us tell more of the stories that matter from voices that too often remain unheard.