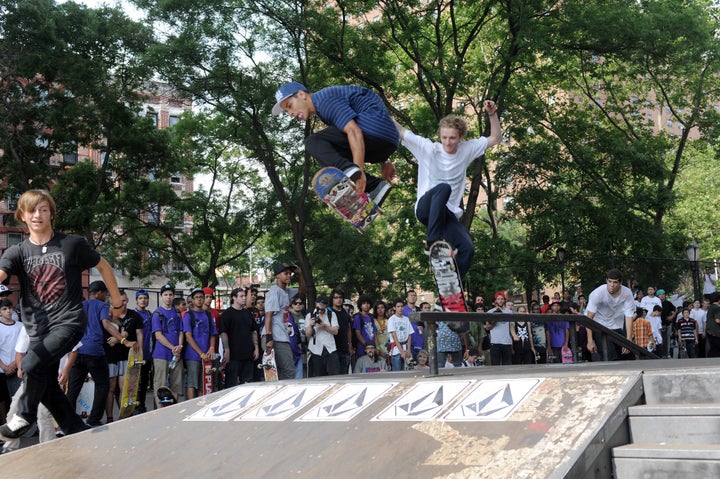 This weekend in Los Angeles, 20 professional skateboarders will take turns speeding down steep ramps into the tortuous terrain of a skatepark. In front of a few thousand spectators and ESPN's cameras, they'll leap down stairsets, grind along rails, fly off the lips of quarter-pipes and ramps. The winner will roll away with an X-emblazoned gold medal, the sport's version of a World Series ring or a Lombardi Trophy.
The X-Games are now in their 17th year, and partly due to the publicity that they generate, there are now some 13 million skateboarders in America. It wasn't so long ago that the sport was considered a fad -- the athletic equivalent of feathered hair or Jellies. According to at least one survey, it's now the third-most popular sport for American teenagers, behind football and basketball. Not even the national pastime has as many young participants.
The sport's rapid growth has not been without its hitches, though. Many skaters now feel that there's been a decline in "skateable stuff." In the early '90s, the plaza of an average office building was a skater's paradise of rails and ledges. Not anymore. New buildings are often "skateproofed," and security's gotten tougher. And there aren't enough skateparks.
As the sport's popularity has grown, so has the prevalence of the skatepark. Since legislation in the '90s that cleared cities and municipalities of liability for skating injuries, the number of skateparks has increased dramatically; still, the country's 3,000 or so skateparks aren't cutting it. As the sport has evolved, city governments and police departments have increased their enforcement against skating in the streets, slapping some skaters with hundreds of dollars in fines. Some members of the skating community worry that the fear of a criminal record might drive away potential skaters.
Among them is Steve Rodriguez, a veteran skater and founder of 5boro Skateboards Company in New York. On a recent evening at a skatepark in Manhattan's Lower East Side, Rodriguez, dressed in a black T-shirt, shorts and skate shoes, performed a smoothly executed sequence of flip tricks and grinds after a long day at the office. At 40, Rodriguez is an elder of the sport. Asked about the initial crackdown by security guards and cops on skaters, he recalled a time in the '90s "when every security guy in Midtown New York had a pitbull and mace." Unless skaters were prepared to gamble their hides against a guard dog's bite, they would have to accept that most of the spots they used to frequent were now off-limits. According to Rodriguez, that was a risk that many skaters weren't willing to take.
Rodriguez is one of many seasoned skaters who have used their success to pave the way for up-and-comers. Six years ago, when city officials planned to demolish the Brooklyn Banks -- a run of ledges and embankments under the Brooklyn Bridge that many regard as one of the best skate spots in the world -- he stood before city officials and convinced them to keep it, promising that skaters would even help to keep it clean.
"If you don't speak their language and know how to play the political game, it won't get done," he said. He suggested presenting them with a gentle ultimatum: Make it a skatepark and they'll stay there. If not, they'll be in front of your apartments.
"It's space that no one wants, so why not make it a place to skate?" he added.
After saving the Banks, Rodriguez began pressing his new friends in the city government to build more skateparks. He worked directly with city planners on the design of each park, ensuring that every ramp and rail was positioned to create the smooth 'flow' craved by skaters. They've built four parks altogether and are planning a fifth. Though not all of his plans have come to fruition, Rodriguez says he can't slow down. Skating, he explained, "gave me my friends, my business and my life."
"Someone told me, 'It's not what you've done, it's what you're doing,'" he said. "Why should I stop?"
New York skaters' efforts to petition their city for new parks aren't unique. For years, the flat soles of Vans and DC skate shoes have grazed the cold floors of city halls around the country. Too often, though, the kids in those shoes don't have someone like Steve Rodriguez to help them in their struggle to be taken seriously by the suits who sit across from them in hearings.
Enter Tony Hawk, the sport's biggest star. After the 1999 X-Games (exactly 12 years ago on Wednesday), where he landed the coveted and elusive "900" (two-and-a-half spins off the lip of a half-pipe), his long, narrow and always-smiling face became that of the sport. His popular video game series brought the sport into living rooms from rural Kansas to Shanghai. If you ask your grandmother who Tony Hawk is, she just might know -- and that's one reason why he decided to start the Tony Hawk Foundation. A city official with doubts might be inclined to take a skatepark proposal more seriously if he sees Hawk's million-dollar name on a list of sponsors.
One of Hawk's goals is to provide grants to communities that are trying to build skateparks in low-income areas. According to Hawk, when a group of skaters can show an endorsement from his foundation, it will usually "resonate through city council" and even lead to more parks being built in the future.
"Sometimes you see a city that resisted a park and they finally submit to it thanks to all of the community's effort," Hawk explained to The Huffington Post. "And then they'll build a park just outside of town or in a part that isn't really too desirable. But then they realize how much it gets used and how much of an attraction it becomes, so they almost always build another one. They end up seeing that, from a sports perspective, a skatepark gets used all day long when tennis courts and football fields might be empty."
As a kid, Hawk grew up near the iconic Del Mar Skate Ranch in Southern California, one of few parks that remained open in the '80s after many closed their gates. The hours that he spent practicing airborne 'grab tricks' and 'inverts' in the park were instrumental to his successful career. He says he wants to give kids in neighborhoods without skateparks -- particularly low-income neighborhoods -- a chance at success.
"I want to have their back as best as I can, not just to become a professional, but to also give them a feeling of self-confidence and help them feel that their community has looked out for them," he said.
In every biannual cycle of grants, the Tony Hawk Foundation filters through hundreds of requests. Projects that make the final cut can receive anywhere from $1,000 to $30,000. According to the foundation's website, four million people use the parks that they fund each year.
Since its inception, the sport has endured just as many face-lifts as it has occasioned face plants. Just as the round-nosed skateboards of the '80s have become relics of skateboarding's past, modern-day skateparks might soon be considered outdated. Rob Dyrdek, a professional skateboarder and star of MTV's "Fantasy Factory," heads a foundation that doesn't yet boast the numbers of Hawk's, but his vision for skate plazas might be the way of the future.
Instead of providing grants, the Rob Dyrdek Foundation works closely with city governments to build fully skateable, yet aesthetically pleasing plazas. These plazas don't look like skateparks -- they look like plazas. They have park benches, planters and handrails instead of quarter-pipes, bowls and "funboxes." The idea is to replicate street-skating in an environment that doubles as a community area while it provides a "safe and legal place for skaters to enjoy the sport they love."
"One of the misconceptions about street-skating is that the allure of it is because it's illegal," Dyrdek said. "It's not."
He insisted that most kids wish they had a place where they could skate all day without getting hassled. "But it's very rare," he said. He also says that public architecture has evolved in a way that discourages the sport. He believes his skate plazas will sustain street-skating as options become more limited.
"It's not like there's an abundance of skateable stuff now. Skating in the real streets used to be like a vast ocean of beautiful, tasty water," he said. "Now it's all these scattered, muddy holes. Everything's all dried up.
"Not only are these places giving kids a safe and legal place, but it's absolutely necessary for the future of the sport," he added.
As more skateparks and plazas pop up in communities nationwide, so do opportunities for skaters to hone their skills without worrying about getting in trouble. According to Hawk, skating in a controlled environment that's designed for the sport makes you a better skater.
"If you look at the skaters who are generally more hardcore street, they have somewhat limited skills because they're only focusing on a certain type of skating or certain type of obstacle," he said. "The kids in skateparks are the ones that end up being more successful. They can skate anything. If they're doing an exhibition, nothing's off-limits."
Stating that he would never want to put his name on anything that isn't "100 percent right for the infrastructure of skating as a whole," Dyrdek believes that, given the proper facilities, young skaters will contribute to the sport's evolution.
"The core value that makes skateboarding so crazy is that it's limitless by design," he said. "The things kids are doing now are things that an elite pro wouldn't have been able to land one time out of 500 tries back in the day."
"It's an unbelievable progression," he said. "There's no way it's going to stop."