Today in shocking Rotten Tomatoes scores: "X-Men: Days of Future Past" has a 93-percent positive rating on the review aggregation site. For comparison's sake, that's better than not just "Captain America: The Winter Soldier," "Godzilla" and "Neighbors," but even Wes Anderson's "The Grand Budapest Hotel." Critics love this thing? Which is a surprise, considering the mostly muted response to the months of "X-Men: Days of Future Past" promotion in online circles. But here we are: Bryan Singer's film is the seventh in the "X-Men" franchise, and by most accounts, one of the best. (The embattled Singer is expected to direct "X-Men: Apocalypse," the eighth "X-Men" movie, but nothing is confirmed just yet.) Why does "X-Men: Days of Future Past" work? Ahead, the four most effective parts of the latest superhero blockbuster.
"I Don't Want Your Future!" aka James McAvoy Rules
There are a lot of actors in "X-Men: Days of Future Past." Famous ones, too: Hugh Jackman and Halle Berry; Sir Patrick Stewart and Sir Ian McKellen; Ellen Page and Jennifer Lawrence; Peter Dinklage and Michael Fassbender. But of all the names, it's James McAvoy who stands out most. Not only does he have the film's money line -- "I don't want your future" might be the new "I don't want your life" -- but he's just really great. Here's Matt Patches, writing for VanityFair.com: "His version of Charles Xavier dips his toes into absolute darkness, making us wonder if there's anything McAvoy isn't capable of."
Quicksilver Is Awesome, Despite That Fast-Food Commercial
People straight-up hated the way Evan Peters' Quicksilver looked in "X-Men: Days of Future Past," and that was before his image was used to sell cheeseburgers. Who, then, could have guessed that Quicksilver winds up being a real highlight of "Days of Future Past"? Peters' incarnation of the character appears briefly in the film, but it's a memorable moment: He helps Wolverine, Professor X and Beast break Magneto out of a prison cell underneath the Pentagon. (Magneto is there because he's accused of assassinating President John F. Kennedy, of course.) While Jim Croce's "Time in a Bottle" plays on the soundtrack, Quicksilver takes ownership of "X-Men: Days of Future Past" in a sequence that combines comedy, action and technical wizardry. It's a true "wow" moment, and possibly the best single scene in a superhero movie released this year. (Sorry, "Captain America" and "Amazing Spider-Man 2.")
"X-Men" Shares A Music Cue With One Recent Best Picture Nominee
Three's a trend, so we're still one movie away from Eartha Kitt's version of "C'est Si Bon" having an official comeback. Still, after Martin Scorsese used the track in "The Wolf Of Wall Street," Kitt's song is featured in an "X-Men" scene involving Jennifer Lawrence and a rocking 1970s outfit.
The Ending Has Us Excited For The Days Of Future (Past)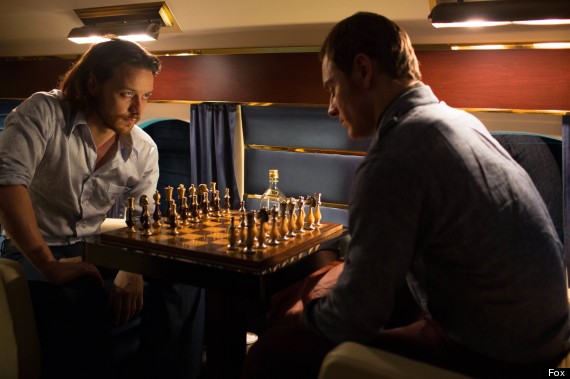 No spoilers, but "X-Men: Days of Future Past" ends in a way that resets much of what has already happened in the "X-Men" films, setting up potentially fascinating prequels and sequels in all directions. We look forward to seeing what happens when Professor X and Magneto head to the 1980s -- "Miami Vice" clothes! -- but your mileage may vary.
REAL LIFE. REAL NEWS. REAL VOICES.
Help us tell more of the stories that matter from voices that too often remain unheard.
BEFORE YOU GO
PHOTO GALLERY
Celebrity News & Photos