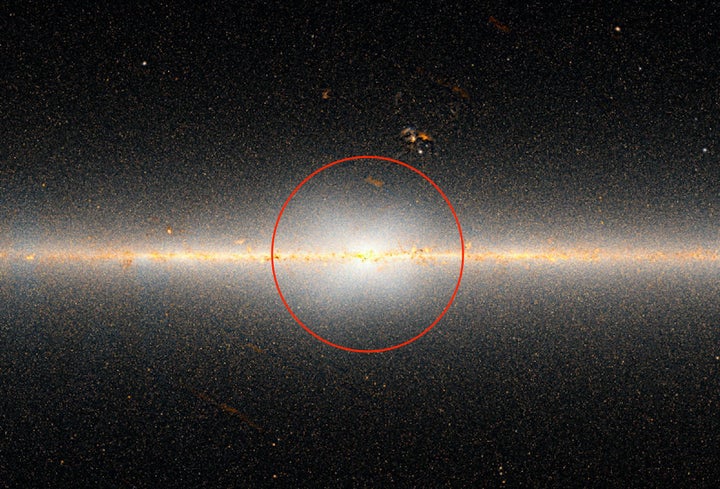 What started out as a map of the galaxy that an astronomer shared on Twitter led to a collaboration that found strong evidence of a huge X-shaped structure formed by stars at the core of the Milky Way, according to the Jet Propulsion Laboratory.
Dustin Lang, an astronomer at the University of Toronto's Dunlap Institute for Astronomy and Astrophysics, tweeted an image from a website he created last year using data obtained by NASA's Wide-field Infrared Survey Explorer space telescope, or WISE, which surveyed the entire sky in 2010. 
The following image shows, at left, the WISE space telescope during its 2009 assembly at the Space Dynamics Laboratory in Logan, Utah. At right, an illustration of the telescope as it surveyed the entire sky in infrared.

Lang's tweet showing an image of the WISE sky was spotted by Melissa Ness of the Max Planck Institute for Astronomy in Heidelberg, Germany.
"Scientists on Twitter often share sneak peeks of interesting results or pretty pictures," Lang said, according to CNN. When Ness saw Lang's sky view on Twitter, she noticed something special about a group of stars at the center of the galaxy that form a bulge shape.
"It was simply the most fantastic image of the Milky Way bulge that I had seen," Ness said. "I studied the bulge for my Ph.D. and so was well aware that there are numerous works and data that demonstrate that there is an underlying X-shape in the bulge. But with that image that Dustin had made, we were clearly seeing this X-shape directly in a real image of the inner region of the galaxy for the first time." 
A few weeks after they shared emails about the significance of the X-spot, Lang and Ness met at a conference in the U.S. and embarked on a real study of the X grouping of stars.
In order to reveal the actual X shape at the galaxy's center, the scientists used original WISE imagery "and subtracted a model of how stars would be distributed in a symmetrical bulge," according to NASA. The remaining X leftovers are seen in the following image: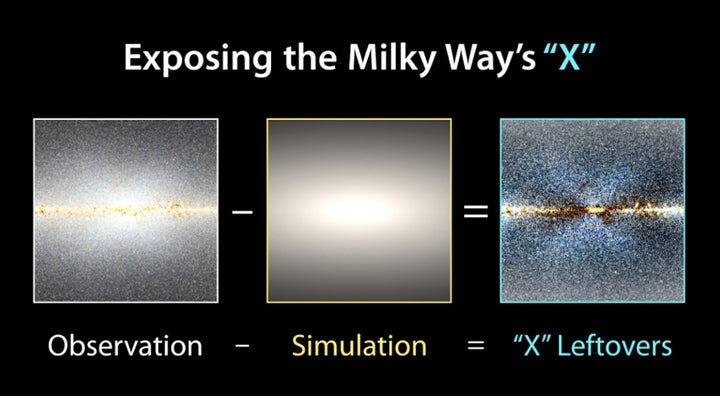 "There was controversy about whether the X-shaped structure existed," Lang said in a University of Toronto statement. "But our paper gives a good view of the core of our own galaxy. I think it has provided pretty good evidence for the existence of the X-shaped structure."
This central bulge of stars further increases knowledge of the galaxy we call home.
"The bulge is a key signature of formation of the Milky Way galaxy," Ness said in the University of Toronto release. "If we understand the bulge, we will understand the key processes that have formed and shaped our galaxy." 
As treasure hunting goes, X really does mark the spot ― even an astronomical one, right here in our own galactic backyard.
Calling all HuffPost superfans!
Sign up for membership to become a founding member and help shape HuffPost's next chapter
BEFORE YOU GO
PHOTO GALLERY
How The Sun Looks From Other Planets