Get Your Slice of the Big Apple Here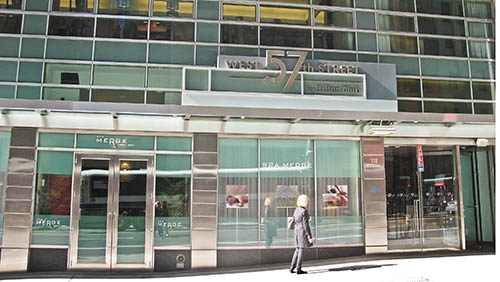 They said it couldn't succeed. Timeshares and vacation club memberships? Never. Not in New York City, the town where cultural events and symphony concerts trump roller coasters and theme parks.
Then Hilton rolled the dice and made it happen. Now less than two years old, West 57 Street, Hilton's first dedicated timeshare property in Manhattan is a success story with 80 percent of its vacation weeks sold to eager visitors. Non-owners -- as I was on a recent visit -- can book a room if and when it's available. But most guests are owners. Listening to the elevator chatter, as current and prospective owners ride up to 28 floor or down to the lobby level on their way to a museum or the theater, it's apparent that owning a slice of the Big Apple has paid dividends.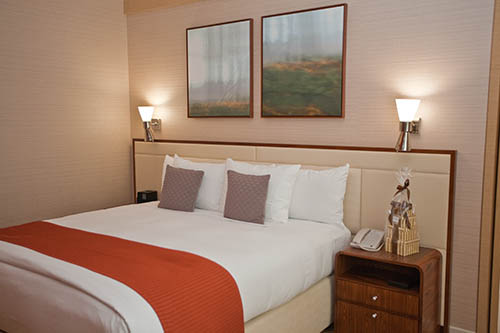 "We've stayed at a half-dozen New York hotels over the years," said an older couple in evening clothes talking to two forty-something sisters in running shoes. "This works much better. It's like having our own place in town, but with no maintenance or headaches. And it's a good investment," she said.
"Off-season weeks are cheaper, so that's when we bought in," replied one of the sisters. "But we like autumn better anyway, when Lincoln Centeris in the middle of their concert season, and it's easier to get tickets to Broadway shows."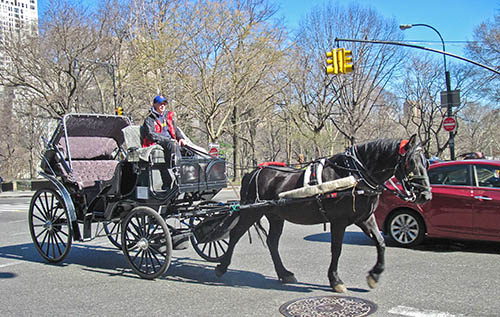 Unwilling to refit an existing structure, the Hilton development team chose a building site at one of Manhattan's most exclusive addresses, within walking distance of Fifth Avenue and Central Park. Then, aiming for a blend of luxury and privacy, they tucked the property between two other inconspicuous buildings. If you were walking by you'd never notice the entrance hidden behind a pair of unobtrusive glass doors manned by equally unobtrusive doormen.
Nor does the lobby, consisting of staff desks and two elevators, reflect the relatively high levels of service, convenience and comfort that West 57 provides. The staff at the reception desk, on duty 24-7, remember your name, your unit and your travel dates. The concierge offers city maps and directions, and books restaurant reservations and Broadway show tickets.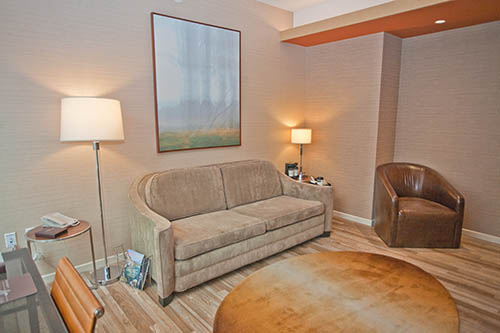 "The project has done well for a variety of reasons," said General Manager Laurie Del Sol, who's followed the venture since the plans were approved and construction began. "It has the Hilton brand behind it for one thing. Owners have automatic membership in the Hilton Club and they earn points they can use to stay at other Hilton Club properties. And this is a very special city. People want to have a piece of New York."
Buy one of those pieces and you get "deeded ownership" in perpetuity (you can leave it to your children) for one or more weeks starting at $33,900 for low-season dates. Prices for holiday and select weeks run as high as $125,000. The building has 161 units, with studios, one-bedroom units and penthouse space. The interior design theme, created by Alexandria Champaulimaud & Associates, is no-frills minimalist modern, anchored by natural and stained wood and furniture in matching wheat, buckskin and ivory hues. Bathrooms have separate showers and free-standing soaking tubs, mirrors galore and complimentary lighting. All rooms have complete entertainment systems, with large, flat-screen televisions, indirect lighting and views.
The most decadent feature is Hilton's partnership with the newly installed Spa Merge facility on the ground floor, with nine treatment rooms including two Aqua Therapy rooms. The spa offers therapeutic and sports massages and facials, combining scientific and natural techniques. We had a massage each, and can vouch for their expertise. It was a first-rate way to end a Big Apple weekend.
A timeshare purchase automatically includes Gold VIP membership in the Hilton HHonors Program, earning points good for stays in 3,400 Hilton properties in 79 countries, and for airline tickets, cruises, yacht charters, adventure travel and motorcycle rentals. For more, view Hilton's worldwide portfolio at www.hiltonworldwide.com.