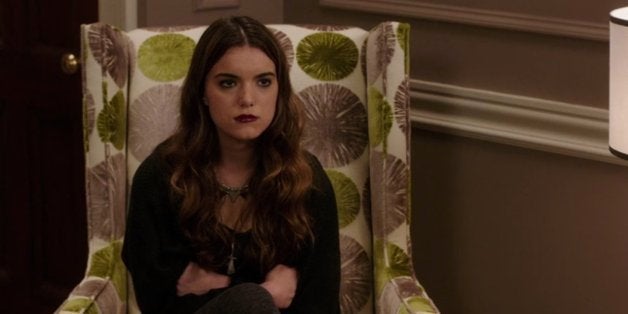 Dylan Gelula is still kind of shocked that you're watching her on Netflix. The 20-year-old from the Philadelphia suburbs plays Xanthippe, the wealthy teenage stepdaughter of Jacqueline Voorhees (Jane Krakowski), on "Unbreakable Kimmy Schmidt," Tina Fey and Robert Carlock's half-hour comedy about a woman (Ellie Kemper) who escapes from a cult. Xan is often the butt of the joke, the cynical side to Kimmy's sunny coin. But with acidic delivery, Gelula shines in the show's excellent supporting cast, which includes Tituss Burgess and Carol Kane.
At first it seems Xan's intent on finding out Kimmy's secrets, but as the season unfolds, we learn she's the kind of teen who pretends to pop pills to fit in with her friends, even though she really wants to go bird watching in Central Park. It's a distinct change from Gelula's arcs on shows like ABC Family's "Chasing Life" and TV Land's "Jennifer Falls." We talked to Gelula about playing a girl with a name no one can pronounce, working with your idols and finding roles that are more than just "the love interest."
How do you feel now that "Kimmy" has been out in the world?
It's crazy. I forgot anyone was ever going to see it. It's really weird that other people know the jokes that I thought were really funny. It's like I thought they were going to stay inside jokes.
What was your casting process like?
I was in Los Angeles and they were only casting in New York, and I put in a tape because I wanted it, obviously. A month later I heard they were interested in me.
Did you have to read with Ellie or Jane?
It was actually crazier than that. They were like, "We don't know if it's yours yet, but we're starting the show and the table read is tomorrow. Could you come read Xan at the table read and we'll see how it goes?"
Was there another person there who was up for the role?
I felt kind of better because I was the one doing the table read, but there were still other girls reading for Xan there.
Do you know the story of why Tina and Robert wanted to name her Xanthippe?
I have no idea. I did my own pronunciation research before going there, but I think until the fifth episode people were like, "How do you say it?" I said it one way, Jane said it another way.
How did you feel working with Tina and Jane going into this?
I mean, it's Tina Fey. I've seen every episode of "30 Rock." I think everyone who's my age who likes comedy has.

Did you watch the show again to prep for the role?
I actually went back and binge-watched most of "30 Rock" again because it's such a specific cadence, it's such a specific style of comedy.
I'm starting to watch it for the second time and you just pick up on so much stuff you didn't realize before.
Oh yeah, I want to do that. I watched the entire thing without moving. I watched it with my boyfriend and we just watched the entire thing and I'm really just a fan. The best part was watching the ones I'm not in, that I didn't get to read the scripts for. I could genuinely watch without knowing what was going to happen.
What do you hope to do in the next few months, career-wise?
That's something I'm really trying to figure out. It's a weird thing to navigate. How do I balance that I want to work with also wanting to do good things? "Kimmy" was such an artistically-fulfilling experience for me. How many things is that true for? How much of working is actually going to be "Kimmy" level? I'm trying to figure out how I'm going to do more things that are amazing.
Do you have another project in the works?
No. I get to do more work on another show that's really fun to work on called "Chasing Life" on ABC Family. I'm coming back to the second season of that.
Do you know if you're going to be on the second season of "Kimmy?"
I don't know. I hope to God.
Is there a dream role in mind?
My feminism does matter to me in that I don't really want to be the "daughter" or the girl that inexplicably thinks the guy is really cute. I don't want to be "the love interest" or "the daughter."
That's what was so cool about Xan on "Kimmy." There were so many layers to her! She's not really the bad girl, she's doing things to fit in, but really likes to bird watch.
I think also it's a great study in women of all ages. If you write jokes for them, they're going to land them. They were jokes written for women, which you don't ever get to see.
Did you ever have a conversation with Tina where you talked about that?
I can imagine she's so sick of talking about, like, "Let's talk about women in comedy!" I'm not yet, and I'm still thinking about it. What I'm thinking about, she thought about 25 years ago.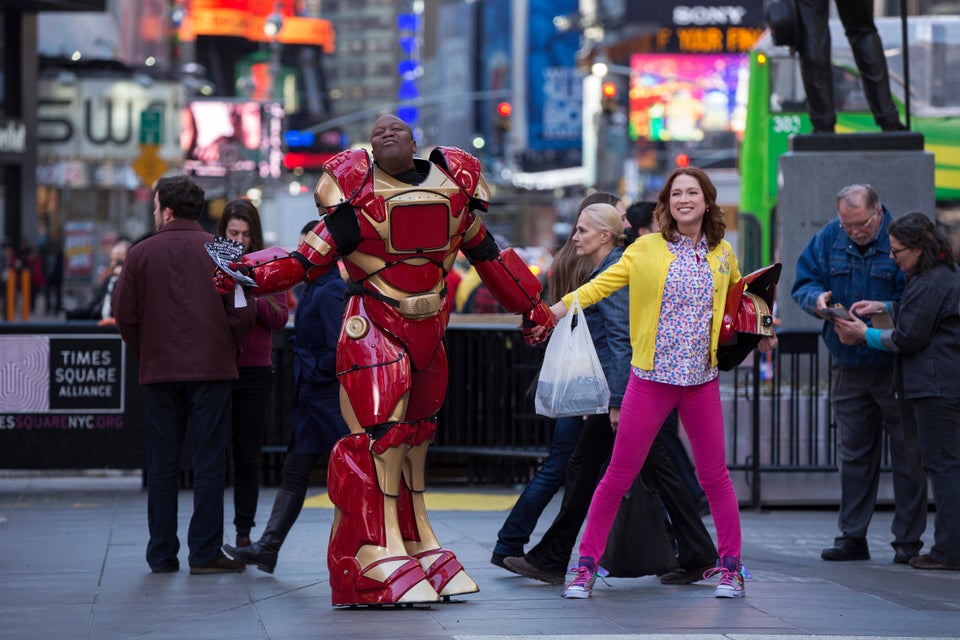 "Unbreakable Kimmy Schmidt", Season 1
Popular in the Community