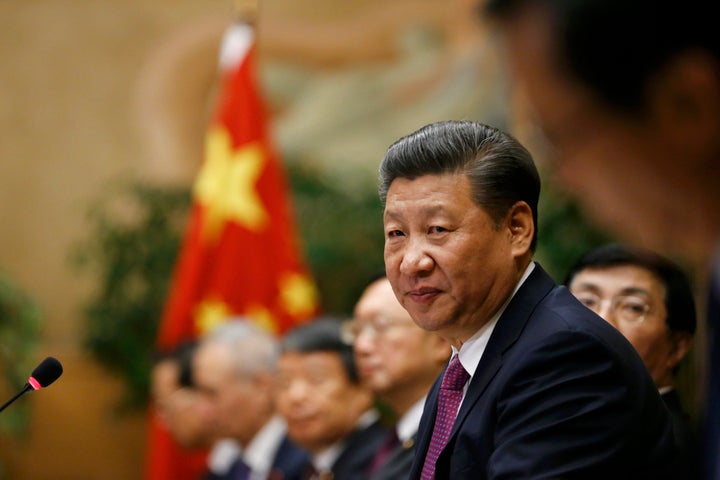 /www.project-syndicate.org/"}}">Project Syndicate ― It might seem ludicrous to suggest that Chinese President Xi Jinping, the country's most powerful leader since Mao, will be in danger in 2017. But looks can be deceiving, and his consolidation of power may not be as unassailable as it seems. The test will come this year, when the Chinese Communist Party holds its 19th National Congress to select a new team of leaders to serve under Xi.
To be sure, since becoming CCP general secretary in November 2012, Xi has made great strides in establishing his own authority. With a sustained anti-corruption campaign, Xi has jailed more than 200 senior officials and generals ― many of them members of rival factions. Unable to mount an effective counter-offensive, Xi's rivals have watched him elevate his own supporters to key party posts.
But that might change at 2017's Party Congress. Though Xi is guaranteed a second five-year term, he could struggle to overcome opposition to a series of personnel decisions that he is expected to make ― or refuse to make.
Xi has made great strides in establishing his own authority.
In the post-Tiananmen era, the CCP has avoided destabilizing power struggles by designating the next president and prime minister years before power is actually handed over. In 1992, Deng Xiaoping picked Hu Jintao to take over in 2002. In 2007, the party's top leaders agreed to anoint Xi as Hu's successor, five years before the latter's term expired.
But the system is informal, and thus unenforceable. So while the CCP aims to choose in 2017 who will take over as president and prime minister in 2022, there is no guarantee that Xi will go along. After all, if a successor were not selected, Xi would have enormous flexibility in 2022, either to seek a third term or to appoint a loyalist to follow him. If, by contrast, a successor is selected ― an outcome that would be much better for the CCP's reliability and legitimacy ― Xi will become a lame duck.
Besides the expected showdown over the succession issue, Xi could also encounter resistance over two additional personnel matters.
There is no guarantee that Xi will go along with the traditional presidential transition system.
The first is the size of the Politburo Standing Committee, the party's top decision-making body, which currently has seven members, five of whom are expected to retire this year, having reached the informal age limit. If Xi replaced just three, creating a compact five-person committee packed with his own loyalists, he would achieve total dominance at the top. But it will not be an easy maneuver, as Xi's rivals will fiercely oppose it.
The other issue is the fate of Wang Qishan, the head of the CCP's discipline commission and the leader of Xi's anti-corruption drive. If Wang retires this year, as party norms demand, Xi will lose his most dependable ally. But if Wang stays on, other members of the committee who have reached retirement age may also refuse to quit, effectively ending the age limit for CCP officials.
Given Xi's record of subduing his foes almost effortlessly in recent years, it is tempting to bet that he will prevail in this year's showdown. But there is a catch: the CCP Central Committee must sign off on proposed key personnel changes and, despite the arrest of nine members, a substantial share of its 205 members remain loyal to Xi's rivals. If they can act together and win the support of the CCP's retired elders ― people like former President Jiang Zemin, who continue to wield substantial influence ― they might be able to sabotage Xi's best-laid plans.
2017 will be a dangerous year for Xi.
One political weapon Xi's rivals can use is his record of policy failures since 2013, including a persistent economic slowdown, skyrocketing debt, slow progress on economic restructuring and a real-estate bubble. Even the much-touted "one belt, one road" initiative, which aims to connect Asia to Europe through a series of major infrastructure projects, could be a vulnerability for Xi, if CCP leaders decide it is too ambitious.
Resistance to Xi's agenda is all the more likely given that China's economic woes seem set to intensify in 2017. As the impact of credit-fueled stimulus fades, growth will decelerate further. An external shock, such as a trade war initiated by U.S. President Donald Trump, or even the expected increase in U.S. interest rates, could cause the renminbi to depreciate, potentially precipitating a new round of capital flight. A crash in China's red-hot real-estate market in first- and second-tier cities would intensify that capital flight by putting immense pressure on a financial system that is already overburdened by bad loans.
It is impossible to know who will come out on top in this year's power struggle in China. At the moment, Xi, who was just crowned the "core leader" of the party, appears to have the edge. But it would be a mistake to write off his adversaries, for whom the stakes could not be higher: the 19th Party Congress is, after all, their last chance to preserve the post-Tiananmen order. That means that 2017 will be a dangerous year for Xi.
Calling all HuffPost superfans!
Sign up for membership to become a founding member and help shape HuffPost's next chapter
BEFORE YOU GO
PHOTO GALLERY
China's Xi Jinping Visits The U.S.