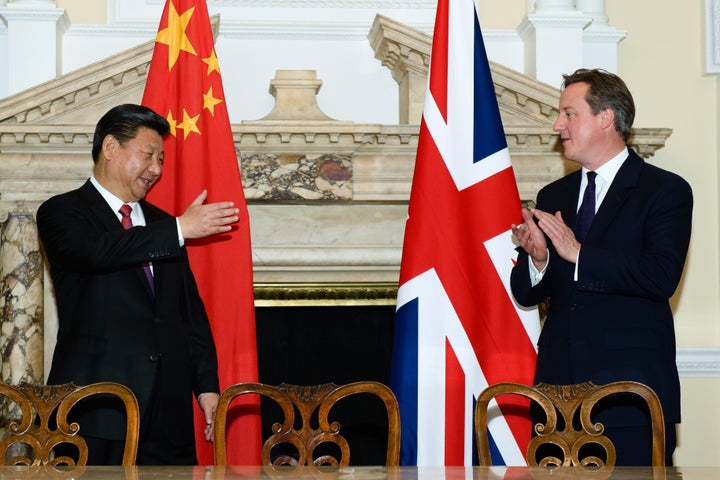 Human rights advocates have criticized China's troubling human rights record for years, and on Wednesday, Chinese President Xi Jinping agreed it could be better -- sort of. 
During a joint appearance in London with British Prime Minister David Cameron, Xi fielded a pointed question from BBC Political Editor Laura Kuenssberg, who asked, "Why do you think members of the British public should be more pleased to do business with a country that is not democratic, not transparent and has a deeply, deeply troubling attitude towards human rights?"
Speaking through a translator, Xi insisted that China "attaches great importance" to protecting human rights.
"We combine the universal value of human rights with China's reality, and we have found a path of human rights development suited to China's national conditions," Xi said. 
"With regard to protection of human rights, looking around the world, we know that there is always room for improvement," he conceded. "All countries need to continuously improve and strengthen human rights protection to meet the needs of the time and the people."
Xi concluded by saying that on the "basis of equality and mutual respect," China was ready to "increase exchanges and cooperation with the U.K. and other countries in the area of human rights."
After the press conference, Kuenssberg reported that Amnesty International was somewhat underwhelmed by Xi's remarks. 
Cameron had little to say about human rights in China in response to Kuenssberg's question, "Is there any price that's worth paying to further our business interests with China?"
"I totally reject the idea you either have a conversation about human rights and steel or you have a strong relationship with China," Cameron replied. "I want both. And we're delivering both, and it's when you have that strong relationship ... that you're able to discuss all these issues."
Putting aside Chinese human rights issues to cash in on lucrative business opportunities would be both "short-sighted" and wrong, warned Chinese artist and human rights advocate Ai Weiwei.
"I think the British Prime Minister has had a record on putting human rights aside which is very bad strategy … because this certainly doesn't represent the British people," Ai told Britain's Sky News. The Chinese government considers Ai a political dissident and detained the renowned artist for three months in 2010. 
Groups like Amnesty International and Human Rights Watch have called attention to alleged human rights violations in China including detention without trial, torture, hostility toward LGBT rights and women's reproductive rights, as well as restrictions on freedom of expression, freedom of religion, freedom of association and freedom of assembly.
PHOTO GALLERY
Daily Life In China
Calling all HuffPost superfans!
Sign up for membership to become a founding member and help shape HuffPost's next chapter