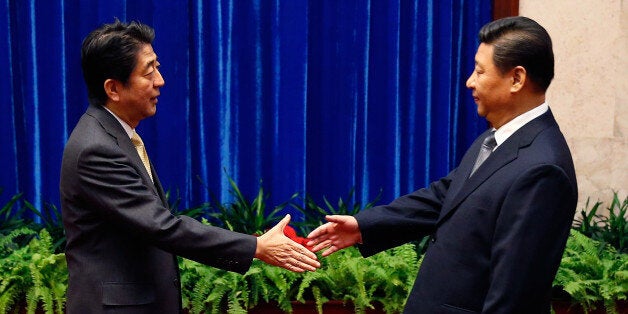 No one can mistake it for a budding bromance. When Chinese President Xi Jinping and Japanese Prime Minister Shinzo Abe posed for a photo-op while shaking hands on the sidelines of the Asia-Pacific Economic Cooperation summit, both appeared as if they would rather be anywhere else. But for now questions of discomfort are unimportant; rather, the significance lies in the fact that they met and expressed willingness to manage differences for the sake of healthier bilateral ties, which in the past two years have repeatedly plunged to new lows.
It may, for the moment, be a triumph of protocol over substance, but make no mistake: This meeting was a vital first step in thawing Sino-Japanese relations and lessening the potential for spiraling distrust between the world's second and third largest economies. The trick now is to build on it.
At the beginning of this year, it was unimaginable that Xi and Abe would ever agree to be photographed side by side. Bilateral ties, already in prolonged distress due to an intractable island sovereignty dispute, were in precipitous decline after China claimed an air defense identification zone over the East China Sea and Abe visited the controversial Yasukuni Shrine, which commemorates Japan's war-dead, including World War II war criminals. After that, Beijing declared that Abe's actions had shut the door for dialogue.
The turnabout began in the middle of this year, when some in China began cautioning that hardline treatment of Japan might have significant costs. Japanese investment in China had plummeted and begun to migrate to Southeast Asia. Japan's direct investment in China fell by nearly a fifth in 2013, then dropped another 40 percent during the first half of 2014 from a year earlier.
Further, and partly capitalizing on Japanese anxiety about China's intentions, Abe advanced a controversial, muscular security agenda, building a stronger Self-Defense Force with fewer constitutional constraints and a freer hand to aid allies. In those moves, Beijing saw a more formidable regional rival emerging.
A diplomatic flurry then occurred, culminating in a four-point communiqué issued just before Xi and Abe met. The document states that the two sides acknowledge their different views on the disputed islands, which China calls Diaoyu and Japan calls Senkaku, and share "some recognition" on how to treat issues related to wartime history.
The communiqué is a classic product of diplomacy, as its vague language on the island dispute and subtle references to history are open to such varied interpretations that both sides can claim victory and deny concessions. That both issues were mentioned at all, however, given sensitivities in both Beijing and Tokyo, suggests that a basis exists on which more substantive talks can be developed.
Indeed, the most immediate effect of the Xi-Abe summit and the communiqué is the freeing up of room for political, diplomatic, security, economic and cultural exchanges. "We will be busy again receiving Japanese visitors", said a Chinese analyst at a think-tank specializing in Sino-Japanese relations. He went on to confess that for two years it had been considered too politically risky in China to engage Japan.
Another near-term dividend is the restart of talks to establish mechanisms aimed at avoiding accidental clashes between the Asia's two most powerful militaries. Their frigates and fighter jets have had numerous close encounters in the East China Sea, with each accusing the other of provocative maneuvers. Relying on the odds of an accident not occurring might have seemed to both an increasingly fraught strategy.
Two years ago, China and Japan were close to setting up a system synchronizing communications between defense ministries, command centers and frontline mariners and pilots, but Beijing suspended these talks when the island dispute reignited. With the slight thaw in political relations, China has relented and negotiations are said to be restarting by year's end.
The latest diplomatic breakthrough, on one level, might seem straight out of the worn playbook both China and Japan draw from in managing their frequent bilateral spats. But getting through from crisis to crisis is no longer enough to stem the long-term deterioration in bilateral ties as structural fault lines have developed and the stakes mounted.
Both sides view each other with deepening strategic mistrust. Beijing sees Abe's security agenda -- together with Washington's "pivot" to Asia -- as aimed at containment of China. Tokyo is far from assured that China's rapid military buildup is intended only for defense and is anxious that Beijing ultimately aspires to subvert the existing regional order and impose hegemonic rule. Strategic rivalry continues as the two countries compete for contracts, partnerships and hearts and minds in Asia-Pacific and beyond.
Now that Xi and Abe have had their icy handshake, China and Japan need to move forward. Hotlines are necessary, but so is continued leadership: for President Xi, to ensure that anti-Japanese nationalism does not dictate policy towards Tokyo; for Prime Minister Abe, to tamp down tendencies towards historical revisionism.
Not staggering moves, perhaps, but they would constitute definite progress. And the region -- and the world -- would eagerly welcome them.
REAL LIFE. REAL NEWS. REAL VOICES.
Help us tell more of the stories that matter from voices that too often remain unheard.