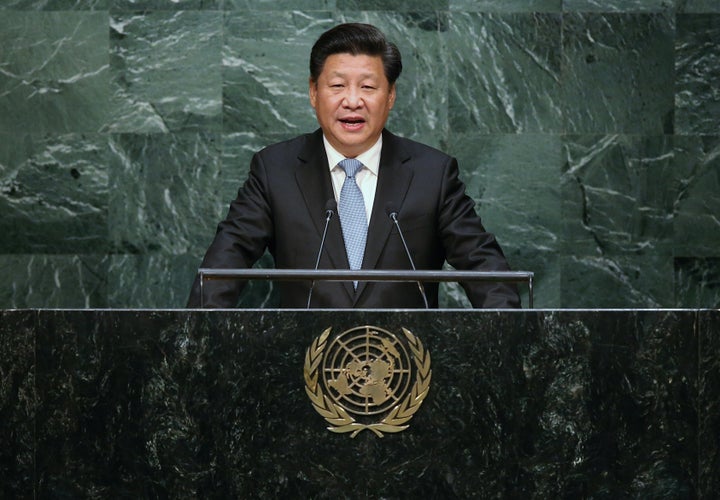 UNITED NATIONS -- Chinese President Xi Jinping announced a $1 billion "peace and development" fund to support the work of the United Nations over the next 10 years in his address before the body's General Assembly on Monday.
Xi also pledged $100 million in assistance to the African Union over five years to ameliorate the organization's crisis response. The Chinese leader said Beijing would help build a U.N. standby peacekeeping force of 8,000 troops.
"The security of all countries is interlinked," Xi said, urging world leaders to "reject the outdated mindset that one's gain means the other's loss."
Xi's speech, his first before the United Nations, was an opportunity for the strongman president to showcase China's -- and his own -- leadership on the world stage. Just three years into his presidency, Xi has emerged as the most powerful Chinese leader in decades, and China's global ascendancy is a key part of his personal brand.
Xi used his much-anticipated address to reiterate China's call for a "new type of international relations based on win-win cooperation."
"We should resolve disputes and difficulties through dialogue and consultation," Xi said. "The law of the jungle leaves the weak at the mercy of the strong."
"Xi is clearly feeling confident," Richard Ellings, president of the Seattle-based think tank the National Bureau of Asian Research, told The WorldPost. Ellings described the message of Xi's speech as twofold: "China is a big player, and the world will be better off because of China's rise."
Following such well-rehearsed rhetoric, the Chinese leader's promise of boots and funding to peacekeeping operations drew applause from the assembly hall. China already contributes more peacekeepers than other permanent members of the U.N. Security Council, and Xi's pledge looked to place Beijing at the center of efforts to reform and strengthen U.N. peacekeeping operations.
This is also a pragmatic move, as China becomes increasingly dependent on resources from less stable parts of the world, Ellings said. It has an interest in sharing the costs of maintaining stability, particularly in Africa.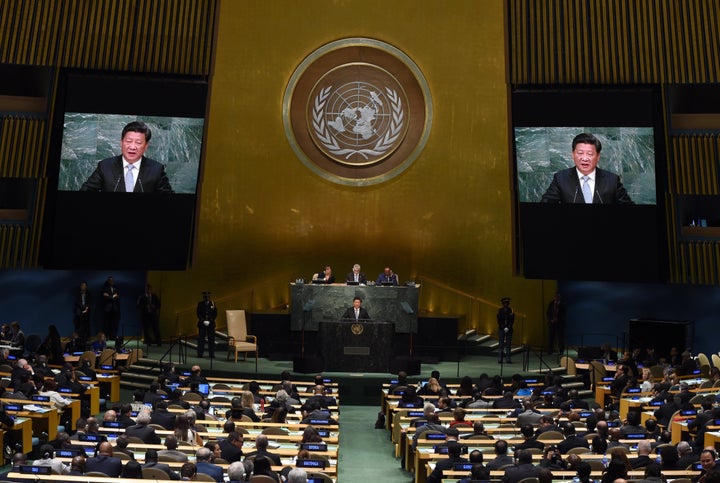 Beijing is already a major player in many of the issues vexing the United Nations right now.
As the U.S. launches a new diplomatic push to end four years of war in Syria, China's cooperation is essential. As one of five permanent members of the United Nations Security Council, China has used its veto power, along with Russia, to block intervention in Syria. China, like Russia, is wary of Western-led intervention in foreign countries, and of giving legitimacy to insurgent movements considering its domestic battles against separatists, including in Tibet and Xinjiang.
While U.N. Secretary General Ban Ki-moon and U.S. President Barack Obama issued impassioned pleas to end the brutal conflict in Syria before the General Assembly earlier Monday, Xi did not mention the war. Rather, he claimed that China represents less powerful nations through its seat on the Security Council. "China's vote at the U.N. will always belong to developing countries," he said.
Beijing is also central to international efforts to stop the spread of nuclear weapons. China is part of the group of nations that negotiated the nuclear deal with Iran, and is eager for the agreement to proceed unhindered so it can unlock investment opportunities in the country. China is also concerned about the stability of neighboring North Korea and backed international diplomatic efforts to stop Pyongyang's nuclear weapons program. As North Korea escalates its threats of missile tests and nuclear enrichment ahead of a major regime celebration, China remains a critical player to holding Pyongyang in check.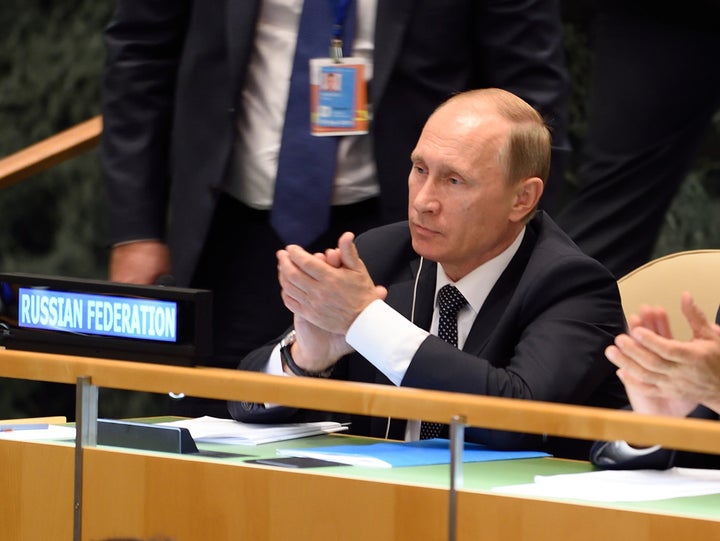 Yet China is hardly regarded as an unequivocal beacon of stability in its own neighborhood. China's land-reclamation projects in the South China Sea have been condemned by countries with competing claims to the area, such as Vietnam and the Philippines, as well as their ally, the U.S.
"The big, rich and strong countries should not bully the small, weak and poor," Xi said on Monday, drawing some wry comments from social media users.
However, the purpose of Xi's weeklong visit to the U.S. is to highlight areas of cooperation, not confrontation.
In addition to touting his contribution to peace and development around the globe, the Chinese president stressed his country's efforts to combat climate change -- a running theme throughout his tour of Seattle, Washington and New York.
"China will shoulder its share of responsibility and China will continue to play its part in this common endeavor," Xi said. "We urge developed countries to fulfill their historical responsibility."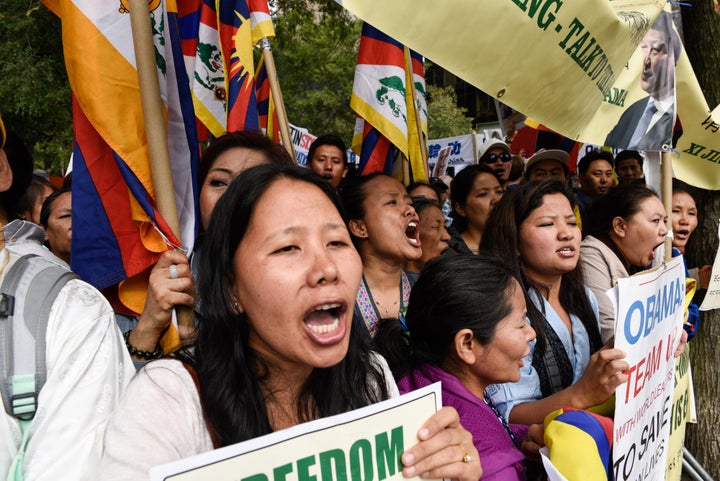 Xi's speech comes at a critical time for China, and for his leadership. Many of his signature achievements face critical scrutiny in the coming months. The summer nosedive of China's stock market, and his government's response, shook confidence in his effort to implement long-term economic reforms. Xi's leadership on climate change will be put to the test as the world attempts to finally agree on a global climate deal in Paris this December.
Like much that has happened during Xi's U.S. tour, a lot of his remarks to the U.N. Monday were aimed at least as much to a Chinese audience, Ellings said.
"His image as a strong leader, serene but confident, has a lot of appeal in China," Ellings told The WorldPost.
The Chinese leader mounted a strong defense of China's economic amalgam of state control and free markets, pointing to the 2008 financial crisis as evidence that "global prosperity cannot be built on the shaky foundation of markets without moral constraints."
China will continue to use the "invisible hand and visible hand to find synergy between market forces and government function," he said.
This post has been updated with more detail from Xi's address.
CORRECTION: This post has been updated to correct the name of the National Bureau of Asian Research.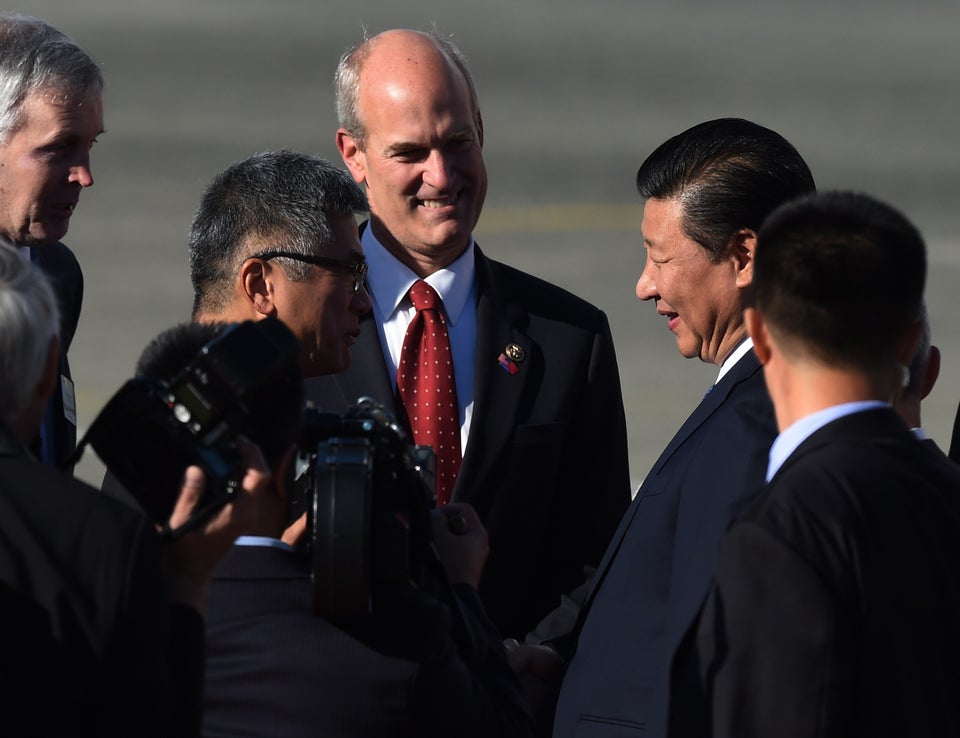 China's Xi Jinping Visits The U.S.
Related
Popular in the Community