Get ready for a dose of unbearable cuteness.
Xiao Liwu, the newest member of the San Diego Zoo's panda family, is set to make his public debut Thursday. To prepare for his big day, the little cub did a test-run in an outdoor public enclosure for members of the press, reports NBC LA, and he seems to have passed the first hurdle with flying colors. In the NBC LA video above, he can be seen munching on treats, cuddling with his mom and ambling around the enclosure.
Photos of the press preview below
The 5-month old cub will be visible to the public between 9:30 a.m. - 11:30 a.m. initially to slowly get him used to the spotlight. But zoo officials warned that his protective mama bear, Bai Yun, may limit his visibility even further, notes Coronado Patch.
The cub, his mother and his three-year-old brother Yun Zi are on loan from the Chinese government. His name means "Little Gift" in Mandarin, and it was bestowed upon the panda cub 100 days after his birth, per Chinese custom. Before Xiao Liwu received his official name, zoo veterinarians called him "Sausage."
If fans can't make it to San Diego to see Xiao Liwu "in panda," as the zoo put it, there's no need to fret. All the zoo's pandas can be seen on the zoo's 24-7 Pandacam.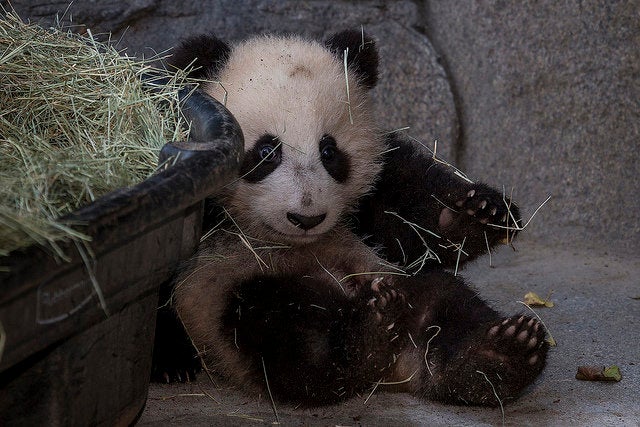 Xiao Liwu's Moment In The Sun
Popular in the Community