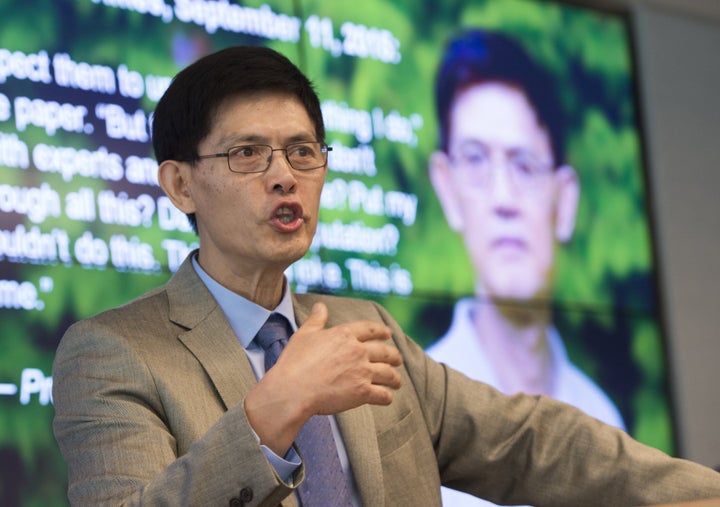 The government has long used immigrants as scapegoats, experts say. And a Chinese-American professor is fighting back.
Xiaoxing Xi filed a lawsuit in federal court in Philadelphia on Wednesday against the FBI agents who investigated him back in 2015. The Temple University physics professor was accused of allegedly sharing sensitive U.S. technology with China. Later on, the Justice Department had dropped the charges against Xi after it was revealed the agents and prosecutors misunderstood the technology that had been used as seemingly damning evidence.
Now, Xi is accusing Andrew Haugen, lead FBI agent on the case, of knowingly and recklessly making false statements, representations and material omissions of facts while communicating with federal prosecutors, prompting a malicious prosecution. The professor, who is one of several Chinese-American scientists who have been accused of spying for China, also believes the agents' actions were driven by his ethnicity.
The FBI declined to provide a comment to HuffPost regarding the lawsuit.
Through the lawsuit, which doesn't reveal the amount in damages Xi's seeking, the professor hopes to call attention to the larger issue of discrimination towards Asian-Americans in his field. Scientists of Asian descent have repeatedly been targeted as espionage suspects.
"Professor Xi is concerned about holding accountable those who caused his wrongful prosecution and obtaining answers as to why he was charged in the first place," Xi's lawyer, Jonathan Feinberg, told HuffPost in an email. "He is also concerned about what appears to be a troubling pattern of improper prosecutions of Chinese-American scientists, and, to the extent this case can help shed light on that pattern, that will be a very, very important result of the lawsuit."
According to an op-ed by Xi's daughter, Joyce, agents stormed the professor's house in May of 2015, rounded up the family at gunpoint and arrested the professor. Xi was threatened with up to 80 years in prison and a fine of up to $1 million.
While Xi had been accused of sharing a blueprint for a pocket heater, over which he'd signed a nondisclosure agreement, leading physicists revealed a different story. They'd testified, saying that the designs in question weren't for actually for a pocket heater but instead were for an invention of Xi's. Any interactions he'd had with Chinese colleagues were part of "legitimate normal academic collaborations," the lawsuit states.
But Xi claims that F.B.I. agent Andrew Haugen had known from the start that the blueprints were not for the pocket heater, and an inventor of the device had informed the agent that he'd misread the design. Moreover, Xi asserts that the agents actions resulted in unlawful searches and seizures of his property, violating the professor's Fourth Amendment rights.
And though the charges disappeared, albeit abruptly with little explanation, the damage had already been done. As the lawsuit points out, Xi had lost his position as the interim chairman of the physics department at Temple University and was put on administrative leave for a period of time. He was denied access to his lab and grad students working under him. His travel was also restricted.
The incident has left behind painful memories as well, Xi's daughter wrote.
"Dropped charges do not erase the trauma and paranoia from FBI surveillance, $200,000 in legal fees, or the many shattered pieces of our lives we still have to put together," she explained. "It does not erase the fact that the federal government exerted its overwhelming power to try and criminalize my father in the name of national security, as if he were an enemy of his own country, America."
As Xi seeks justice for his wrongful prosecution, his unfortunate experience is a familiar one to other Asian-American scientists, the New York Times points out. Though Chinese workers have been charged with stealing corporate information, including selling Boeing aircraft information to China, some Asian-Americans have unfortunately been looked at with suspicion. Xi is just the tip of the iceberg.
Chinese-American hydrologist Sherry Chen, who worked for the National Weather Service, was prosecuted with espionage-related charges. The charges were abruptly dropped just a week before her March 2015 trial was to begin. And two Eli Lilly scientists, Guoqing Cao and Shuyu Li, were accused of stealing trade secrets worth $55 million. The case ended up collapsing as well. The list goes on.
Christina Sinha, Program Manager of the National Security & Civil Rights Program at civil rights organization Advancing Justice-Asian Law Caucus told HuffPost in an email that this string of wrongful accusations reflects a dangerous habit in U.S. history. Citing racist policies like the Chinese Exclusion Act of 1882, which put an absolute moratorium on Chinese labor immigration, and the forced incarceration of Japanese-Americans during World War II, Sinha explained that Asian-Americans ― along with other immigrant communities ― have long been profiled as economic and national security threats.
"Since the 1800s, Asians and Asian-Americans have been characterized as inherently disloyal by the U.S. government; that trend continues to this day," she said. "Our government has been stuck in a pattern of repeatedly scapegoating immigrant communities and treating them as threats to our nation's security. This will not stop unless this practice is exposed for what it is."
The multiple accusations against Asian-American scientists can have its consequences on the race as a whole, Sinha said. It sends the message that the minority group is dangerous and shouldn't be trusted. Ultimately, it's "nothing less than racial profiling in the name of national security," she said.
Xi says he hopes the lawsuit will help put a stop to this ― especially as many other scientists fear something similar will happen to them.
"It has made so many Chinese-Americans and Asian-Americans scared," he told the New York Times. "That's why we are doing this. We need some accountability."
Popular in the Community