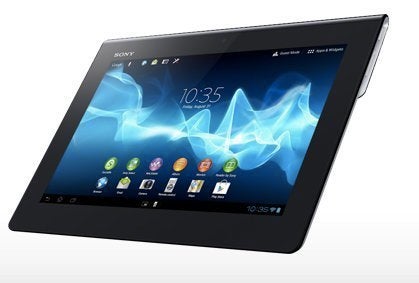 TOKYO, Sept 4 (Reuters) - Sony Corp on Tuesday said it won't be drawn into price competition on tablet PCs amid a plethora of cheap models from other makers as it pursues Android rival Samsung Electronics with a new tablet out this month.
Sony will begin U.S. sales of its latest tablet, now under its mobile Xperia brand, on Sept. 7. The 16 gigabyte version will sell for $399 -- the same price charged by Samsung for its equivalent model with the same screen resolution. Apple Inc's 16GB iPad 2 also retails for the same price, with its latest high resolution model starting at $100 more.
"We aren't considering competing on price in tablets," Kunimasa Suzuki, an executive vice president at Sony, said at a briefing in Tokyo.
When Sony launched its first models in April last year, Suzuki at the time said Sony was aiming to overtake Samsung to become the leading Android tablet maker within a year.
The tablets, however, failed to ignite consumer interest and Sony has yet to break into the top five makers in a market still dominated by Apple with around a 70 percent share.
"It was important to set ourselves the target of becoming number one," said Suzuki, who is leading the Japanese company's bid to make mobile devices one driver of profit as income from televisions shrinks.
The Japanese consumer electronics company also wants to boost sales of digital cameras and games consoles, while nurturing new businesses including medical devices. In the twelve months to March 31, the company posted a record net loss of 455 billion yen ($5.8 billion).
The latest tablet from Sony, which like its smartphone has been branded Xperia in a bid to unify its mobile devices under one name, enters a more crowded market than its predecessors. In June, Microsoft Corp, which has yet to announce a price, unveiled its first tablet, dubbed Surface. .
The Sony Xperia will also compete for consumer attention against a stable of cheap tablets, including Amazon's $199 Kindle Fire, Google's Nexus 7 and Barnes & Nobles' Nook Tablet, all selling for $199.

Popular in the Community