Eddie Ray Jackson and Bill Geisslinger in the world premiere of X's and O's (A Football Love Story) at Berkeley Rep. (Photo: Kevin Berne)
Dancing is a contact sport. Football is a concussion sport.
- Vince Lombardi, legendary coach of the Green Bay Packers

Ballet to the People came equipped to X's and O's, the Berkeley Rep world première of a play about violence in American football: she brought an interpreter, a former quarterback from the great state of Texas, to the docudrama subtitled, with gentle irony, A Football Love Story.
As it turned out, she did not need to be filled in on the intricacies of the trap sweep, or the mechanics of the blind side blitz. The dynamite ensemble of six players (including Dwight Hicks, a former Defensive Captain of the San Francisco 49ers and two-time Super Bowl champ) made their devastating points with a compelling economy of dialogue and movement, against the backdrop of the theme song to Monday Night Football, and historical television footage projected on multiple screens ringing the compact circular stage - footage mainly of games, but also of poignant moments, including a clip of a youthful John F. Kennedy playing touch football with his siblings at Hyannis Port.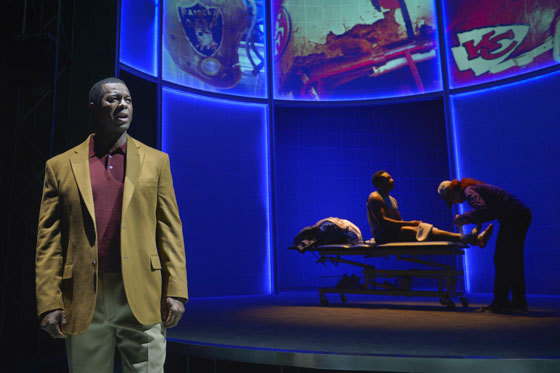 Two-time Super Bowl champion Dwight Hicks (foreground), Eddie Ray Jackson, and Marilee Talkington (Photo: Kevin Berne)
The tightly crafted script is stitched together from exchanges between sports fans, both bitter and hilarious; expositions on the exact nature of brain injury by a physician; interviews with former players and their families; a chilling display of the futility of helmet-testing; and milestones in the history of the sport - including a spat between President Teddy Roosevelt and Harvard's President Charles Eliot, who threatened to ban the brutal game which, in the 1905 season, resulted in 19 fatalities and 137 serious injuries. Roosevelt wrote that he would not let Eliot "emasculate football," and he pushed for rule reform that would not result in football having to be played "on too ladylike a basis."
The masterful Bill Geisslinger passionately details how boxing became more lethal once fists were encased in eight-ounce gloves, and how the risk of brain injury in football escalated once heads were shielded by face masks and helmets.
And with advances in training, players on average became bigger, stronger and faster. The power and precision of today's players are captured in a few drills executed by the electrifying Eddie Ray Jackson, and also in a slow-motion stylized ballet that culminates in a head-on collision between two players in full battle gear. This serves as the overture to an animated lecture on concussion by the cerebral and sexy Marilee Talkington, who segues virtuosically between roles, including that of a brain surgeon.
Swiftly dissolving episodes keep us on the edge of our seats, and climax in a slow-burning scene in which Talkington, Jackson, and Jenny Mercein (daughter of Green Bay Packer Chuck Mercein, who co-wrote the play with KJ Sanchez) trade off narrating the rapid decline of family members in their 30's and 40's, from illnesses that were only traceable to brain injury after post-mortems were conducted. Emotions are largely held in check, and dialogue and exposition are miraculously both hard-hitting and even-handed.
There is no denying Americans' fascination with gladiatorial pursuits, and their admiration for those who "play through the pain" - unlike the softies who play soccer and are constantly faking injury, Ballet to the People's date reminded her sotto voce.
But a big part of the enjoyment is the undeniable art and beauty of the game. Those twisting, leaping, one-handed catches by the likes of New England Patriot tight end Rob Gronkowski, and New York Giant Odell Beckham Jr. And the heralded fingertip grabs with toe-dragging footwork that is the specialty of players like Pittsburgh Steeler Santonio Holmes.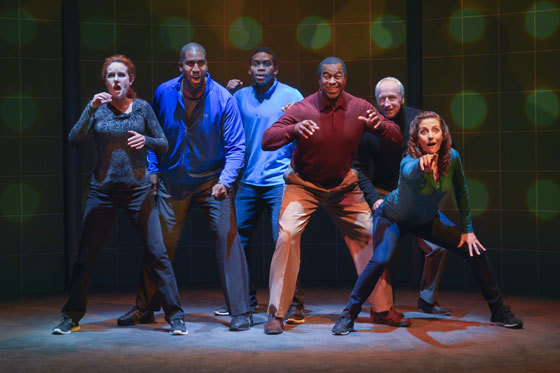 The terrific ensemble of Marilee Talkington, Anthony Holiday, Eddie Ray Jackson, Dwight Hicks, Bill Geisslinger, and Jenny Mercein in X's and O's (Photo: Kevin Berne)
As the tragic deaths of players like Junior Seau shine a spotlight on the darker side of the game, as science reveals more about the nature of long term brain injury, as players and their families pressure the NFL for reforms, and as team owners hold entire cities hostage, X's and O's offers no easy answer to the question "Is football too big to fail?"
But it does conclude that the NFL may well provide the safest arena in which to play football these days.
Where does that leave our children?
Ballet to the People's date never regretted abandoning football. After his coach sent him to ballet class to improve his flexibility, coordination and agility, he was hooked, and exchanged one extreme sport for another. Injuries of a different nature threatened. Yet he swore that if he ever had sons, he would discourage them from playing American football. The gods were listening, and gave him three daughters. He reflected ruefully on the day when the middle one, at age 15, announced that she was joining her high school lacrosse team. Because the school didn't have a girls' team, Title IX ensured her a spot on the boys'. As she donned her helmet and ventured out onto the field - at 110 pounds easily 30 pounds lighter than the smallest male player out there - he watched, with great trepidation.
Calling all HuffPost superfans!
Sign up for membership to become a founding member and help shape HuffPost's next chapter