Moments before I was to go onstage for a preview performance of DEMERARA GOLD, a play about my life as a woman of color an immigrant and a witness to domestic violence, my mind wandered to the source of my conviction that I could write and perform my story. I had several sources of inspiration for my one woman show, but there is one so unlikely it made me laugh out loud.
POW. KAZAAM!! In the X-Men Comic Series, there is a character, Dr. Cecilia Reyes, whose father was blasted in a drive by shooting and who died in her arms when she was 6 years old. Determined to make something special of herself in his memory, she battled her way out of a rough neighborhood and became an emergency room doctor, all the while hiding the truth that she has super mutant powers, specifically the ability to generate a force field that is tied to her life force. Simply put, she can kick any villain's butt.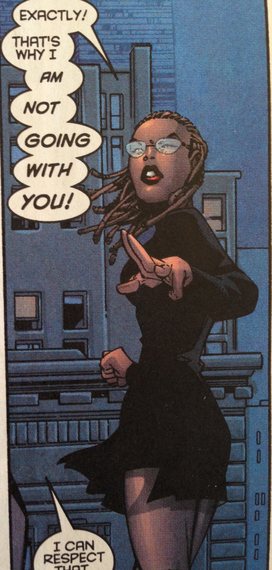 It was over ten years ago and I was putting myself through City College of New York by working as a personal trainer. My obsession then and now is thrift shops. The closest thing I have to a superpower is the ability to spot the perfect lightly worn dress, gown, outfit of any kind. When I walk into stores like the Housing Works thrift outlets in Manhattan, the staff nods in my direction. Observant and savvy women about my size feel my force field and drift my way. They catch on to my confidence and authority, study my moves as I thumb through racks, select just the right dress and then another. They linger just far enough away to watch and learn and perhaps grab an item I have discarded. My skill doesn't have much of a payoff. I have dozens of amazing dresses that clog the closets of my Upper West Side apartment. I can't wear them, they don't fit my lifestyle. I can't really sell them; I have tried.
One afternoon I was haunting one of my favorite spots, Darrow on West 19th Street in Manhattan. Their advertisement read, "Vintage Designer and Never Worn Vintage -with friendly and helpful staff. Popular with top Models." The owner, Darrow, was a friend of sorts. She shared my tastes in 1940's and 50's clothing with classic lines, fine stitching and unusual colors. Darrow had fascinating friends and even held chic parties in her store. She liked the way I wore her Adele Simpson and Miriam Lefcourt dresses, encouraged me to try on as many as I could. Other customers would see me walking around the store in her merchandise and fall under the spell of a particular outfit. Darrow was using me as an unpaid showroom model. Sometimes she even gave me an outfit as a token of her appreciation.
But there was someone else on hand who was watching. Darrow introduced him to me as a friend. With brown hair, he was slim and cool looking in an easy going sort of way. He would chat it up with Darrow, hang out in the store, make small talk with us girls. One afternoon, he tendered an unusual proposal. He was an illustrator of comic books. He wanted to use my likeness, my "energy," he said, to create a character, a superhero. Of course I agreed. What harm could come of it? I had to chuckle to myself at the thought that my thrift shop swagger was so obvious.
A month later, Darrow handed me an X-Men comic book opened to an early page. I was stunned. There I was. My face, my hair, my physique. But on the page I wasn't a student and a personal trainer, I was Dr. Cecilia Reyes, bursting with energy, empathy and enough power to help the X-Men battle evil. Dr. Reyes delivered her words with a staccato sureness. As a mutant, she had personal doubts, but she also had amazing powers. And when she unleashed them, look out!
Now, I understand that Dr. Reyes is a fictional character born of an artist's creative mind but there is something about her that feeds me. Life imitating art, as they say. I knew I had a story to tell and I knew I had the power to tell it and perform it. Damn the doubters who said I couldn't do it and no one would care if I did. Just like Dr. Reyes, I wasn't looking for revenge. I was looking for my voice, my power to heal and thanks to a comic book illustrator and a mutant superhero I was on the road to finding it.
The story goes that Lana Turner was discovered in Schwab's drugstore in Los Angeles. I guess I will settle for a thrift shop in Manhattan's Chelsea neighborhood. My solo-show is DEMERARA GOLD. Check the website www.DemeraraGoldTheShow.com for performance site and dates. POW.
Calling all HuffPost superfans!
Sign up for membership to become a founding member and help shape HuffPost's next chapter