The Darkest Part of the Forest shows Black's skill as a master storyteller and her ability to reinvent the Fae in a new, creative and compelling way.
I had the chance to ask Black a few questions about her new title, her love of the Fae and her collaboration with Cassandra Clare on their middle grade series, Magisterium.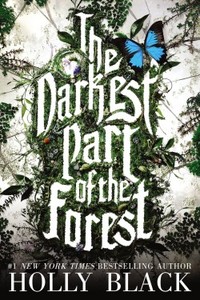 In addition to The Darkest Part of the Forest, you've written other series about fairies (The Spiderwick Chronicles and Modern Faerie Tales). What aspects of the fae keep you interested in writing more about them?
HB: What I've always loved about faeries is the way that they, unlike so many other supernatural creatures, are not human and have never been human. They have different customs and different taboos and woe to anyone who breaks them.
Not only that, but there are so many different kinds of faeries - from phookas to kelpies to hobs and hags and faerie gentry - all of them capricious and dangerous and trouble-making. All of them great for stories.
Are the books you write influenced by any particular fairy myths and legends?
HB: There are a few bits of folklore I drew on specifically for The Darkest Part of the Forest. I started with the idea that I was going to rewrite a Scottish folktale called "Kate Crackernuts," about a step-sister outwitting the faeries for the love of her much prettier step-sibling. I also pulled from the German Earlkönig legend for the person of the Alderking. But as the story evolved, it moved away from those initial influences as I had to figure out how to structure the story I wanted to tell.
And, of course, the book was influenced by "Sleeping Beauty" in that there's no way to write a story about anyone sleeping in a glass casket in the woods without that fairy tale being in play. Even if the sleeper is a horned fairy prince.
How were you first introduced to fae stories?
HB: I think the definitive thing for me was Brian Froud and Alan Lee's illustrated book, Faeries. The art is as gorgeous and terrifying as the folklore. My mother bought it for herself, so I was probably a little young when I first got my hands on it -- I remember being scared and compelled, all at once.
Many years later, I got to go to the little town in the English countryside where both the artists reside. Seeing that landscape and walking through those woods and on those moors was like walking into Faerieland for me. Totally magical.
If you could ask the fae for one gift or book what would it be?
HB: That's a dangerous question! The problem with faerie gifts is that they always come with a price, which is why they are made by the desperate and the foolish. I would be better off trying to be generous and polite and hospitable, so they'd have to reward me -- that's pretty much the only way to get a consequence-free present from the faeries, but then you don't get to choose what it is either!
What is the process like of writing a new book? Where do you pull inspiration from?
HB: Well, initially I start out with a few ideas that I want to mash together -- often a premise, a few images, and a few characters. For me, there's often a central image that defines the mood I am going for with the novel and the emotion that I'd like to evoke in the reader. For DPotF, it was the image of the horned faerie boy sleeping in the casket with all these smashed beer bottles and rusty cans around him from generation of parties. And I knew I wanted to tell the story of a brother and sister who were both in love with him.
Then I just start writing without much of a plan. After a chapter or two of feeling my way into the story, I have to take a step (or a couple of steps) back and start to impose some structure. That's when I begin trying to plot out the book. I am not very good at sticking to outlines and I double back all the time to revisit scenes and change things. Someday I would like to be the kind of writer who barrels through a draft, but I can't even seem to barrel through an interview like this, so I imagine I have a long way to go.
Somewhere along the line, I begin to panic about all the things I don't know and all the things that are wrong with the book -- and at that point, I pull inspiration from anything and everything that I think might help! With a book like this, it helps to go read some folklore and fairy tales to get back to the original inspiration and to make sure that the decisions I'm making are tonally and thematically right.
And then, careening between panic, despair and triumph, hopefully I manage to cobble enough of a draft together to send it to my editor and critique group. Then I can dig in and figure out how to take the misshapen thing I've created and make it better.
What are you reading right now? What authors do you enjoy reading?
HB: Lately I've been reading and re-reading a lot of young adult and adult high fantasy. I recently finished Scott Lynch's Republic of Thieves and also Cinda Williams Chima's Seven Realms series. I can't wait for Leigh Bardugo's Six of Crows which is promising me capers and high fantasy at the same time.
And then, although it wasn't at all high fantasy, I recently read and loved Alaya Dawn Johnson's Love is the Drug. But I kind of read all over the map. I am going on a trip tomorrow and I have a few nonfiction books tucked in my bag, along with the new Megan Abbott.
What's it been like collaborating with Cassandra Clare on Magisterium? What's the process like for co-writing a series?
HB: It's been really fun collaborating with Cassie on Magisterium -- we're editing the second book, The Copper Gauntlet, right now. We evolved our own weird process where we pass a computer back and forth, editing the other person and writing a couple hundred more words before passing it again.
I know it wouldn't work for everyone, but it works really well for us. For me, it pushes me out of my own process, which is an immense relief. It also allows us to create a single voice that's neither quite mine or quite hers.
Popular in the Community