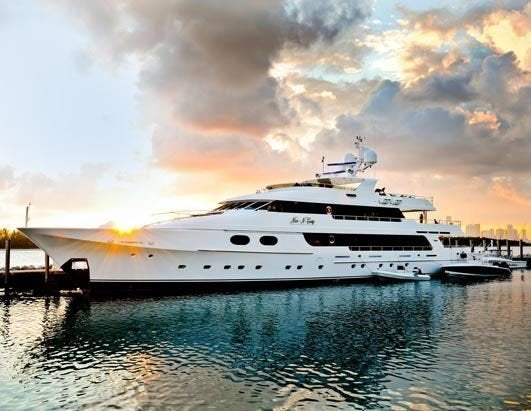 Forget all the talk about mortgage foreclosures and a looming recession. Instead, close your eyes and imaging yourself on a boat sailing the Caribbean. Not just any boat, but a megayacht that is two to three times the size of your house.
On board is every luxury you could ever imagine. You can lounge in a Jacuzzi on the top deck while you or your crew barbecue. Prefer something less casual? No problem, a deck or two down is your formal dinning room with a table that seats 12.
Your master suite is large enough to accommodate a king-size bed, walk-in closet and of course your own private bathroom with another Jacuzzi. Fine marble and woodworking adorn every corner of the yacht.
In other good news for yachts, the Los Angeles Times reports:

Yacht buyers will continue to benefit from a loophole that allows them to avoid sales tax on their boats, after Republicans in the Assembly blocked an effort to close it Tuesday. The vote came hours after Gov. Arnold Schwarzenegger asked state agencies to consider freezing hiring for nonessential workers and to make reductions in their travel and public outreach budgets to save $100 million.

Closing the tax loophole -- "sloophole," as it has come to be known by Democrats -- takes a two-thirds majority vote in each house of the Legislature, which requires some Republicans to get on board.

Related
Popular in the Community