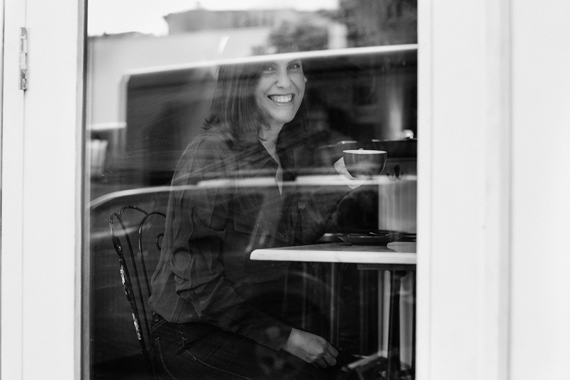 (Photo by Victoria Will)
From Johnny Carson to Christopher Hitchens to Adam Carolla, there have always been people who say women aren't funny - or at least not as funny as men. Yael Kohen doesn't expect her new book, We Killed: The Rise of Women in American Comedy, to change the minds of those who believe this, and that wasn't her intent anyway. Kohen begins with the premise that women are funny and focuses her oral history on the experience of female comedians from the '50s to the present. Phyllis Diller, Ellen DeGeneres and Chelsea Handler are among the many funny women who help her tell the story.
- Lori Fradkin

How willing were women to talk about this topic?
Certain people were very open to it. Others were not. Tina Fey and Amy Poehler didn't speak to me, but they're still in the book. I did get the sense they felt like they'd said all they had to say. And to an extent it's true. How much can you continue to ask, "are women funny?" Let's move on and talk about how they're funny, how they broke through, what the barriers were — as women but also just as comics.
Loni Love discussed the issue of "having it all" and says you can't as a stand-up. She decided not to get married or have kids.
I heard that from a lot of women. As a man, you can go on the road, have a wife stay home with the kid and come in and out. For some reason, that's acceptable, but it's not as doable for a woman. Chelsea Handler doesn't have kids. Sarah Silverman doesn't have kids. Ellen doesn't have kids. Then you have people like Joy Behar and Roseanne who already had kids when they went into stand-up. It's like they either had kids when they were young and struggling to make ends meet or they become stand-ups and then don't have kids because it's too hard with the lifestyle.
I didn't realize until I read your book that Chelsea Handler was such an advocate for women in comedy.
You get the sense that she's kind of a bitch, and she's not. And she doesn't seem to have that competitive thing at all. It's not just that she hires writers to help her look good. She brings them on the show. The other thing that's interesting is the way she grew a female audience for stand-up. You get the sense that people who work in comedy think that women go to a comedy club, and they're laughing because their boyfriend is laughing. But you now have this huge audience of women laughing because they like Chelsea.
You interviewed Phyllis Diller, who died earlier this year. What was she like?
When I went to her house, the experience was pretty formal. Her assistant was like, "She likes to be called Madame Diller. Don't hug her. You can shake her hand. Don't kiss her." We ended up speaking for two hours. She was lucid. She [was] very warm, and she really did laugh that way. But she was 92 at the time, and she was so frail I thought she was going to keel over when she was laughing. It made you nervous because her whole body shook.

What are the challenges women in comedy face today?
Look, the Internet obviously provides an opportunity to more directly build an audience. But at sites like Funny or Die or CollegeHumor, you still don't have a lot of female writers. You have female producers. So that's going to continue to be a challenge. [And] because people are hungry for young female comics, they'll try to get someone before they've had enough stage time to get good. Even when you look at Saturday Night Live, women who are most successful went in when they were like 28 versus the ones who go in at 22 and just sink. There's a confidence that comes at 28 — you've developed your point of view. It takes time to build that, and men have that time. They hire a lot of 40-year-old men for comedy.