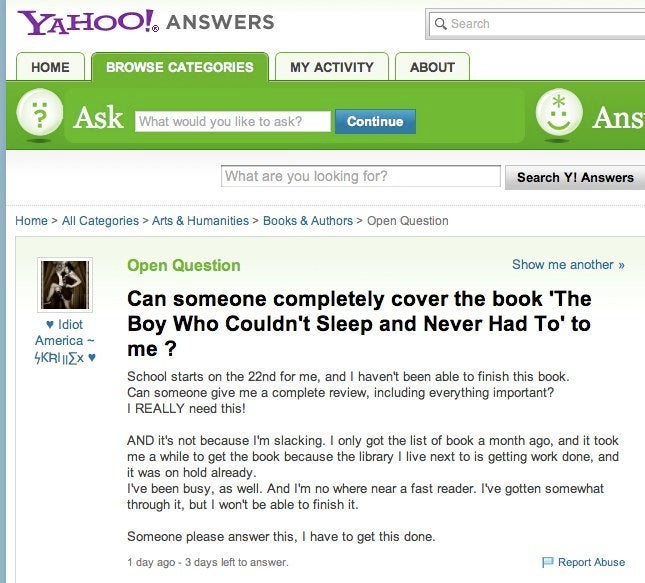 As academic year is beginning at schools across the country, some students are scrambling to finish their summer assignments before the first day of class -- but one is gaining national attention for a public plea for help.
Earlier this week, a student turned to the Yahoo! Answers community for a summary of DC Pierson's "The Boy Who Couldn't Sleep and Never Had To" when he or she fell short on time to complete the assignment. But the student likely wasn't expecting the author himself to respond -- nor with a lengthy reprimand.
The next day, Pierson took to the thread in a response that user "Olivia" commented to the student, "You just got pwned by the author himself." Pierson is a founding member of the Mystery Team improv troupe Derrick Comedy.
"First off, I'm really excited that my book is being suggested for summer reading," Pierson writes. "On the other hand, I'm bummed out that you don't want to try and finish it, and not even because you think it's bad, but just because it seems like work instead of like fun." He continues:
I'm not going to sit here and act like I didn't sometimes not read assigned books for class in high school. Even though it's referenced once in my book, the book you're avoiding reading, I've never actually read "The Scarlet Letter." So I'm sympathetic to your plight. But I think you'll find there's a ton more sex, swearing, and drugs in my book than anything else you have been or will be assigned in high school, and I don't mean in the way your teacher will tell you "You know, Shakespeare has more sex and violence than an R-rated movie!" I mean it's all there, in terms you will readily understand without having to Google them. Plus not once to I refer to anything as a "bare bodkin" or anything like that.
Pierson told TODAY.com that he mulled over responding because he "didn't want to be dismissive and defensive." And though he had been in a similar pinch in the past, he was bothered by the "huffy list of excuses." The student wrote in the original post:
I only got the list of book a month ago, and it took me a while to get the book because the library I live next to is getting work done, and it was on hold already.
I've been busy, as well. And I'm no where near a fast reader. I've gotten somewhat through it, but I won't be able to finish it.
Pierson points out in his public response that it only took him 10 hours to record the audio book version of his 226-page novel and even offers the student a hint: the whole thing is real.
You won't know what I'm talking about unless you read 'til the end, though. And you might disagree with me on this "it was all real" thing once you get there. Just because I wrote it doesn't make my opinion more valid than yours. Wouldn't it be cool to tell your teacher, "The author says he thinks (it) was real but he's an idiot and I disagree with him and here's why!"

I finished my book. I bet you can, too.
Pierson also took to Twitter and Tumblr with screen shots of the Yahoo! post, tweeting a cheeky "I'm a full service author."
A report released in March revealed that American high school students today are reading books at 5th-grade appropriate levels, with "The Hunger Games" by Suzanne Collins topping the list of what high schoolers are reading.
The report reflects trends in national reading scores, which remain low. On the 2011 National Assessment of Educational Progress, an exam administered every two years, average scores for fourth and eight grade reading remained stagnant or barely improved. Only 34 percent of students were rated reading "proficient." National 12th-grade reading scores were lower in 2009 than they were in 1992.
To add to that, scores on the SAT critical reading portion to a record low last year -- its three-point drop among test-takers marks just the second time in the last 20 years that reading scores have fallen by that much over a single year.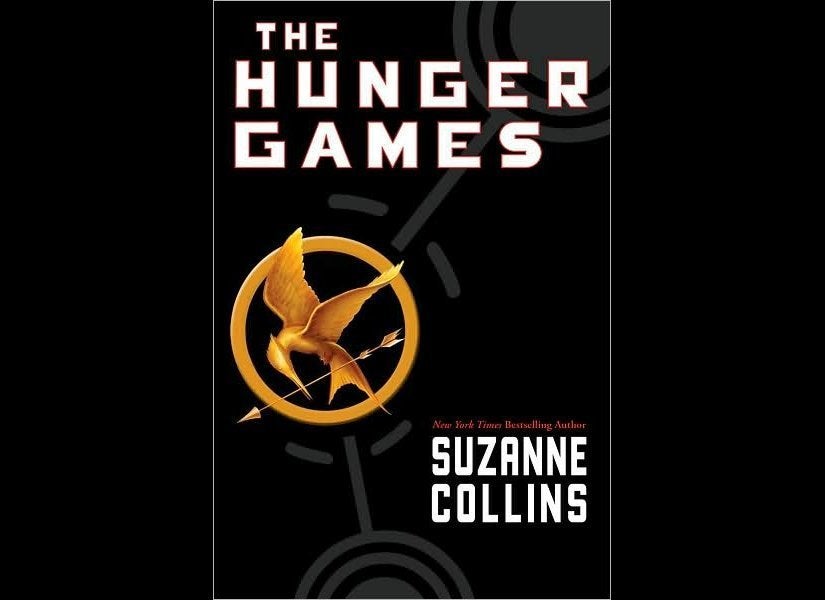 Top 20 Books Read Among U.S. High Schoolers 2010-2011
Popular in the Community