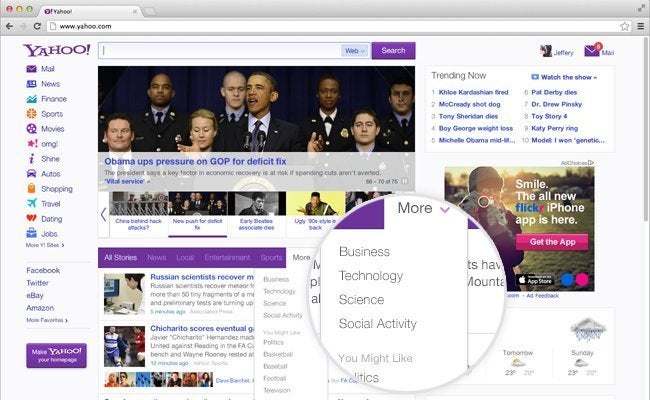 If you want a river of information, personalized for you, always flowing, where do you turn?
You might go to Twitter, which is essentially that. You customize your experience right down to who you choose to follow for updates.
You might prefer Facebook, which offers a News Feed that can include everyone from your best friend in high school and family members to a former boss or ex.
You could try startups like Prismatic, which offers one of the best personalized news experiences I've seen to date, and I check it often. It knows the topics I like, who I follow on Twitter, and it creates a set of streams I want to check daily.
Designed to be more intuitive and personal, the new Yahoo! experience is all about your interests and preferences. Since streams of information have become the paradigm of choice on the web, we're introducing a newsfeed with infinite scroll, letting you experience a virtually endless feed of news articles. Whether you are a sports fanatic or entertainment buff, you can easily customize your newsfeed to your interests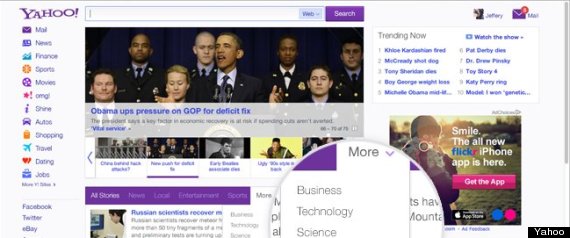 Yahoo has long been known to provide unique experiences to its millions of users who visit yahoo.com every day. It's now enhanced that personalization with a cleaner design, an infinite-scrolling news feed based on your interests, and other mini customizable "apps" like weather, sports, stocks and your friends' birthdays. Facebook helps power the entire experience, simply by connecting your account to Yahoo. (And no, it's not unlike My Yahoo, except that personalized experience now becomes the homepage itself.)
The Decline of the Homepage, But...
Homepages are not as popular as they used to be. Yahoo's own homepage saw a traffic decline from 2011 to 2012, Quartz reports. But if you can give me everything I want in one place, you can bet I'll still visit that homepage. In fact, for all the talk about the death of the homepage, I visit two every day -- Twitter and Facebook. I'm sure many others would agree. That timeline and News Feed are daily must reads.
The killer feature of the new Yahoo homepage is the news feed. I've already found it addicting; I found myself checking back several times yesterday at work -- and after work when I got home -- to see the latest news it highlights. Presumably based on my Facebook likes and interests, it indeed served up news I wanted to read, consistently.
Some of the stories have a bunch of faces of my Facebook friends to say, hey, this is a story about a topic a lot of your friends care about. Naturally, that draws attention and those stories were indeed quite interesting.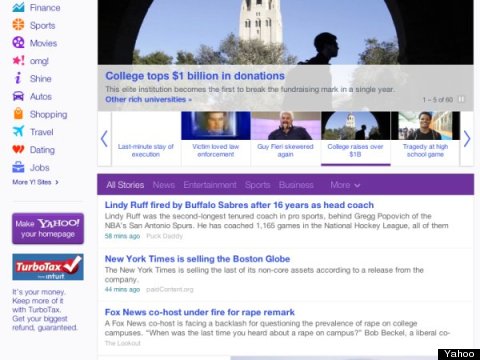 The big story yesterday for me was that my hometown Buffalo Sabres fired their head coach Lindy Ruff after 15+ years on the job, the second longest tenured coach in pro sports. As soon as it happened, it was the top story in my Yahoo News Feed. An hour later, the top of my News Feed had an updated AP story on the news which I read with great interest. Later in the day it had info on the new coach. When I got home at night, the top of my news feed had transformed again with a story on where the Sabres go from here.
In other words, Yahoo knew this would be a big story to me -- and it is -- being from Buffalo and a Sabres fan. And it kept me up to date on the very latest through the day, pinned to the very top of the news feed. Each time I visited, I saw something new, and it was a must click.
The other top stories were about tech and media, which I'm also very interested in. I did utilize the infinite scroll too, to keep going and going to discover more fascinating content. In addition to the default sections it provides, you can also hover over "More" for social activity (what your friends are reading) and other topics Yahoo thinks you'll be interested in (again, the suggestions were good for me).
For me, it worked. Instantly. That simple. It didn't require any work on my end, like many personalization services do, and I appreciate that. Yahoo has delivered a quality news consuming experience with the new News Feed, and as a journalist, I have a high bar on what a quality news experience looks like.
Now you throw the weather into the mix, the latest sports scores and info, and so on, and yes, I could see myself visiting this page daily.
The one thing I was disappointed in was Yahoo's mobile app. The homepage itself is accessible on mobile through the browser. The app is nowhere near the experience offered online, and the news content it serves up wasn't as relevant for me. I hope they're working on that.
But the homepage itself, they nailed it. They did what they had to. They made it more useful and more relevant for the social-heavy world we live in today.
Someone I really respect, Mathew Ingram, had a different assessment. He wrote for GigaOm that Yahoo's overhaul represents "adding a new coat of paint" and while it "might have made sense five years ago," it's not as big a deal now.
I respectfully disagree. I think it's a big deal. Especially if it's step one and Yahoo has more to come like it in the future.
Related
Popular in the Community