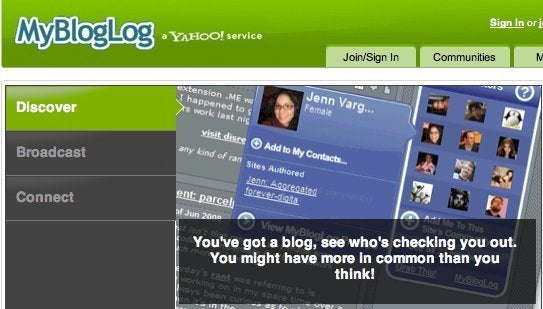 Bye-bye MyBlogLog. Beleaguered overlord Yahoo has announced it will be closing shop on the service, which lets people track who is visiting their blogs and websites.
Users received the following note (via TechCrunch) letting them know that MyBlogLog will close on May 24:
Dear MyBlogLog Customer,

You have been identified as a customer of Yahoo! MyBlogLog. We will officially discontinue Yahoo! MyBlogLog effective May 24, 2011. Your agreement with Yahoo!, to the extent that it applies to the Yahoo! MyBlogLog, will terminate on May 24, 2011.

After May 24, 2011 your credit card will no longer be charged for premium services on MyBlogLog. We will refund you the unused portion of your subscription, if any. The refund will appear as a credit via the billing method we have on file for you. To make sure that your billing information is correct and up to date, visit https://billing.yahoo.com.

Questions?
If you have questions about these changes, please visit the Yahoo! MyBlogLog help pages.

We thank you for being a customer on Yahoo! MyBlogLog.

Sincerely,

The Yahoo! My BlogLog Team

Will you miss MyBlogLog? Do you agree with Yahoo's decision to shutter it? Let us know in the comments below.
Popular in the Community