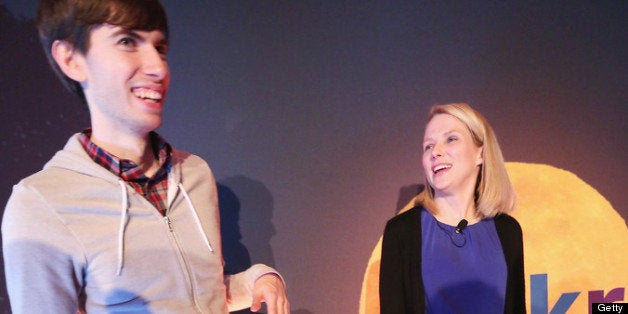 Eight weeks after sealing the deal to buy Tumblr, the image-heavy blogging platform popular with young people, Yahoo CEO Marissa Mayer said on Tuesday that growth continues apace.
"When we look at the amount of content that's being generated, it's staggering," Mayer said during a webcast earnings call with analysts and investors, noting that there are 75 million posts and 250,000 new blogs created each day on Tumblr. She added that the new blogs are "largely being driven by new user signups."
Tumblr makes the number of blogs and posts on the site public, and last week, Which-50, an Australian business analysis startup, noted that people have added 4.2 billion new posts and 14 million new blogs since Yahoo bought Tumblr. This represents an 8 percent increase in posts and a 13 percent increase in blogs.
(In press materials announcing the May acquisition, Yahoo didn't reveal the number of new blogs created daily, and a spokeswoman for Yahoo would not disclose that number.)
The number of posts and new blogs, however, only tell part of the story, said Martin Pyykkonen, a senior research analyst at Wedge Partners in Denver.
While the numbers Mayer touted were good, Pyykonen noted that Mayer didn't talk about engagement -- how much time people were spending consuming content on the site.

"It may be getting a lot of new bloggers and a lot of new people creating posts, but what about the people looking at content? How has that changed since you closed the deal 8 or 9 weeks ago?" Pyykkonen asked.
Engagement, of course, is an indicator of how much advertising Yahoo can sell on Tumblr. While the company has made no secret of its intention increase advertising on the site, Mayer emphasized in the earnings call that when it comes to Tumblr making money, "material impacts from a revenue standpoint" will come next year.
For now, Tumblr's continued success may be in Yahoo's hands-off approach.
"She's letting David Karp run the business as it is," Sameet Sinha, a senior analyst at B. Riley & Co. said, referring to Tumblr's 27-year-old founder and CEO. "And when she feels there's a right way that Yahoo can monetize the content and incorporate Tumblr content onto Yahoo, then the cross-pollination will begin."
Popular in the Community