Recently, when people have paid any attention to Yahoo at all, they've really just been talking about its headline-grabbing CEO, Marissa Mayer. But her year-long tenure trying to turn around the aging Internet behemoth has gained her more than just fawning personal profiles: Yahoo is actually getting a ton of Internet traffic.
On Wednesday, comScore, an independent web analytics company, released a report indicating that Yahoo's slew of websites -- everything from Flickr to Yahoo Finance -- actually got more web traffic than Google. In aggregate, 197 million people visited Yahoo's sites in the month of July. Gmail, Google's search engine and rest of Google's sites received 192 million unique visitors during that same period.
A Yahoo spokesperson told the Huffington Post that the company does not comment on third-party metrics.
The first two questions you probably have to the news is: Yahoo? Really? To those who switched from Yahoo long ago, it's hard to see how it's actually gaining relevance. (Tumblr was not included in last month's numbers for Yahoo.) Let's pin down a few reasons for the boost.
Yahoo actually was never that far behind
Looking back at comScore data from the past year, you can see that Google was barely edging out Yahoo for the better part of 2013. Though it's perceived as a backwater, Yahoo has been getting a ton of traffic for a long time. Marketing Land, the blog that first pointed out the data, reports that Yahoo previously beat Google in May 2011 and March 2008 -- both before Mayer came on as chief executive.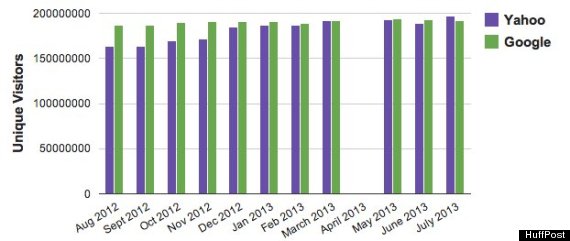 We're not looking at the most important category
As AllThingsD notes, traffic from mobile phones -- an increasingly popular device for surfing the web -- is not included in this batch of data. Mobile has been where nearly every Internet company -- Yahoo and Google included -- have focused, and Mayer recognizes that Yahoo has a hill to climb. As she has reiterated in interview after interview, Mayer is focusing the company on apps, throwing $200 million at hiring a mobile team.
Maybe Yahoo's websites are -- gasp -- actually getting better
This post has been updated with comment from Yahoo.