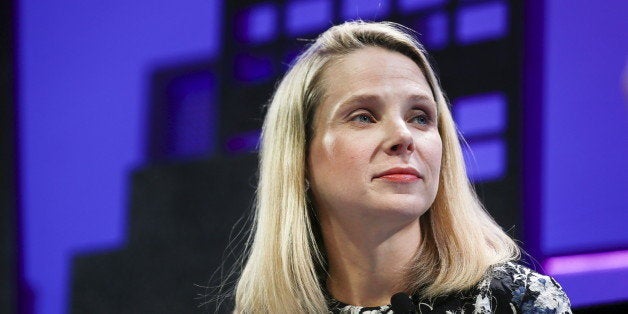 An activist investor group called Starboard Value said in a letter to other Yahoo shareholders last week that it wants a new group of people to oversee a "turnaround plan, separation, or sale of assets." Yahoo's current board includes Marissa Mayer and company co-founder David Filo.
"We believe that Yahoo is deeply undervalued and opportunities exist within the control of management and the Board of Directors to unlock significant value for the benefit of all shareholders," Starboard wrote in its letter. Though it didn't exactly say that it wants Marissa Mayer ousted as CEO, the group added that "we have been extremely disappointed with Yahoo's dismal financial performance, poor management execution, egregious compensation and hiring practices, and general lack of accountability and oversight by the Board."
Marissa Mayer's been criticized for some of the efforts she's made to bring Yahoo back to relevance and keep it competitive with rivals including Facebook, Google and Snapchat. So Starboard has plenty of ammunition.
Mayer's missteps include Yahoo Screen, the company's premium video service, which was shut down in January. Yahoo admitted it couldn't find a way for the service to make money, even with the help of newly produced programming including a revival of the NBC cult comedy "Community." Yahoo admitted the slate of shows sucked up $42 million from its coffers.
The current state of affairs at Yahoo? Yahoo has a big culture problem. The strength and vibrancy of a company's culture starts in the c-suite. It is the strength and vibrancy of a company's culture that drives employee engagement and ultimately operating success. Part of the problem is that the company has not made any real attempt to get a handle on their culture for some time. They have been seen as a dying giant ever since Google overtook them in search. And that feeling has permeated the workforce that remains at Yahoo. To me, of all the things that Marissa Mayer has or has not done as the CEO, she failed to recognize that her most important job as CEO of Yahoo was to build and sustain a strong and vibrant culture. Who's to blame? I would place a good part of the blame on the Yahoo Board who made the decision to hire Marissa Mayer. Here's what I wrote about this three years ago in a piece that appeared in the Huffington Post.....
Here's the background. You are the chairman of a $1 billion multi-national Internet company with a strong brand. Your company is best known for its web portal, search engine, and social media website services. Your company's revenue and income have been "flat" since 2008. Your company has had five CEOs in the past five years, one of whom was asked to resign for falsifying his resume. You and other members of the Board have had an interim CEO running the show for the past few months but it is now time to hire a permanent CEO. You and the Board decide it is better and more prudent to hire from the outside, even though your company has a number of outstanding senior executive candidates who have been with your company for years and who have been "tested" and "rounded" as solid, experienced leaders. You and the Board decide to approach a highly visible candidate who is currently a vice president and not a member of the senior executive team from your chief rival. You have targeted a young, talented technology guru who is bright and driven. You offer her the CEO role and she accepts on July 16, 2012.
The company I am referring to is Yahoo, Inc. The chairman I am referring to is Fred Amoroso. The new CEO is 37 year-old Marissa Mayer, now eight months on the job.
When Mr. Amoroso made the announcement about Yahoo!'s new CEO, he said, The Board of Directors unanimously agreed that Marissa's unparalleled track record in technology, design, and product execution makes her the right leader for Yahoo! at this time of enormous opportunity." In her statement to the press soon after being named CEO, Mayer said, "I look forward to working with the company's dedicated employees to bring innovative products, content, and personalized experiences to users and advertisers all around the world."
Both of these statements, unfortunately, reflect a lot of what is happening in the world of CEO succession. If I had had the opportunity to advise the Yahoo Board prior to making their decision, I would have said, "Yes, you need a CEO who possesses an unparalleled track record in technology and product execution, but, most importantly, you need a CEO who has demonstrated the capability and experience to motivate, engage and unleash the massive leadership and individual talent that exists at Yahoo."
I would have advised the Board of the need to perform their "due diligence" to determine if Marissa Mayer (or any candidate), had the capability to lead Yahoo! into the future. As an adviser and coach to the C-Suite, all too often, I see Boards and senior executive teams who over-estimate the accuracy of their "instincts" in making critical promotion and hiring decisions. According to Bloomberg, CEO hiring and firing is at an all-time high. In my research and consulting work with senior teams, companies don't hesitate performing "due diligence" when they are making acquisition or divestiture decisions; but when it comes to CEO hiring, there is comparatively very little "due diligence" being done. I try to guide senior teams to recognize that mitigating operating risk and ensuring their competitiveness has much more to do with the quality of their CEO than anything else.
If I were Marissa Mayer's executive coach, I would have told her directly that while "bringing dedicated products, content and personalized experiences to users and advertisers all around the world" is a noble and worthy vision, her most pressing priority will be in creating and sustaining a people and talent strategy that supports her vision. To her credit, Marissa Mayer recently hosted her top 80 executives for a weekend at the Ritz Carlton in Half Moon Bay. She has bought her employees smartphones and computers. On the negative side, however, she has hired key replacement executives before terminating the executive to be replaced. She has fired an executive only a few days before they were due to receive their retention bonus. Recently, she eliminated "working from home," which clearly runs counter to global workplace trends.
On Oct. 23, 2012, Marissa Mayer had her first earnings call. She indicated that Yahoo must reinvest in brand technology and that the company's turnaround would take many years. She further indicated that she would seek alternatives to layoffs by "restructuring the organization" to support Yahoo's vision and strategy. How did the market respond? Yahoo's stock immediately went up 6 percent. On Jan. 28, 2013, she had her second earnings call. Marissa Mayer said and continues to say the right things to appease the market; however, she is still faced with the harsh reality of having to reduce the Yahoo workforce from 11,500 employees to less than 10,000. There is no way around it. And, she must address the one year decline in traffic for two of Yahoo!'s core products, search (24 percent decline) and mail (12 percent decline).
Leadership starts at the top. It starts with the chairman of the board and board members who, in good conscience, must represent the best interests of stockholders, customers and employees. Marissa Mayer may end up becoming a successful CEO; however, in the best interest of all the key constituent groups, wouldn't it have been more prudent for the Yahoo Board to have hired a CEO who had already navigated these turbulent waters? Leadership starts at the top. It ends at the top.
Popular in the Community