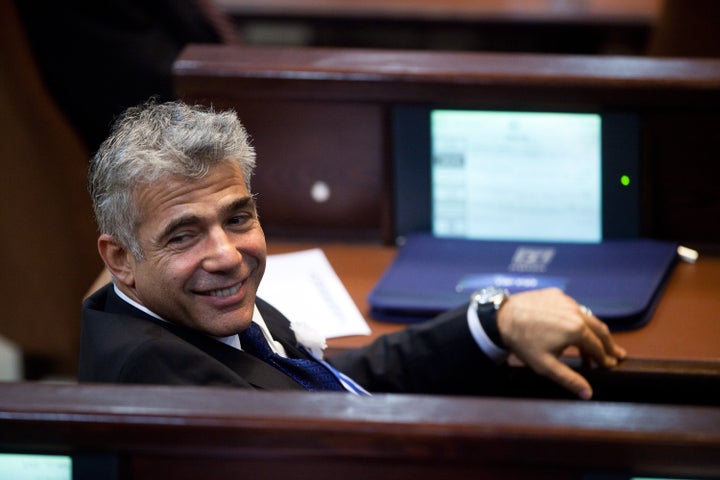 Like any good journalist, Lapid offered lots of "color" or details about Ms. Cohen. She's 37, a high-school teacher with a husband who works at a high-tech company. They have three children, own their apartment and take vacations abroad every other year. She represents "the middle class" said Lapid "and we have to help her." Their household income: 20,000 shekel (just over $5000 per month).
Where Lapid ran into trouble is that monthly income would put the Cohens squarely in the top 20 percent of wage earners in Israel.
"There are many Mrs. Cohens who barely make 5000 shekel ($1300) and cannot finish the month," Isaac Herzog, the chairman of the center-left Labor faction sniped at Lapid. "That is the real middle class."
The Bank of Israel says that prices of goods and services like housing, food and electricity have increased faster than income for the middle class over the past five years.
In Israel's election in January Lapid's new party won a shocking 19 seats in the 120-seat Knesset. Lapid billed himself as representing the middle class who pay taxes, serve in the army and cannot make ends meet. But formerly as one of Israel's best paid television presenters, Lapid himself is far from the middle class.
"It is a mistake but it's not a huge one," Tamir Sheafer, a professor of political communication at Hebrew University told The Media Line. "It shows he's not familiar enough with some economic facts. But Lapid is still being given several weeks – maybe not 100 days, but several weeks – to learn the material. Everyone knows he's not an economist."
Lapid's gaffe was repeated endlessly in the Israeli media. As a politician, Lapid is still an unknown quantity and his statements are being closely examined. But Sheafer thinks the media is also trying to teach their former colleague a lesson.
"Lapid's strategy is to bypass the media and talk to the public directly through Facebook," he said. "Perhaps he does not respect the professionalism of the media here or he has seen how much distortion the media create between what the politicians say and what is eventually published."
Other analysts say it is just Lapid encountering the inherent difficulty of being Israel's Finance Minister.
"There is a huge budget deficit and he either has to cut the budget or raise taxes," Dr. Shlomo Egoz, a political scientist told The Media Line. "The public had such high expectations of him that they will be disappointed no matter what. I am just surprised that this tension became transparent so fast."
Lapid has no background in economics and never earned a BA. He was working on a doctorate at Bar Ilan University last year when his lack of a degree became public. Bar Ilan was forced to end his doctoral studies.
Lapid made no secret during the campaign that he wanted to become Israel's foreign minister. Right now, in fact, Israel has no foreign minister at all. Avigdor Lieberman, who was foreign minister in the last government and is slated to continue in the position, is currently on trial for fraud. Prime Minister Benjamin Netanyahu is holding that job for Lieberman and it was not offered to Lapid.
"I think he had to take the Finance Ministry," Shaefer said. "He started his campaign by asking "where is the money?" and he continued talking about the middle class. The job won't be easy and he will lose some political credit but he has no choice."
Calling all HuffPost superfans!
Sign up for membership to become a founding member and help shape HuffPost's next chapter
BEFORE YOU GO