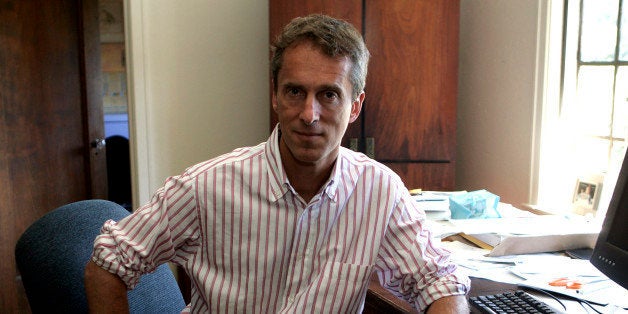 More than 75 students at Yale Law School have signed an open letter pushing back on a recent New York Times column about campus rape written by one of their professors.
The lengthy op-ed by professor Jed Rubenfeld, published in Sunday's edition of the Times, addresses the ongoing debate on how to handle campus sexual assault. It discusses how colleges are failing victims, how accused students are pushing back and how even expulsion, the most severe consequence a school can mete out, still leaves an accused student free to walk the streets. Rubenfeld notes that with 21 being the legal drinking age, and with colleges unable to host their own alcoholic events, partying often ends up in male-dominated spaces like fraternities, which elevates the risk of sexual assault.
However, what has drawn the most ire are Rubenfeld's comments about consent. In his column, Rubenfeld characterizes affirmative consent policies as unenforceable and overly broad, and suggests that such an approach categorically redefines all drunk sex as rape.
"The redefinition of consent ... encourages people to think of themselves as sexual assault victims when there was no assault," Rubenfeld writes. He adds that students "need to be told clearly that if they are voluntarily under the influence (but not incapacitated), they remain responsible for their sexual choices."
But the law students say Rubenfeld is off-base. They write that no one is actually classifying consensual drunk sex as rape, and that alcohol's role in sexual assault cases has to do with offenders who "intentionally target classmates who are vulnerable or incapacitated by reason of intoxication."
"In fact, what the affirmative consent standard does is respond to a long-standing problem faced by gender-based violence victims," the students' rebuttal reads. "The old complicated standards required a debate over whether the sex or other offending behavior was or wasn't 'wanted' by the victim, or whether the victim fought back. Under affirmative consent, the question is simply whether both parties expressed a desire to proceed."
According to second-year Yale Law student Elizabeth Deutsch, a small group of law students got together Sunday and began drafting their response after the Times piece was posted to the Web late on Saturday. Throughout the afternoon and evening, the group received input from other students of various backgrounds and planned career tracks. Many of the students who signed the letter have chosen to tell the rest of the Yale Law student body why they did so, using a schoolwide email list called The Wall.
Julie Veroff, a third-year law student, told The Huffington Post that she signed the letter in part because she was especially bothered by Rubenfeld's "dismissive treatment" of sexual autonomy and affirmative consent.
"He suggests that the notion that sexual intimacy should be voluntarily and affirmatively agreed to by both parties is, at best, an idealized, unattainable ideal, and at worst, a destructive boogeyman," Veroff told HuffPost in an email. "But in fact, it is a basic right."
She continued, "I also wanted to respond because, as future lawyers, we have a responsibility to champion ideas for reform that are rooted in the lived experiences of those who are affected by the laws, policies, and practices we seek to change, and I believe that professor Rubenfeld's piece is unfortunately far afield from those lived experiences."
Read the entire response from the Yale law students below:



Statement re: Mishandling Rape

In his recent op-ed, "Mishandling Rape," Jed Rubenfeld builds a theory of how schools should respond to campus sexual violence. Unfortunately, his formulation of the problem is both disconnected from the reality victims face on the ground and wrong on the law. As students at Yale Law School, where Rubenfeld teaches, we find his argument not only disrespects survivors of violence but also undermines the work of a nationwide movement to build safer, more just campuses.

Rubenfeld takes an overly narrow view of the purpose of processes that allow survivors to report sexual misconduct and seek support on college campuses. The goal of sexual misconduct policies, as part of Title IX compliance, is to ensure that students can learn on a campus free from sexual violence, discrimination, and intimidation. In reducing myriad efforts to "rape trials" only, Rubenfeld ignores the reality that brought about sexual misconduct policies: sexual violence is a systematic problem of inequality manifested in and perpetuated by varied forms of harm. This violence affects a huge number of young people, disproportionately women, and need to be addressed in all communities, including college campuses.

Yet according to Rubenfeld, requirements that sexual intimacy be based in mutual, affirmative agreement and desire are not a basic standard but instead a recipe for false rape claims. The consent standard, he claims, "encourages" students "to think of themselves as sexual assault victims when there was no assault." In fact, what the affirmative consent standard does is respond to a long-standing problem faced by gender-based violence victims. The old complicated standards required a debate over whether the sex or other offending behavior was or wasn't "wanted" by the victim, or whether the victim fought back. Under affirmative consent, the question is simply whether both parties expressed a desire to proceed.

Rubenfeld's reductive account of affirmative consent not only trivializes the experiences of countless students who have experienced campus gender-based violence, but also suggests that these survivors seek special status as victims. The professor assumes that there is some power, comfort, or pleasure in victimhood: why else would one choose to "think" of oneself as a victim without any actual harm? Here, he echoes George Will's infamous Washington Post column on the special "privileges" survivors receive. As victims pointed out then, rallying around the hashtag #SurvivorPrivilege, reporting violence is an arduous process that often delivers shame and isolation, not silver spoons. But, rather than looking to survivors' real experiences, both men instead rely on archaic, sexist stereotypes of spurned women who cry rape, and on the paternalist notion that women cannot be trusted to know the difference between consensual sex and sexual assault.

In addition, Rubenfeld misconstrues university sexual assault standards and affirmative consent statutes like California's recent SB 967 by suggesting an overly expansive regime that leaves nearly all alcohol-related sexual encounters vulnerable to rape charges. But he suggests a solution where no problem exists. As he acknowledges, incapacitation is required to negate consent under criminal law and Yale's own policy, which is representative of national trends. Why, then, rail against sanctioning drunk sex when neither schools nor the state do so?

Rubenfeld misunderstands the role of alcohol in campus violence. Alcohol plays a serial role not because students are drunk when they have mutually consensual sex, but because repeat offenders intentionally target classmates who are vulnerable or incapacitated by reason of intoxication. Moreover, by focusing on alcohol-facilitated rape to the exclusion of all other forms of gender-based violence covered under Title IX (including sexual harassment and intimate partner violence), Rubenfeld leaves out the context in which many assaults occur. He is quick to reject feminist ideas of sexual autonomy without grappling with the undeniable ways in which sex, with or without alcohol, is a site for coercion.

What's more, Rubenfeld's proposal to automatically tie campus adjudication to criminal proceedings may actually result in less accountability for perpetrators by leading to less reporting by survivors. Advocates across the country fought potential legislation to link campus adjudication more closely to the criminal justice system. While there is debate among advocates over the relative merits of campus adjudication and the criminal justice system (including about whether the punishments available in campus adjudication are adequate given the gravity of gender-based violence), all sides can agree that the current criminal justice system all too often fails to deliver justice to survivors. Rubenfeld's assumption that more college women would have reported to the police in the absence of university proceedings is unfounded. Integrating all campus proceedings with criminal prosecution could instead deter students currently reporting to campus authorities from reporting to anyone at all. Over the last year, a number of victims have come forward to explain why they did not report to the police. Their accounts cite to police harassment, prosecutorial skepticism, and miniscule conviction rates. While Rubenfeld's goal to hold perpetrators accountable is admirable, a system in which university procedures automatically implicate law enforcement could mean that more perpetrators would escape punishment altogether. Students should be free to choose whether to pursue their claims on campus or in the criminal justice system, or both.

In advancing his argument, Rubenfeld ultimately patronizes the advocates who have led the hard-fought battles for more responsive campus procedures, federal enforcement mechanisms, and affirmative consent standards. He positions himself as the savior of these advocates: without his intervention, their "years of hard work building sexual assault protections for women on campus will be undermined." The assumption here is that advocates must not have thought through the implications of their asks. Or, perhaps worse, he believes that advocates do not care that some accused students might be unjustly punished by the affirmative consent policies. These assumptions are untrue, and Rubenfeld's attempt to swoop in and clean up the mess he accuses advocates of making adds insult to injury.

We appreciate that Rubenfeld wants to join the robust national conversation on how to prevent gender-based violence on campus. But campus rape is not an academic puzzle to be parsed. It is a terrible reality. Rubenfeld's assessment is divorced from the facts of students' lived experiences and from the law itself. Proposed solutions, disconnected from those realities, are not just wrong: they're dangerous.

Signatories as of Monday afternoon:

Laika Abdulali
Jessie Agatstein
Abdi Aidid
Ashley Anderson
Asli Bashir
Dwayne Betts
Will Bloom
Alexandra Brodsky
Megan Browder
Trinity Brown
Jordan Bryant
Elizabeth Chao
Aurelia Chaudhury
Michelle Cho
Alyson Cohen
Jordan Laris Cohen
Conchita Cruz
Joanna Dafoe
Rachel Dempsey
Elizabeth Dervan
Elizabeth Deutsch
Helen Diagama
Courtney Dixon
Ariel Dobkin
Allison Gorsuch
Taylor Henley
Alexandra Hess
Jillian Hewitt
Tamar Holoshitz
Olivia Horton
Sophie House
April Hu
Arielle Humphries
Jessica Hunter
Katie Jones
William Kalema
Grace Kao
Scout Katovich
Stephanie Krent
Amber Koonce
Melissa Legge
Whitney Leonard
Noah Lindell
Kathryn Loomis
Zak Manfredi
Eric Margulies
Ginny McCalmont
Cara McClellan
Jennifer McTiernan
Alexandra Messiter
Sarafina Midzik
Christine Monahan
Divya Musinipally
Jordan Navarrette
Daniela Nogueira
Erika Nyborg-Burch
Temidayo Odusolu
Rebecca Ojserkis
Lauren Pratt
V Prentice
Jessica Purcell
Joshua Revesz
Emily Rosenberg
Yusuf Saei
Jackson Salovaara
Avinash Samarth
Alicia Sanchez Ramirez
Joe Sanderson
Alexandra Saslaw
Andrea Scoseria Katz
Jane Shim
Julia Shu
Claire Simonich
William Stone
Seguin Strohmeier
Alex Taubes
Dorothy Tegeler
Allison Tjemsland
Daniel Townsend
Rachel Tuchman
Mitch Verboncoeur
Julie Veroff
Jonah Wacholder
Megan Wachspress
Jonas Wang
Kaitlin Welborn
Elizabeth Willis
Calling all HuffPost superfans!
Sign up for membership to become a founding member and help shape HuffPost's next chapter