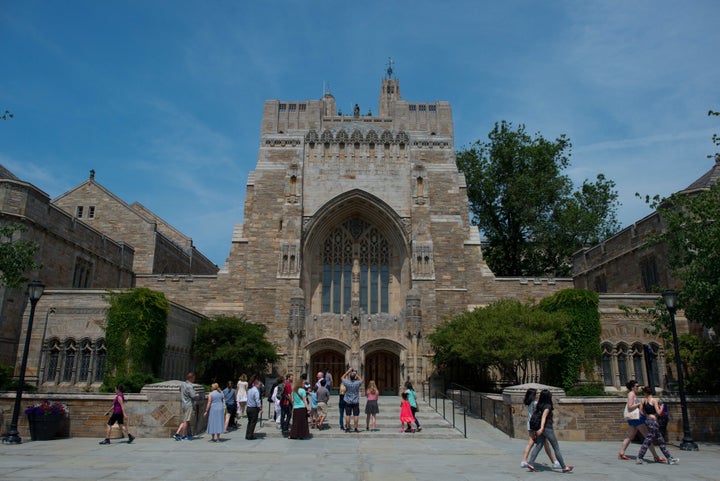 Yale University said Wednesday it had not found enough evidence to conclude that a fraternity had been racist when it hosted a Halloween party earlier this year.
Allegations surfaced in early November that the Sigma Alpha Epsilon chapter at Yale had turned away students of color, telling them a Halloween weekend party was for "white girls only." Yale said this week its investigation "found no evidence of systematic discrimination against people of color."
Students inside the party reported that early in the evening, before the party became crowded, guests were granted admission on a first-come basis; men and women of color were among those admitted. On the other hand, students also reported that as the event became intensely crowded, hosts restricted admission, applying subjective criteria and using harsh language. When the investigation focused on what hosts had said specifically, two students provided credible accounts that they were told, or heard either one or two SAE members say, "white girls only" as they were seeking admission to the party, although the SAE members interviewed denied making these statements and nobody else who was interviewed heard the statements.
The original claim stemmed from a Facebook post by a Yale student who received a secondhand account of the alleged discrimination from a friend who does not attend the school. SAE members have denied all along that they ever said the party was "white girls only," and said black members of the chapter had been called "Uncle Toms" following the accusations.
When the accusations first surfaced, SAE's national office noted that police had directed fraternity members "to stop admittance and to create clear walkways outside of the house" and that it was at this point that someone allegedly said the party was restricted to white people.
Yale's investigation found SAE members had mismanaged the crowd at the party and acted "disrespectfully and aggressively" toward potential guests. The investigation could not, however, determine that members engaged in racist behavior. Yale will not sanction the fraternity, Holloway said.
The university also investigated reports that students spat on attendees at the William F. Buckley Jr. Program's fifth annual conference, but also concluded in that case there wasn't enough evidence to support the claim.
Calling all HuffPost superfans!
Sign up for membership to become a founding member and help shape HuffPost's next chapter