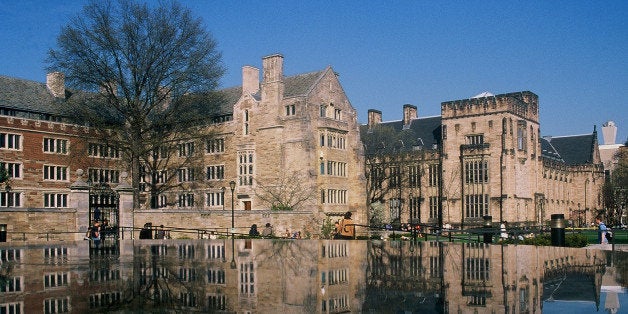 A group of students at Yale University are demanding the Ivy League school get tougher on perpetrators of sexual assault, and it seems they have the administration's attention.
On Wednesday, university President Peter Salovey told the group, Students Against Sexual Violence at Yale, that the administration would like to arrange a sit-down meeting to discuss their concerns in the near term, according to one of the students, Emma Goldberg. The president himself said he'd like to speak with them, she said.
Yale came under fire following the release of a semi-annual report on its handling of sexual misconduct on July 31. The report revealed the university had failed to suspend any students it found guilty of "nonconsensual sex," instead opting for "written reprimands" as punishment. The university has released four of these semi-annual reports since the Education Department launched an investigation of Yale in 2011 for concerns about a sexually hostile climate.
Students Against Sexual Violence at Yale formed in response to the semi-annual report, later issuing a letter to Salovey, signed by 15 students. Their top demand is for Yale to follow Duke University's footsteps and make expulsion the preferred sanction for students found guilty of sexual assault.
"Expulsion must be the preferred sanction, because it is imperative that Yale does all it can to remove sexual assailants from its campus," Goldberg, a sophomore and one of the authors of the letter, told The Huffington Post.
While Goldberg said she appreciates Salovey's quick response to public outcry following the semi-annual report, she worries that Salovey doesn't understand the protests about mild punishments given to perpetrators. Merely considering expulsion is not enough, she said.
"Sexual misconduct is reprehensible human behavior," Salovey wrote in his letter last week. "But my academic training tells me that human behaviors can be modified, and that institutional cultures can change for the better. And my professional experience at Yale has shown me that this university is committed to being a community that is respectful and safe for all."
Winnie Wang, a Yale junior, said the group was not happy with the president's letter. For instance, Salovey's statemetns reiterated the policy that Yale uses "nonconsensual sex" but it doesn't necessarily mean sexual assault in the eyes of the university.
"Do we have to press Yale to make a glossary of terms of what actually defines sexual assault and sexual misconduct?" Wang said. "The Yale administration just sort of tiptoes around that term [sexual assault] because they feel like it carries too much negative stigma and bad PR."
Yale spokeswoman Karen Peart said in a statement Wednesday the university "encourages and appreciates the value of open debate on this important issue, and it welcomes feedback and suggestions."
Wang conceded that Yale has made improvements in policy since the federal investigation, which concluded with a voluntary resolution agreement. But in practice, problems remain, she said.
"I know some people who feel like they went through this whole process for nothing," Wang said, "really just to have their perpetrator get a slap on the wrist."
Read the entire letter issued to Peter Salovey below:
As Yale students, we are deeply concerned about the school's handling of sexual violence, particularly in light of the most recent Semi-Annual Report. Through conversation and research, we have determined four essential policy changes to create a safer, more egalitarian campus. Please find our list of demands below, as well as at our website www.sasvy.com. We invite you to meet with us in person to discuss these measures further.

Sincerely,

1. Yale must establish an explicit preferred sanction of expulsion for those found culpable of sexual violence. By allowing offending students to remain at Yale, the administration deprives survivors of justice and puts other students at risk of victimization. Lenient disciplinary action also sends a clear message to the student body trivializing sexual violence, encouraging future violations. Inspired by Duke's recent policy change, we feel strongly that expulsion should be the standard punishment for perpetrators of sexual violence -- including but not limited to rape -- and that the UWC should not place the burden of determining the punishment on the survivor. However, we oppose a mandatory expulsion policy that would potentially discourage reporting and deprive survivors who do report of the ability to influence the disciplinary process. If, based on survivors' desires, an assailant is suspended rather than expelled, the sanctioned student should be removed from campus immediately, but, if the disciplinary decision is made after the first month of classes, the remainder of the semester should not count toward his or her completion of the suspension length (i.e. the term of suspension should be measured starting the following semester). Additionally, offenders should not be allowed to enroll in any courses before the completion of the suspension, even if the survivor is away from campus.

2. Yale must provide to survivors the services of an external victim's advocate. The school disciplinary process is opaque and unfriendly to survivors, as documented by students and determined by the federal Department of Education's Office for Civil Rights. Yale should contract with a trained victim's advocate to guide survivors through the process. This advocate must be employed by a local organization (such as a rape crisis center or victim's rights organization) so that his or her continued livelihood does not depend on responding to the administration's interest and requests, which may be counter to the needs of the survivor.

3. Yale must include student-survivors on all committees determining policy, programming, and administrative statements on sexual violence. Faculty and administrators lack the insight and expertise unique to those most intimately affected by the school's approach to sexual violence. Student-survivors must be included -- and their voices centralized -- in all relevant task forces, committees, etc. starting with the current effort to determine standard disciplinary consequences for different forms of violence.

4. Yale must initiate a disciplinary hearing against students reported to the school for sexual violence more than once, whether or not the reports were filed formally. According to research from Dr. David Lisak, the average college rapist offends six times, and 90% of campus assaults are perpetrated by repeat assailants. The continued presence of such offenders on campus, then, poses an unconscionable risk to the student body. If the university has reason to suspect that a student is a repeat offender based on either informal or formal reports, it must initiate a formal investigative hearing.

SASVY fully supports the personal decisions of survivors. We recognize and respect that there are many reasons a survivor may wish to seek a lesser penalty than expulsion in a formal disciplinary hearing, to make an informal complaint without a disciplinary hearing, or to not make a report. The goal of our first proposal is for Yale's formal complaint system to be more just, open, and responsive to the needs of survivors who do pursue disciplinary action, and we oppose pressure or judgement on survivors who choose otherwise.

Likewise, the goal of our fourth proposal is for Yale to have a clear mechanism for keeping track of repeat offenders and initiating investigations, and we support the choice of survivors to participate or not participate in those investigations.

SASVY calls on Yale to solicit student-survivor input on a purely voluntary basis and in a way that prioritizes and protects privacy. Student survivors who wish to participate -- on a committee level or otherwise -- in the process of creating policy and providing feedback on current policy should not be pressured or required to reveal their identities to the Yale community, the general public, or any administrators beyond the scope of the individual committee with which they are involved. We recommend the creation of fully anonymous pathways for student-survivors who do not wish to reveal their identities to voice their opinions, suggestions, and feedback.

SASVY recognizes and supports the important work of the Sexual Harassment and Assault Resource & Education (SHARE) Center. Our proposal to contract with an external victim's advocate is intended to provide an additional, complementary resource to survivors. We call for a system in which survivors have access to advocacy and support that is independent from Yale in addition to the crucial institutional support resources that already exist.

We welcome further questions and feedback about our proposals.
Before You Go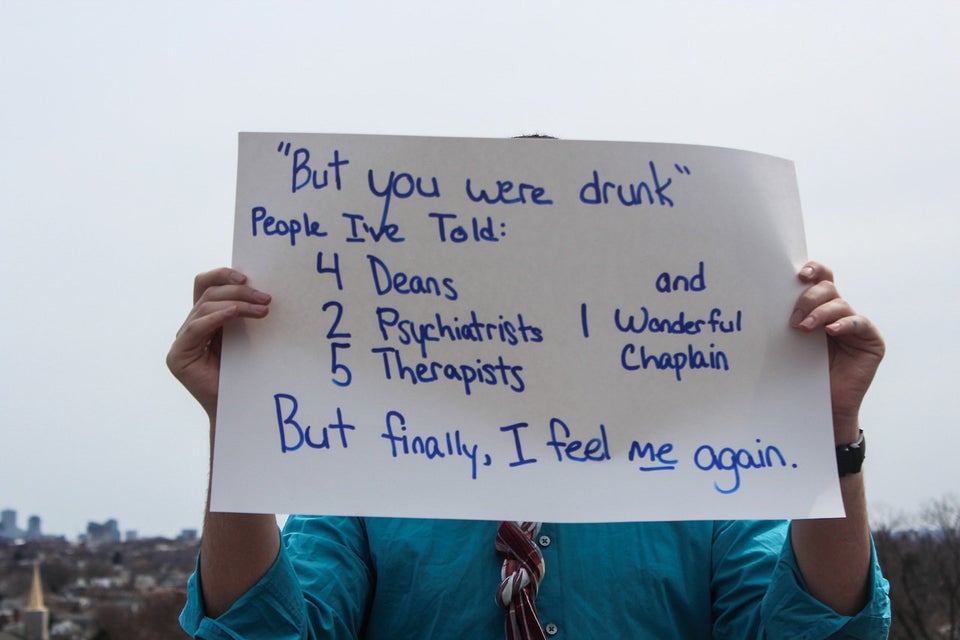 Surviving In Numbers: Stories Of Sexual Assault Survivors
Popular in the Community