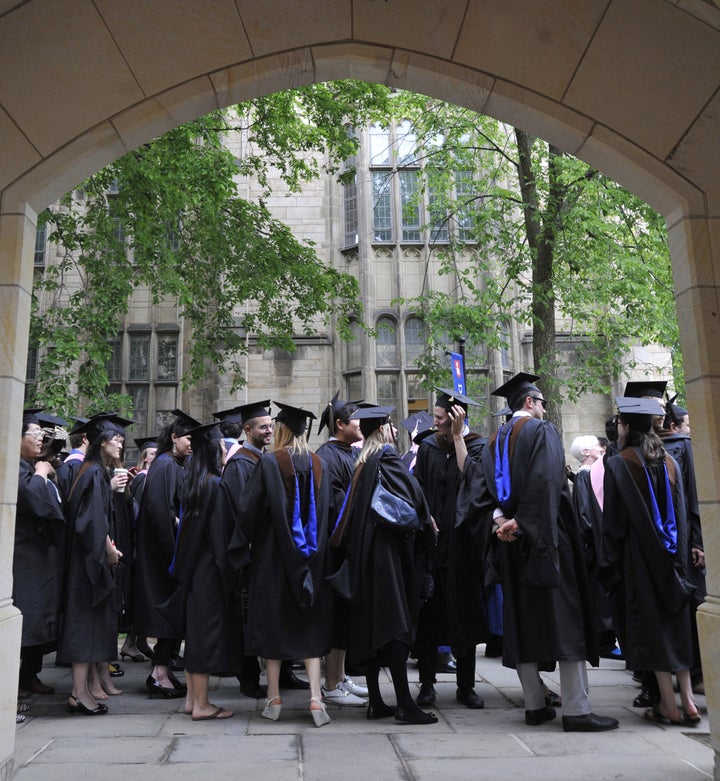 NEW YORK -- The classic liberal arts curriculum, long made available at Yale University's New Haven, Conn., campus, is about to traverse the Pacific Ocean, bound for Singapore.
On Thursday morning, Yale officials confirmed that they would partner with the National University of Singapore to create a new institution called Yale-NUS College, with plans to hire 100 professors to teach about 1,000 undergraduates.
Last September, the two institutions had signed a nonbinding agreement to explore the possibility of such a partnership. But as of Thursday, they have officially entered into a formal, long-term commitment.
Classes are slated to begin in the fall of 2013 at its main campus in Kent Ridge, Singapore. At least half of the Yale-NUS College's projected student body will be comprised of students from Singapore, with the rest coming from elsewhere in Asia and other parts of the world.
While Yale already has dozens of international programs around the world, which primarily function as study-abroad programs for its U.S.-based students, this is the first time it has joined forces, and lent its name, to another degree-granting institution.
"This will be the first fully-fledged liberal arts college of the American type in Singapore -- and the first one in Asia," Yale President Richard Levin said. "But this is not just an outpost of Yale, replicating what's already being done at Yale."
In the race to establish global outposts, Yale is but the latest contender. Worldwide, according to the Organization for Economic Cooperation and Development, some three million students study outside their native countries -- a figure that is expected to nearly triple in the next 15 years, especially with more U.S.-based schools eyeing sister or satellite campuses abroad.
Earlier this week, labeling itself "the first global network university," New York University announced that it would create a portal campus in Shanghai, China, in addition to its hub in Abu Dhabi, the capital city of the United Arab Emirates. The Shanghai outpost is expected to open in September of 2013.
"We're fashioning a new architecture for universities in the 21st century," said John Beckman, vice president for public affairs at NYU, asserting that the global expansion of Yale is merely emulating a path that his university has already forged. Beckman also said that NYU is giving serious consideration to a fourth campus, located in Europe.

But it's not just Yale and NYU that are in the business of global expansion. In Qatar, for instance, a mixture of six public and private U.S. colleges -- among them, Carnegie Mellon, Cornell, Georgetown, Northwestern, Texas A&M and Virginia Commonwealth universities -- now populate what's called Education City, a series of satellite campuses that is sponsored by a local foundation.
Lately, stable financial backing, especially following the recent economic turmoil, has been more difficult to come by. Recently, George Mason University made headlines when it shuttered its campus in Ras al-Khaimah, part of the United Arab Emirates, after the deep pockets of Edrak, a private educational company based in Amman, Jordan, dried up. Michigan State University and North Carolina State University also scaled back their efforts to expand overseas in Dubai and South Korea, respectively.
Hoping for greater stability, similar to NYU's outpost in Abu Dhabi, which is entirely financed by the UAE government, Yale-NUS College will be funded by the National University of Singapore. Its president, Tan Chorh Chuan, confirmed that the partnership, whose price tag he refused to disclose, would be financed by a combination of local taxpayer dollars, philanthropic donations and tuition revenue. While Yale will provide faculty and intellectual resources, the partnership is such that the school will never be forced to open its pocketbook.
That arrangement may, however, further discomfit Yale faculty members who have voiced concerns about an alliance with the government of Singapore, which has been cited by the U.S.-based nonprofit Human Rights Watch for its restrictions on speech and the press.
While Yale will offer the National University of Singapore its first broad undergraduate liberal arts curriculum, it will not be the first NUS program with involvement by U.S. schools. The National University of Singapore already pairs with several American institutions, including Duke University and the Massachusetts Institute of Technology, to provide graduate-level coursework.
Career and pre-professional majors are common throughout much of Asia in areas like business or accounting, but soon, student life for some undergraduates in Singapore might come to resemble the American college experience. From small group seminars and dormitory life to extracurricular activities and other student groups, Yale's Levin outlined the development of a new curriculum that he said would combine eastern and western cultures whenever possible. In an undergraduate literature course at Yale-NUS College, he said, students would read Aristotle, the Greek philosopher, along with the work of Confucius, the Chinese thinker.
But despite its emphasis on small-group learning and critical thinking, the school's diplomas will be conferred by the National University of Singapore, not by Yale. In this way, it is a break from NYU's effort to establish overseas outposts: those graduates earn -- or, in the case of the Shanghai campus, will earn -- diplomas that are identical in cachet to the ones earned at its Manhattan home base.
In some ways, at least, Yale's Singapore experiment has already begun. According to Charles Bailyn, a professor of astronomy and physics and inaugural dean of the faculty at Yale-NUS College, while the admissions process for students is still a year away, resumes for tenure-tracked faculty have already started to roll in.
"This is a part of a quest by countries all over the world to create world-class universities," said Ben Wildavsky, a senior fellow at the Kauffman Foundation and author of "The Great Brain Race: How Global Universities are Reshaping the World." "If you're a place like the National University of Singapore, you can be a decent university. But if you want to be a great university, a global hub, you have to join with partners to help get you there faster."

Popular in the Community