Hundreds of Yale Law students are demanding a full, fair and impartial investigation into allegations of sexual misconduct against Supreme Court nominee and Yale alumnus Brett Kavanaugh in the wake of new allegations brought by a second woman.
Faculty of the elite New Haven law school canceled 31 classes on Monday to help facilitate protests that saw students pack the halls and speak out against abusers and those who silence victims. In the nation's capital, a bus carried additional students to the Supreme Court and Senate buildings to demonstrate.
Catherine McCarthy, a third-year law school student who was attending the on-campus event, told HuffPost that organizers counted at least 260 attendees. Among them were faculty members and Sen. Richard Blumenthal (D-Conn.), who spoke in support of a full investigation into Kavanaugh's alleged misbehavior.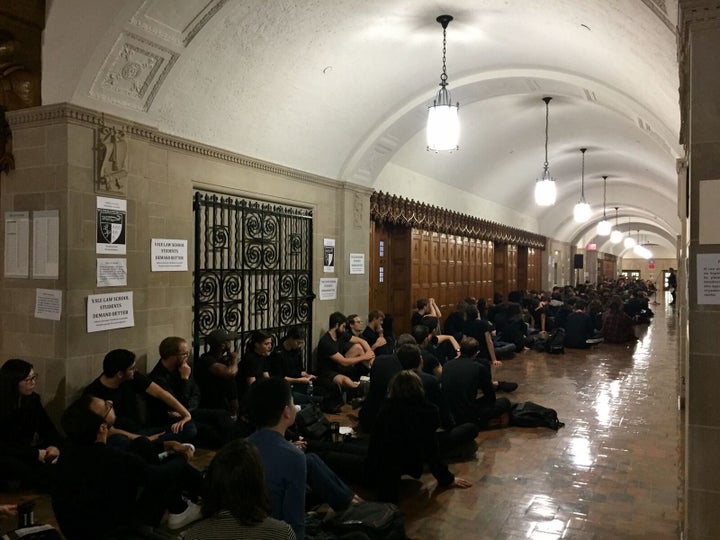 "The first word that comes to mind is fierce," McCarthy, 29, said of the scene's mood in a phone interview.
"People are, I think, angry on behalf of people who have been mistreated, particularly on behalf of Dr. Christine Blasey Ford and Debbie Ramirez," she said, naming the two women who have publicly come forward with allegations against Kavanaugh this month.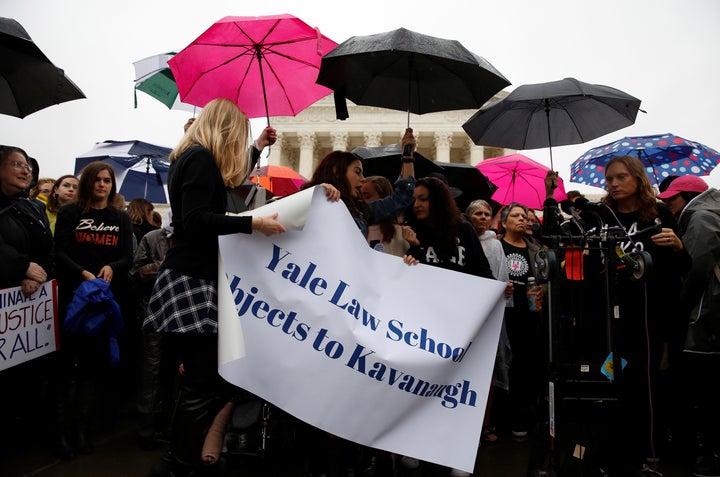 "There are some tears. There are a lot of shows of support," McCarthy added. "A lot of empathy and compassion."
The majority of those participating wore all black "in part to emphasize that we're acting as a collective," she said.
"We are all here for the same reason. We consider this part of our community," she said. "We urge the Senate Judicial Committee to give Dr. Christine Blasey Ford and Debbie Ramirez the fair investigation that they're due and they've asked for."
Kavanaugh has denied both of the allegations brought against him. He's received the support of President Donald Trump, who dismissed the allegations on Monday as "totally political."
Fellow demonstrator Dana Bolger, a third-year law student at Yale, cited the past allegations against Supreme Court Associate Justice Clarence Thomas by Anita Hill in 1991 as another reason for speaking out.
"The Senate's treatment of our own alumna Anita Hill more than two decades ago sent a crystal-clear message to women and to all people who have experienced sexual violence: We don't care about you," she said in a statement. "We demand that the Senate not repeat this same shameful mistake again. We state unequivocally that we believe and stand with Professor Blasey Ford and Debbie Ramirez."
"Yale Law School perpetuates a broader power structure in which a small group of the wealthy and well-connected have the power to shape the law in ways that create and exacerbate profound inequities in American society," Pogin said in a statement. "This is a moment of reckoning for the country as well as for the Yale Law School community, given the disproportionate power this institution holds over the legal profession and how we have collectively chosen to wield it."
CORRECTION: A previous version of this article stated that the law school canceled 31 classes to facilitate protests. Faculty members canceled the classes.
Popular in the Community