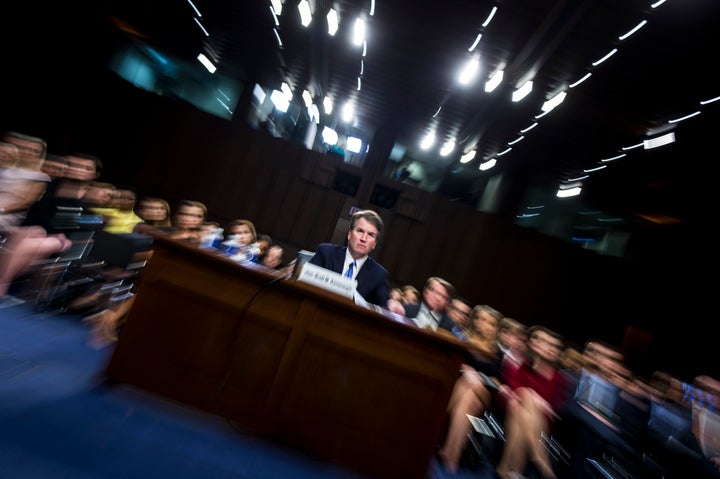 Kavanaugh, himself a Yale graduate, currently stands accused of sexually assaulting California professor Christine Blasey Ford when they were teenagers in the 1980s.
"Everything that is being said about the advice I give to students applying to Brett Kavanaugh ― or any judge ― is outrageous, 100% false, and the exact opposite of everything I have stood for and said for the last fifteen years," Chua said.
She insisted in the statement that she always encouraged students to dress professionally, not casually, for interviews with any federal judge.
Yet a woman who recently graduated from Yale Law School and received advice from Chua on interviewing for a coveted clerkship position with Kavanaugh, who sits on the U.S. Court of Appeals for the D.C. Circuit, disputed the professor's statement.
"She's lying," the woman told HuffPost.
The professor specifically told her not to wear a suit when she met Kavanaugh, the woman said, requesting anonymity for fear of career reprisals.
The woman spoke with a friend the following day about other advice Chua gave her, according to a text transcript viewed by HuffPost.
Chua asked the woman if she came from a low-income or disadvantaged background, claiming this would make a good "sob story" to appeal to Kavanaugh, according to the transcript.
At his confirmation hearings earlier this month, character witnesses chosen by Republicans repeatedly praised Kavanaugh for the diversity of his law clerks over the years.
Chua had also mentioned that another woman whom she'd helped nab a clerkship with Kavanaugh had a "bossy" personality, the woman told her friend via text.
A former Yale student previously told HuffPost that the professor specifically told her to behave and dress in an "outgoing" way. Meanwhile, Chua's husband, Yale law professor Jed Rubenfeld, advised the woman that Kavanaugh preferred female clerks with a "certain look."
An unnamed Yale student also told The Guardian that Chua said it was "not an accident" Kavanaugh's clerks "looked like models." The comment echoes those given to HuffPost from three students who had drinks with Chua last year.
"I personally heard her state that it's not an accident that all his clerks look like models," a current Yale Law student told HuffPost on Saturday. "So I personally know that for her to say the allegations are 100 percent false is a lie, because at least that one is definitely true."
Outside Yale, Chua is best known as the self-described "Tiger Mom" for her 2011 book The Battle Hymn of the Tiger Mother.
In her message to the Yale Law community, Chua said she tells students to dress professionally and "prep insanely hard" because "substance is the most important thing." She continued:
I advise them to read every opinion, including dissents, the judge has ever written as well as important recent cases from the circuit and Supreme Court. I tell them to review all the black-letter courses they've taken and to be prepared to answer hard questions about their writing sample. I tell them to be courteous to everyone, including the staff and clerks. I advise students, male and female, to dress professionally ― not too casually ― and to avoid inappropriate clothing. I remind them that they are interviewing with a member of the judiciary. I always try my best to be frank and transparent, and to hold students to the highest professional standard, and every year for the last decade I have been invited by affinity groups like Yale Law Women, the Black Law Students Association, and Outlaws to host clerkship advice sessions. My record as a clerkship mentor, especially for women and minorities, is among the things I'm most proud of in my life.
A growing number of students are criticizing Yale leadership for issuing a statement in support of Kavanaugh's nomination in July and for staying silent on Blasey's accusation.
Students at a school event on Thursday confronted faculty over HuffPost's story and subsequent reporting from The Guardian. Particularly galling to students is the idea that Yale might have known about the sexual misconduct of one federal judge, Alex Kozinski ― a popular judge for Yale students to clerk with, as well as Kavanaugh's mentor. He resigned last year from his position on the U.S. Court of Appeals for the 9th Circuit after a wave of harassment allegations.
In Rubenfeld's conversation with the former Yale student, the professor told her that Kozinski was a known sexual harasser, HuffPost reported.
"Students feel pretty deeply betrayed by professors being aware of allegations for years against federal judges, but continuing to funnel students to them," third-year student Catherine McCarthy told HuffPost on Friday.
Multiple attendees said professors responded in part by pinning the responsibility for vetting judges on the students, not the professors who advise them.
Doug Kysar, deputy dean of Yale Law School, sparked criticism this week for telling students that he knew of Kozinski's behavior since 1998, which many students took as a reference to sexual harassment. Kysar then clarified that he only meant that Kozinski "seemed like an asshole," and was not aware of the sexual harassment until last year.
"Given what I did know, do I wish I had done more? Yes," he said. "I always wish I had done more."
Students hung protest signs this week on Yale's campus. One read: "DO MORE NOW!"
Popular in the Community