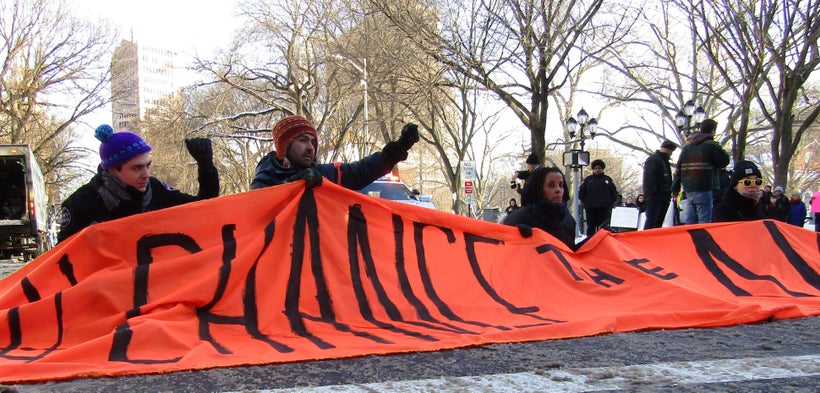 Yale Corporation yesterday announced it will remove the name of white supremacist John C. Calhoun from one of its residential colleges.
In a letter to the Yale community, university president Peter Salovey wrote "The decision to change a college's name is not one we take lightly, but John C. Calhoun's legacy as a white supremacist and a national leader who passionately promoted slavery as a 'positive good' fundamentally conflicts with Yale's mission and values."
In April of last year, Salovey flatly refused to change the name in the wake of a yearlong student campaign. Then in August the university reopened discussion about changing the residential college's name when it became public that Corey Menafee, a dishwasher in Calhoun, was arrested for knocking down a stained glass window depicting slaves carrying bales of cotton in the Calhoun dining hall.
Reached by phone on Sunday, Menafee said he was "delighted" by the news.
"I think Peter Salovey made the right decision," Menafee said. "I'm proud of him for that."
The day before the Yale Corporation met to discuss a new name, four New Haven residents were arrested in a planned civil disobedience at a busy intersection in front of Calhoun. Among those arrested were John Jairo Lugo of Unidad Latina en Accion and Kica Matos, both seasoned civil rights activists in the city who helped New Haven become the nation's second Sanctuary City in 2007.
"When we win," Matos said to a small crowd before getting arrested, "it will be because of the courage of Corey Menafee, who smashed a racist window pane and brought town and gown together."
Lugo, who was also arrested in the civil disobedience, said his organization of mostly Latino immigrants came together in a broader town-gown coalition to rally behind Menafee.
"When the university called the police on Corey Menafee that really activated the New Haven community, and we decided it was important to support these students trying to change the name and that we could not let that go," Lugo said.
When asked how he felt about being the hero of the movement to change the name, Menafee responded humbly.
"I don't consider myself a hero, first and foremost. I'm just a man who saw something that wasn't right and did something about it," Menafee said. "If others consider me a hero that's their opinion and they're entitled to it."
The university announced Saturday that the residential college will be named for Grace Murray Hopper, a computer scientist who received a masters degree in mathematics and a Ph.D. in mathematics and mathematical physics from Yale in the 1930s.
Calhoun College was built and named in 1931, 81 years after his death. In his letter to the Yale community Salovey wrote:
"Unlike other namesakes on our campus, he distinguished himself not in spite of these views but because of them. Although it is not clear exactly how Calhoun's proslavery and racist views figured in the 1931 naming decision, depictions in the college celebrating plantation life and the "Old South" suggest that Calhoun was honored not simply as a statesman and political theorist but in full contemplation of his unique place in the history of slavery."
Yale junior Maya Jenkins, a Calhoun resident and member of the Black Student Alliance at Yale, said she was excited by the news but does not think the struggle is over.
"I would say that it definitely needs to be celebrated as a win from the organizing efforts of people of color, of students, of community members, and Yale employees," Jenkins said. "But there's more work to be done to hold the university accountable to anti-racist principals beyond just symbols."
REAL LIFE. REAL NEWS. REAL VOICES.
Help us tell more of the stories that matter from voices that too often remain unheard.
This post was published on the now-closed HuffPost Contributor platform. Contributors control their own work and posted freely to our site. If you need to flag this entry as abusive,
send us an email
.