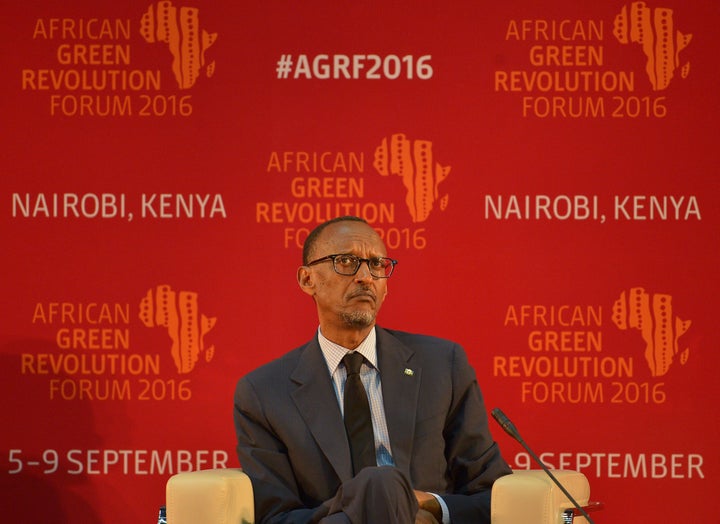 By Elizabeth Leiserson, Hope Metcalf, James Silk, Alyssa Yamamoto*
New Haven, Ct. – Despite his long and disturbing record of human rights abuse, President Paul Kagame of Rwanda was chosen to deliver the annual Coca-Cola World Fund Lecture at Yale University on Tuesday, September 20. The organizers of the lecture laud President Kagame for "set[ting] Rwanda on its current course towards reconciliation, nation building and socioeconomic development" after the 1994 genocide. But there is more to the story.
According to documentation gathered and published by Human Rights Watch, Amnesty International, the United Nations, and others, President Kagame has presided over grave human rights abuses. Since 2011, hundreds of vulnerable persons—often street children and commercial sex workers—have been arbitrarily arrested and detained at unofficial detention centers operated by the Rwandan government. Despite repeated promises by the Rwandan Ministry of Justice to investigate and prosecute these abuses, those responsible continue to benefit from impunity for their violations.
Countless cases of summary or arbitrary executions, enforced disappearances, violations of fair-trial rights, and heightened restrictions on the freedom of expression and association have also been documented. Journalists continue to be intimidated, harassed and detained by the government, and most leading human rights activists have fled the country.
Furthermore, in 2012 and 2013, the Rwandan government supported the M23, a Congolese armed group, by providing supplies, recruitment support, and training. The M23 committed many grave human rights abuses in the Democratic Republic of Congo. Even though several of its former leaders now live in Rwanda, no investigations or prosecutions have, to our knowledge, taken place.
And yet Yale has honored President Kagame for his leadership in "numerous areas, including peace building and reconciliation, development, good governance, [and the] promotion of human rights." Yale's invitation, with this one-sided description, ignores the real human cost of President Kagame's 16-year leadership of Rwanda. Although President Kagame played a critical role in ending the 1994 genocide in Rwanda and in bringing economic and social stability to his country, those accomplishments ought not to obscure the serious human rights violations that officials in his government have perpetrated.
By leaving out the difficult issues, Yale implicitly endorses the deeply troubled view that an unavoidable trade-off exists between economic development and human rights. Indeed, one commentator on Rwanda has gone so far as to conclude that "[h]uman rights violations are a small price to pay for Rwanda's remarkable progress."
Human rights are not contrary to development. Rather, sustained development and fundamental human rights cannot exist without each other.
President Kagame has chosen to pit development against human rights. Yale has joined the bandwagon, however unwittingly. In choosing to honor President Kagame with this invitation, Yale legitimizes his choices. Soon after Yale announced the upcoming lecture by President Kagame, the Rwandan presspublished an article stating that President Kagame was invited as a "guest of honour" due to "his unmatched leadership achievements" in areas including the "promotion of human rights … according to Yale University officials."
We believe it is our ethical obligation, as members of the Yale community dedicated to the protection, promotion, and enforcement of universal human rights, to hold President Kagame accountable. The assumption that respect for human rights can be tabled as a future priority has chilling consequences, leaving Rwandans and others further victimized, without justice or recourse.
President Kagame's right to speak is not at issue. We oppose Yale's decision to invite him to give a prestigious lecture at Yale and then to misrepresent his record in a one-sided announcement. The mission of the international studies center at Yale that sponsors the Coca-Cola Lecture is "to support intersecting endeavors among specialists in international relations, international law, and the management of international enterprises and organizations." Yale is, of course, free to invite people of diverse views to speak. But a great university violates its very purpose when it misrepresents the truth and bestows honor on those who trample its values.
To quote Supreme Court Justice Louis Brandeis, "If there be time to expose through discussion the falsehood and fallacies . . . the remedy to be applied is more speech, not enforced silence." To that end, we have called on Yale to publicly acknowledge the well-documented human rights abuses of President Kagame's government and to scrutinize carefully and meaningfully the human rights records of any public figures before inviting them to speak. Yale must not bolster the credibility either of those responsible for serious human rights violations or of the argument that successful development can ever justify such violations.
*Elizabeth Leiserson and Alyssa Yamamoto are students in the Allard K. Lowenstein International Human Rights Clinic at Yale Law School. Hope Metcalf is a Clinical Lecturer in Law at Yale Law School and Executive Director of the Orville H. Schell, Jr. Center for International Human Rights. James Silk is a Clinical Professor of Law in the Allard K. Lowenstein International Human Rights Law Clinic at Yale Law School.