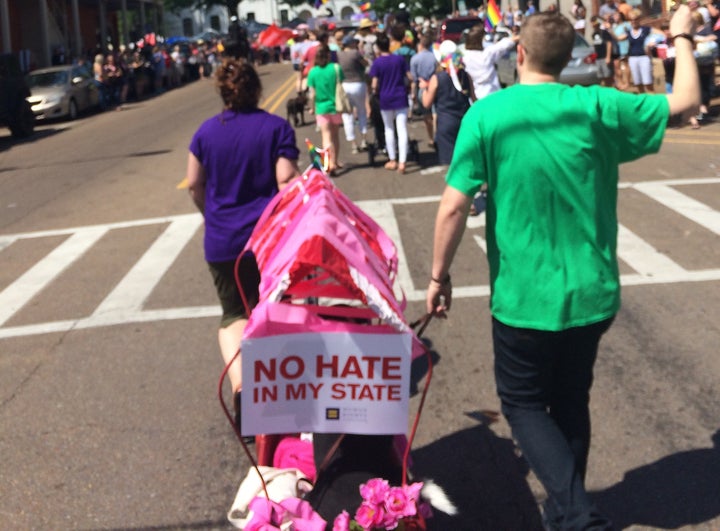 Last week, I heard the news that President Trump has rescinded former President Obama's directive allowing for protections for transgender students to use bathrooms and/or locker rooms that align with their gender identity. As has become the norm in the last 100 days of a Trump presidency, yet another group of Americans feels the fear that can only come when the leader of a nation turns his back on a vulnerable, oppressed group.
Even President's Trump controversial pick for education secretary, Betsy DeVos, originally hesitated when confronted with his plans to rescind the directive. After pressure from both Attorney General Jeff Sessions as well as the president, DeVos decided to go against her conscience and allow the directive's reversal to move forward. She did, however, reiterate that schools are responsible for protecting ALL students from bullying, harassment, and discrimination. That's something, but it's not nearly enough.
It is all of our responsibility to be as vocal as possible in supporting transgender students as well as all members of the LGBTQ community in the face of this blatant oppression. Many transgender students face discrimination on a daily basis from peers, and most dishearteningly, often from parents and teachers too. In fact, according to a 2016 study from the Cincinnati Children's Hospital, 30 percent of transgender children have attempted suicide at least once. These are some of our most vulnerable children, and one can only imagine the relief of being vowed protection by America's president one year only to have another president rescind those protections the very next year, based solely on pressure from a religious base who is NOT representative of all Americans.
Many people argue that this has nothing to do with ending protections for transgender students; it's a state's rights issue. But I agree with Chad Griffin, president of the Human Rights Campaign, when he says, "This isn't a states' rights issue; it's a civil rights issue."
Unfortunately, many states in our country are unable to honor many individuals' civil liberties. My home state of Mississippi historically falls into that category, and it continues to this day. Remember Governor Bryant's signing HB 1523 into law last year, codifying an establishment's right to discriminate against patrons based on religious beliefs? Or what about the fact that in this state, you can still face employment discrimination based on your sexual orientation? Or consider the fact that Mississippi was the last state to allow same-sex adoptions, a protection that was just instituted last year.
So, leaving these decisions to the states may not be in the best interest of our most vulnerable minority. That is why those of us who believe in people's basic humanity were so relieved by President Obama's mandate last year. And that is also why so many of us are disheartened by President Trump's decision last week.
We should make a promise to those in the LGBTQ community. We should continue to voice our objections to intolerance and hate. Because, in the words of Irish author Sebastian Barry, in his letter to The Irish Times, "I don't see [laws protecting LGBTQ citizens] as a matter of tolerance so much as apology, apology for all the hatred, violence, suspicion, patronization, ignorance, murder, maiming, hunting, intimidation, terrorizing, shaming, diminishment, discrimination, destruction, then, yes, intolerance visited upon a section of humanity for God knows how many hundreds of years."
To this section of humanity, I promise that you are not alone.
Calling all HuffPost superfans!
Sign up for membership to become a founding member and help shape HuffPost's next chapter