This interview is part of an ongoing series of conversations between emerging female artists and their mentors in the art world. Stay tuned for more.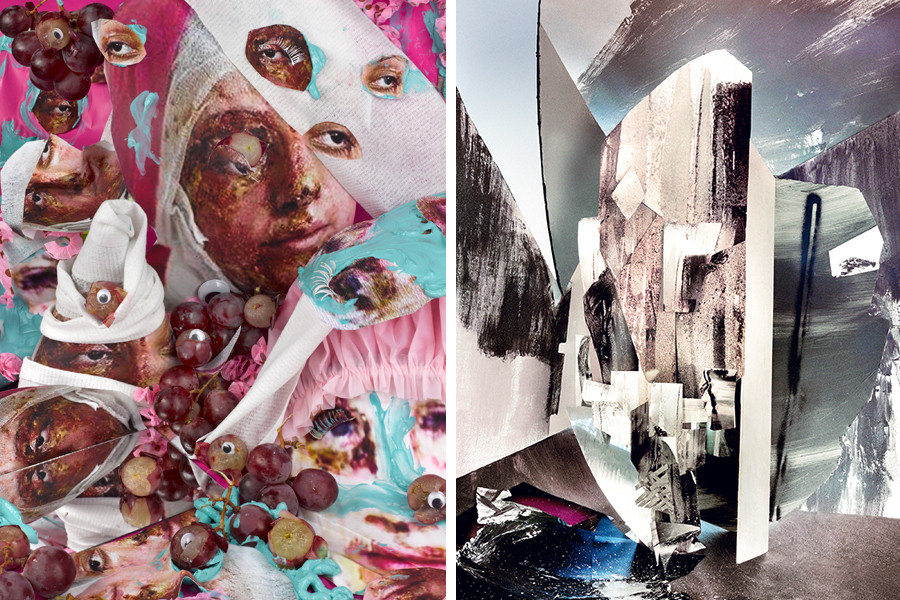 (L) Sheida Soleimani's "Vitriolic," (R) Yamini Nayar's "Akhet"
I met Yamini Nayar in 2010 during my second year as an undergrad. When I saw her work for the first time, I became obsessed with how she built beautifully delicate and detailed constructions for the camera. After having a critique with her about my work, I asked for her contact information so we could keep in touch. Throughout the years, when I would visit NYC, I'd contact her to see if she would be available to meet up.
Her process and work has been very inspiring to me, and I've always viewed her as a far-away mentor. It was exciting to have the opportunity to interview her and pick her brain about her personal practice as well as her thoughts on issues in the contemporary art world.
Your process has influenced me significantly in my personal works. The usage of low-tech materials and fragile constructions became imperative to my practice as I started creating my own still life/tableau scenarios. Could you talk a bit about the materials you use and if they represent anything specific?
I'm interested in the physicality of the photograph -- as a visceral object and translator of memory and suppressed narratives. I try to use materials in a way that creates tension between the image and how it is experienced. To do this I work with objects that have been stripped of their original significance -- wood, glass, printed matter, everyday minutiae -- really anything I can get my hands on.
"I'm interested in the physicality of the photograph -- as a visceral object and translator of memory and suppressed narratives."
When looking at your photographs, I spend a lot of time trying to figure out the relationships and dialogues created between all the objects within the frame. Can you talk about how you decide on the forms you are building? Are they planned out or are they improvisational (or both)?
There's an intimacy to constructing images that I connect to. I'm very interested in how architecture translates history and memory in the present -- suppressed narratives -- and ideas of the uncanny, legibility and difference. By bringing the viewer into a space via the photograph, it allows for complicated and layered narratives. In my photographs of constructed spaces you're able to enter into a structure, which is something that interests me. And there's a sense exploration when I make work -- similar to writing. I think of my work in terms of writing and linguistics in some ways. I allow it to take me where it can, which I hope others can connect to as well.
When I attended your talk in 2010, I remember that you said the constructions you build for the camera were quite small. Afterwards, I spent a lot of time thinking about how the photographic medium translates the depth of your spaces, and how they come across as larger scale than they are. Is there a relationship between the scale of the "miniature" to the miniatures in manuscripts? What have been your influences while formulating the method in which you build things?

The constructions I build in the studio range in size depending on the subject. Some are quite large, even human scale sculptures. My photographs increasingly deal with the body through scale and physicality, so the constructions have been getting larger. My works are in reaction to collected source material, so it becomes a kind of "call and response." I present the process to the viewer in my exhibitions. Modernist architecture continues to be an intriguing point of departure for me, and its underpinnings.
Actually the photo studio culture of India impacted the way I thought about making pictures and the role of the image. Growing up, I was fascinated with the painted backdrops in the Delhi studios, of a mountain range or a modern home. What was interesting to me was their flattened sense of space and often roughly hewn brush strokes where you get a sense of the artist's hand. The camera transforms this fictional backdrop into a stand-in for desired reality.
"Feeling a sense of both belonging and non-belonging is a productive place."
Like myself, you were born in the United States, but to two parents whom are both immigrants. You spent time in India, but currently reside in NYC. As an Indian-American, how does your relationship with your dual nationalities function? Your work gives impressions of both memory and psychological space, do your personal memories ever inform your constructions?
Feeling a sense of both belonging and non-belonging is a productive place. I spent much of my formative years in Delhi, Calcutta and Kerala and I'm sure this finds its way into my work. Some of my earliest memories are in Chittaranjan Park, New Delhi, which was initially called "Displaced Colony" for the Bengali refugees who settled there post Partition. These in-between spaces are fertile ground.
Often curators use the cultural background of an artist as a platform for an exhibition. Would you participate in a show where this was used as a specific theme?
I've been lucky to work with curators who have global perspectives, and I haven't felt orientalized as such. I've participated in South Asian survey shows as well as contemporary photography shows, and I've felt equally at home at both. We inhabit multiple spaces and positions as artists, and we should be comfortable with this.
I'm always excited when I see interactions in the art world where a conscious gesture is made to bridge the gap for inequality. There are models such as Radius Books (Santa Fe) that level the playing field and publish 50% female artists. What would you say are some inspirational models of gender and racial equality that you have noticed are making commitments to the field?
The art world is really decentralized -- Mumbai, Dubai, Hong Kong, New York are just a few. There are many hubs, rather than one, and I think this is refreshing. Developing personal relationships with those who are supportive and understanding of different perspectives has been key for me. There are more avenues than there were even ten years ago, but at the end of the day, it's really about cultivating relationships with those who support your work. Looking back, serving as a board member of the South Asian Women's Creative Collective in New York in the early 2000s was a valuable experience for me. The Center for Photography in Woodstock, Art Matters Foundation, Khoj in Delhi, UnFixed in Amsterdam and Lower Manhattan Cultural Council in New York are just a few organizations providing wonderful opportunities for artists.
Popular in the Community