WASHINGTON -- When Greece's European creditors cut off emergency assistance to the beleaguered country's banks last summer, bringing its financial system to the brink of collapse, it was only a matter of weeks before the Greek government capitulated to their demands. A band of radical socialist politicians elected to upend the status quo agreed to the most onerous austerity package the country had yet experienced, in exchange for emergency loans it needed to repay mountainous debts to those same official lenders.
Greece's sympathizers around the world called the result a coup d'état -- the result of extortion akin to the "gunboat diplomacy" of the imperial era.
Yanis Varoufakis, a progressive economist, who as finance minister had been the most visible face of Greece's new government and remains one of the country's highest-profile political figures, resigned his cabinet post under pressure shortly before the deal was signed.
After leaving public office, he founded the Democracy in Europe Movement 2025. The goal of the pan-European initiative is to democratize the European Union institutions that enabled the financial blackmail against Greece last summer. Absent such change, DiEm25 argues, the united, peaceful and prosperous post-Cold War Europe will "disintegrate" in no more than a decade's time.
But what exactly is undemocratic about the duly elected governments of the other 18 nations in the euro currency area imposing their will on the duly elected government of Greece? After all, in a democracy, the majority rules.
Varoufakis was in Washington on Wednesday to plug his new book about the European debt crisis, And The Weak Suffer What They Must? Europe's Crisis And America's Economic Future, so I asked him just that.
"Let me remind you that democracy is not the same thing as majoritarianism," Varoufakis responded. "If the majority decides to have the minority tortured, this is a tyranny of the majority and it has absolutely nothing to do with democracy. Democracy needs to combine majority with due process and with rights."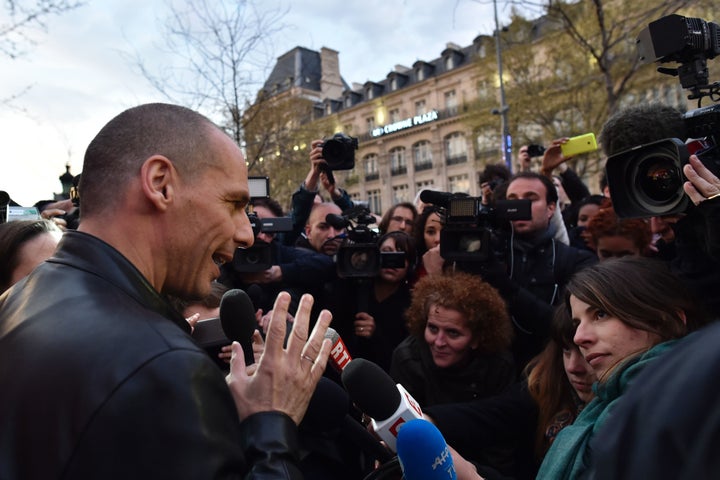 In Greece's case, the analogy to torture is presumably leveraging Greece's reliance on the European Central Bank to keep its troubled banks afloat to force it to accept painful economic measures rejected by its voters.
To illustrate his point, Varoufakis recounted a story from his first days as finance minister in January 2015. He met with Dutch finance minister Jeroen Dijsselbloem, the president of the Eurogroup, the powerful council of the individual eurozone nations' finance ministers.
Dijsselbloem, according to Varoufakis, asked Varoufakis what his government's intentions were for fiscal policy.
Varoufakis claims he gave a "very nuanced answer."
"I said, 'Well, we were elected to challenge that and to change that fiscal policy,'" Varoufakis recalled.
In Varoufakis' mind, even this was a major compromise, since the previous six years of top-down European austerity policies imposed on Greece and other struggling countries on the European periphery had been a "macroeconomic failure greater than that in the history of humankind."
"Nevertheless, let's sit down and re-think this and find common ground," Varoufakis remembered telling him. "I thought this was a very moderate thing to say. And it's the minimum that respect for Greek democracy required."
There is much to support Varoufakis' economic critique of the eurozone's actions up to that point. The drastic fiscal austerity Germany and other wealthy European nations had demanded from Greece since 2010 in exchange for emergency loans had succeeded in shoring up the German and French banks with Greek debts on their books, but had plunged Greece into a deep depression and state of political crisis. Nearly one in four Greeks is unemployed and its economy has shrunk by roughly one-third since 2008.
"Now the only way of describing this is as a coup d'état, as the dissolution of every democratic principle that has ever been withheld in Western civilization."
Worse still, the money is not even enough to allow it to pay off its creditors. The Mediterranean nation has had to return to the bargaining table on multiple occasions to ask for more cash, only to repeat the same never-ending cycle of re-payment, economic contraction, crisis and begging.
But Djisselbloem, Varoufakis said, was not having it. He reminded Varoufakis right away who held the poker chips, in a preview of the drama that would occur in late June and early July.
"If you insist on re-negotiating the fiscal policy of the previous government, your banks will be closed by the end of the month," Djisselbloem said, according to Varoufakis.
"Now the only way of describing this is as a coup d'état, as the dissolution of every democratic principle that has ever been withheld in Western civilization," Varoufakis said.
Greek voters re-elected Syriza, Varoufakis' former political party, in September. Only this time, prime minister Alexis Tsipras campaigned on the promise of distributing the burden of austerity as equitably as possible, rather than reversing the approach entirely.
And there have been signs in recent months that the Greek government still has some fight left in it. It publicly tussled with the IMF in January over the need to cut pensions to reach its budget targets, rather than raising taxes to do so. It also took the Fund to task in early April for a leaked conversation in which IMF officials implied that only a crisis-inducing credit event would prod Greece to do what is necessary.
Meanwhile, news outlets reported on Tuesday that talks between Greece and its international creditors had once again reached a standstill over reforms required to unlock a tranche of loans the country needs to make upcoming debt payments. Greece's compliance with this round of demands is the price of opening up discussion of debt restructuring, according to the lenders.
Varoufakis, however, dismissed the idea that Greece has any say in the matter.
"The Greek government surrendered last July. This is why I resigned," he said. "The Greek government will do anything that creditors ask it to do. They are just waiting for the creditors to decide what they want to impose upon Greece."
Instead, the delays are due to a disagreement between Germany and the IMF, according to the former finance chief.
"There is no way they can agree, because the IMF understands that without a sensible debt restructure and a diminution in the primary surplus target, Greece is finished," Varoufakis said.
In fact, while Greece's ongoing influence is a matter of debate, the dispute between the IMF and Germany is no secret. The IMF -- along with its largest shareholder, the United States -- insists that Germany grant Greece debt relief and lower the budget targets it must meet, in order for Greece to regain its financial independence. Germany remains resistant to the idea.
The Greek prime minister's office did not immediately respond to a request for comment on Varoufakis' characterization.
Varoufakis argued that German officials had made debt relief politically impossible for themselves by falsely selling the original loans to Greece as a bailout for the Greek people, rather than as a bailout of the German and French banks, which stood to collapse if Greece could not pay up. Now the German parliament, with the backing of a bitter, tax-paying public, has no interest in cutting Greece any additional slack.
"The creditors are now in a trap of their own making," he concluded. "And Greece is fading into oblivion and into its awful, debt-deflationary crisis, while waiting for Washington, D.C., and Berlin to decide what to do."
Related
Before You Go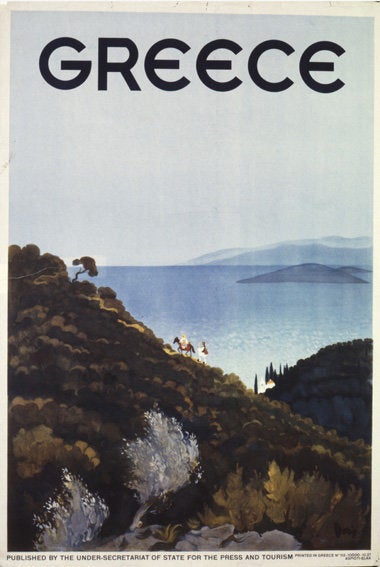 Greece Tourism Posters
Popular in the Community