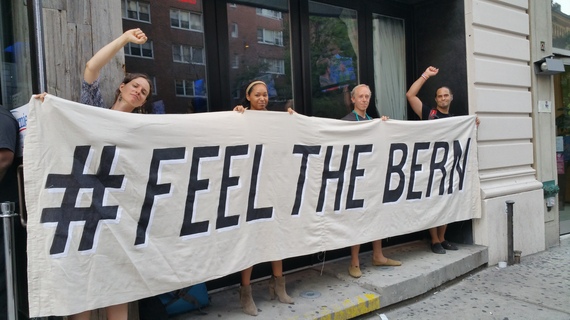 Bernie Sanders Came to Town
A-riding on the Polls
Put himself right on the map
And scared those Wall Street Moles
CHORUS:
Bernie Sanders, Keep it Up
Bernie is just dandy
Mind the voters, watch your step
And with your team be handy
The Corporate Press would not take note,
Though mighty crowds attended
So Tweets and Facebook filled the gap
With pics galore appended
The mighty Dems had built a throne
With Bernie's name not on it
The People's will shall have its way
They'll change that tune, gol dang it!
The Foes chose chants to warn their kin
Of socialism's danger
"Socialism, Shmoshiasm" we just laughed
With ne'er a hint of anger
"Sticks and Stones may break our bones"
But words can't do the same
We know his truth will set us free
And crush the banker's game
So, what's to make of "Bernie Power"
Just what are we to learn?
If you want to change the things that are,
You've got to feel the Bern
Calling all HuffPost superfans!
Sign up for membership to become a founding member and help shape HuffPost's next chapter