In effect, however, "Blue Lives Matter" serves as a corollary, as many other police charities exist without having to stand on top of its namesake, the rallying cry of "Black Lives Matter." The co-opting of this phrase and popular hashtag has come under much criticism from the black community.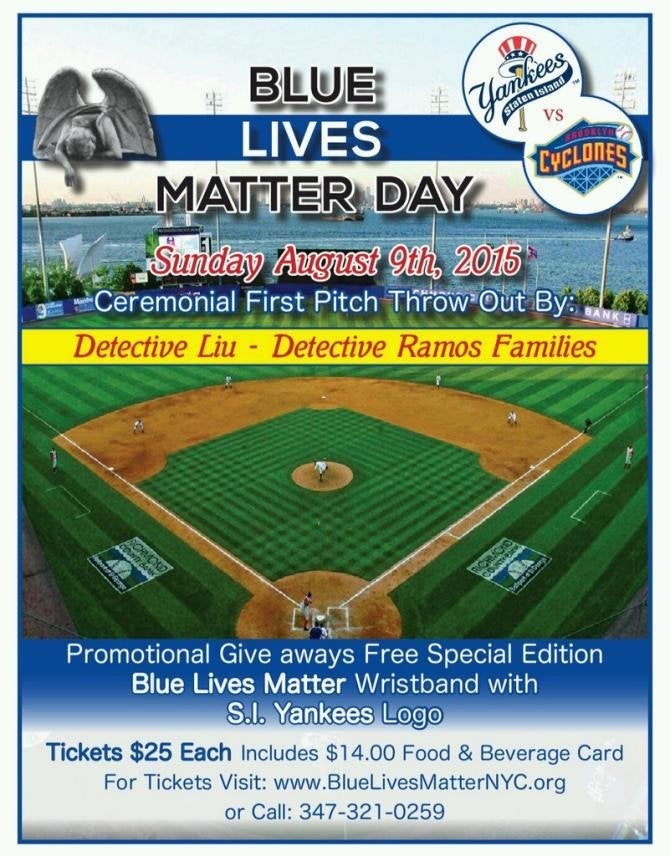 While using a baseball game as a vehicle to honor Liu and Ramos and show respect to their families is a noble cause, the timing of Blue Lives Matter Day has been called into question.
On the anniversary of the death of Michael Brown, this is what the SI Yankees organization chooses to do? This is beyond poor judgement. Did it occur to anyone at the SI Yankees how alienating this is to fans who have been deeply affected by the events that spurred the "Black Lives Matter" movement, including those right here in Staten Island?
Holley responded by apologizing for the seemingly political stance the Yankees took by hosting Blue Lives Matter and added that "our goal is to support those in need, and NOT to provide ammunition for the political and social battles that we are all facing."
He also defended the SI Yankees' decision to host "Blue Lives Matter Day," responding to The Root with an email that read, in part:
We put a lot of thought into whether or not to hold this promotion when Blue Lives Matter originally approached us. We try our best to accurately represent the interests of our community, and this issue is so divisive that it seemed like people wanted us to draw a line in the sand. But the more we thought about it, it came to down to this: Blue Lives Matter is an organization that supports the families of those who have been killed in action. I can't pretend for a minute to understand who is right and who is wrong when something like that happens, but I DO know that families should NOT have to suffer. And for that reason, anyone who wants our help in raising resources to help those in need in our community will always have our ear.
I'm comfortable with the decision to support an organization that helps those in need, and I will continue to seek opportunities for the Staten Island Yankees to do so in the future.
When reached by The Huffington Post on Monday morning, SI Yankees president Jane Rogers said, "There was never any intent to cause controversy or ill-will feelings toward anyone in the community or outside the community."
"It's how we treat any group that comes to the ballpark for fundraising efforts," she continued. "We do this constantly with many, many groups. It was never a matter of favoring one group over another."
"We wanted to raise money for the families," added Holley over the phone on Monday. "[Blue Lives Matter] weren't handing out any propaganda. There were no political motives."
He also noted that any event, no matter who or what cause it's supporting, must make sense in a "ballpark setting." Blue Lives Matter wanted to have the Liu and Ramos families throw out the first pitch, so to the SI Yankees, the promotion seemed like a good fit.
On the inauspicious timing of the event, Holley said it was a "coincidence" that Blue Lives Matter Day was scheduled on the anniversary of Michael Brown's death.
"It was a very unfortunate coincidence. [Blue Lives Matter] wanted the matchup against Brooklyn, because the attendance is usually better. This just happened to be the only Sunday [the SI Yankees host the Cyclones] in August." Holley said.
When asked to clarify earlier comments that he'd be "thrilled" to entertain a "fundraiser to support the fallen on all sides of any conflict," -- specifically if the SI Yankees would be open to a "Black Lives Matter Day" -- Holley said, "We're definitely open to any type of fundraiser to support people in the community."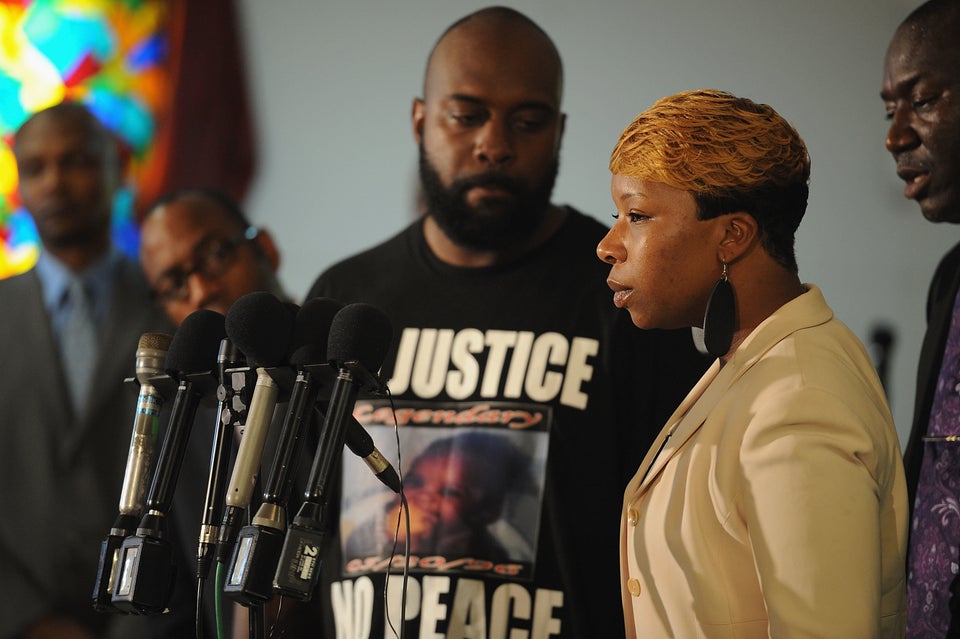 Michael Brown Protests In Missouri
For a constant stream of entertainment news and discussion, follow HuffPost Entertainment on Viber.
Popular in the Community