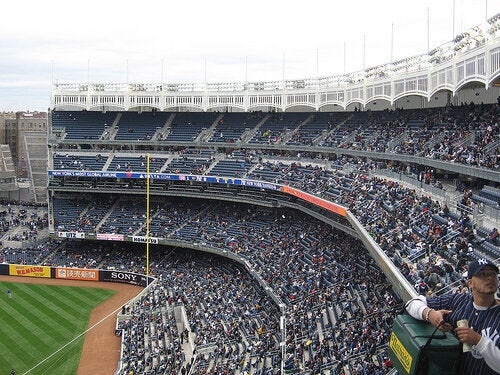 "Wall Street bankers supposedly back the Yankees; Smith College girls approve of them. God, Brooks Brothers, and United States Steel are believed to be solidly in the Yankees' corner... but, as they say, who can fall in love with U.S. Steel?"
- Gay Talese in "There Are Fans... And Yankee Fans"
On Thursday afternoon, some 48,271 New York Yankees fans took a break from the drumbeat of lost jobs and looming tax hikes to take in the season opener, forking over anywhere from $95 to $2,625 for a seat with a view.
As these good folks tried to get relief from endangered paychecks and rising property assessments, at least a few suffered envy and anger as they thought about the millions, perhaps even $1 billion-plus, in public subsidies that went into building the brand-new stadium.
The beneficiary of all that cash is one of the most lucrative sports operations in the country, Yankee Global Enterprises LLC, the franchise George Steinbrenner bought for $8.7 million in 1973 and turned into an empire with a value pegged, last year, at $1.2 billion.
Mayors Rudy Giuliani and Michael Bloomberg did not blink at this transfer of money to the deserving rich - George Steinbrenner and his two sons, Hal and Hugh.
Not everyone shares the Giuliani-Bloomberg view of how to spend taxpayer dollars.
Westchester County Assemblyman Richard Brodsky, the Don Quixote of sports politics, has been conducting a one-man assault on the financing of Yankee Stadium, but, so far, has little or nothing beyond few headlines to show for it.
In a series of lengthy, detailed and footnoted reports, Brodsky has tried to prove that the construction of the new stadium is, as he told the Huffington Post in characteristically moderate New York language, "the most outrageous and dishonest a deal as has ever existed," engineered by Yankee executives who are nothing more than "bullies and thugs."
Brodsky, chair of the NY Assembly Committee on Corporations, Commissions and Authorities, found that "inappropriate and secretive lobbying by highly paid and politically connected procurement lobbyists, inappropriate hiring of politically connected former government officials, disposition of public property for less than its true value, [and] interference with investigations of such behavior" produced a deal with a "total cost to taxpayers and savings to the Yankees [of] between $585 million and $826 million."
The Mayor's office, the New York City Economic Development Corporation (NYCEDC) and the NY City Industrial Agency (IDA) dispute Brodsky's calculations, and, using different accounting methods - method some challenge -- argue that the city emerges from the deal a net $59.7 million ahead.
In fact, as the baseball season starts in earnest and the basketball and hockey seasons wind down, New York got what might be described as one of the "least bad" deals in negotiating who will pick up how much of the tab for new facilities -- in the face of team owners armed with a single trump card: the threat to leave town.
Smith College economist Andrew Zimbalist, a critic of most public spending on stadiums and other sports facilities, wrote a January 22, 2006, New York Times op-ed in which he declared, "the crucial public policy question here is whether there will be a net benefit for residents of the Bronx and the other boroughs. The answer is yes."
Neil deMause, author of "Field of Schemes," a book which weighs in against sport arena financing, strongly opposes the Yankee Stadium plan. On his Website, deMause calculates that the new stadium will cost the city $691 million, NY state $115 million, the NY Metropolitan Transit Authority $53 million, and the federal government $327 million -- for a combined taxpayer bill of $1.19 billion, nearly double the $671 million cost to the team.
"The Yankees deal actually manages to be both the largest team expense on a stadium in history, and the largest public expense on a stadium in history, somewhere in the neighborhood of $1 billion," deMause told the Huffington Post. "The city gets no part of the new revenues the Yankees will reap from the stadium; the jobs created are virtually all part-time, and largely cannibalized from other stores and restaurants in the surrounding area; Bronx residents lost their only large neighborhood park [until the old Yankee stadium is demolished and replaced by a park], for at least five years; and fans got more expensive seats with a lousier view of the field. All this, so that the Yankees wouldn't move out of New York - something that was never going to happen anyway, since the entire value of the Yankees franchise is wrapped up in where they play. I'd call that a pretty lousy deal."
The New York Times, in turn, has become increasingly skeptical of the deal: "Seats for $1,500 a game? Suites fit for the royal family? A scoreboard fit for the Big Board? A fabulous steakhouse and granite ramps (no ordinary cement for this crowd)? This $1 billion-plus pavilion and park financed with a lot of taxpayer help is beginning to sound like something fit for the Wizard of Oz," the paper editorialized on January 14 .
"Mayor Bloomberg has - rightly - had to cut city budgets and increase property taxes and explain to residents how times are bad and how we all will have to share the pain. It is time for Mr. Bloomberg to make that same pitch to the Yankees. If the Yankees can sign megamillion-dollar contracts (C. C. Sabathia just landed one for $161 million over seven years), they should be flush enough to contribute more toward their new stadium and to the parks for people living nearby."
The political facts of life, however, dictate that the stadium is a done deal. Property taxes are going up, jobs are down the chute, and the Yankees will play in their new palace. If the team wants to retain support in brutal economic times, their performance Thursday afternoon is not going to help.
The Cleveland Indians crushed the richest team in baseball 10-2.
Popular in the Community