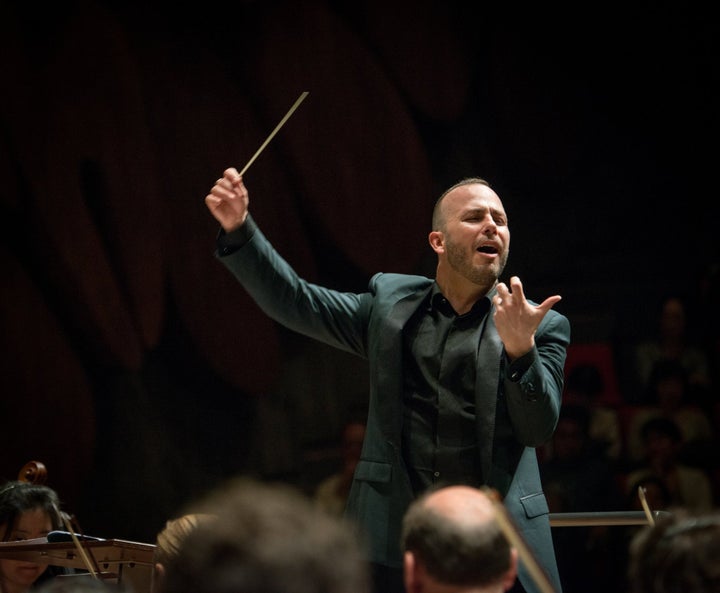 Philadelphia Orchestra conductor Yannick Nézet-Séguin has an affinity to composer Anton Bruckner and is known for his interpretative command of the composer's symphonic music. He weighed in mightily on Bruckner's 8th on November 11 in Verizon Hall. You get why this four movement 80+ minute work has been dubbed The Apocalyptic, but Nezet-Seguin detailed its less sonic dimensions with equal clarity and depth.
Before the high drama of Bruckner, a pared down orchestra performed Bach's Violin Concerto No 2, with concertmaster David Kim as soloist. Kim's rich tone and technical artistry, leading the other players in thrilling tempos and textures that are vividly baroque. Among the outstanding fellow soloists Davyd Booth the epitome of crystal lightness on the harpsichord.
The full orchestra and then some filled the stage for Bruckner's opus, with its meandering structure, as noted in the program by Paul Horsley, which the composer's critics at the time viewed as his disastrous attempts at Beethoven and Wagnerian symphonic grandeur. The work has since been acknowledged for its structural innovations, and Bruckner's musical adventurism and prescience.
Bruckner premiered the work in 1887, and was pressed into edits by colleague Josef Schalk; Robert Haas, head of the Bruckner Society, restored manuscript that Nézet-Séguin conducts.
It's not surprising that Brahms, detested the work (as reported in the excellent program notes by Paul Horsley) it is so adventurous than the standard late 19th century romanticism. It is ironic that both composers had self-doubts about their abilities with symphonic form. And Brahms' so much more conventional by comparison to Bruckner.
In this performance the 1st movement (Allegro moderato) the orchestra seemed a bit tight, but this is the entrance to a raucous musical jungle. By the Scherzo this orchestra is on fire unlocking its gushing musicality. Yannick particularly skilled at detailing the Bruckner's orchestral rhythms and modernist aesthetic. The journeying, evocative Adagio third movement is perhaps most expressive of Nézet-Séguin interpretive skill with large symphonic works.
The Eighth is another opportunity for Nézet-Séguin to fully utilize the orchestra's much strengthened horns with volume and blazing tone and still maintain sound depth perspective. The violins understated and the tempos, revelatory in key moments and there seemed to be infinite sonorous depth achieved by the lower strings.
Among the many outstanding players C.J. Chang and Kristen Johnson (violas), lead violinists David Kim and Juliette Kang; flutist Jeffrey Khaner, Jennifer Montone (French horn); Richard Woodhams (oboe), Carol Jantsch (tuba), cellists Hai-Ye Ni, Priscilla Lee, Yumi Kendall and Elizabeth Hainen leading the trio of harps.
Meanwhile, on the podium Nézet-Séguin is letting the music express through his physicality and this work seemed to be going through his body. He also conducted, impressively considering the length of the score, without the charts in front of him. And without a baton, which hints at more expressive interpretive adjustments in performance, but also can be risky with full orchestra, especially on the Verizon's wide stage, where the musicians on either end may see the tip of his fingers as they would a baton. Not an issue, by all accounts, in this performance.
for a full schedule of the Philadelphia Orchestra's 2017-18 season go to www.philorch.org
Popular in the Community