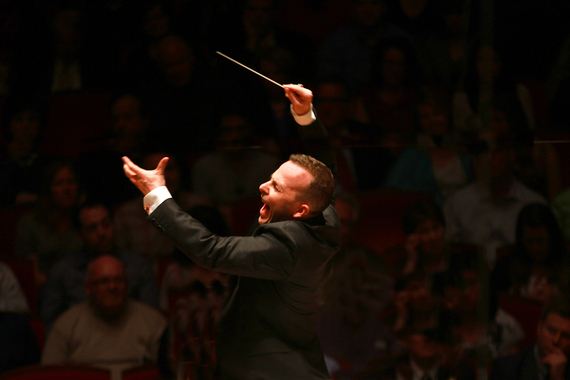 Philadelphia Orchestra conductor Nézet-Séguin (photo: DS / Philadelphia Orchestra)
With enthusiastic ease, Yannick Nézet-Séguin divides his time between musical directorships of the Philadelphia Orchestra, Rotterdam Philharmonic, Orchestre Métropolitain (Montreal) not to mention as principal guest conductor at the London Philharmonic and in his spare time, The Metropolitan Opera. Late September, he was in to prepare for his 3rd season here and took a rare break between rehearsal to talk about his third season in Philly.
Does the musical globetrotting ever overwhelm him? "It's actually really enriching," he said, while on rehearsal break in a small rehearsal room with a grand piano "Working with one orchestra seems to help me solves things for the others. To work so much in Canada and Europe I feel makes me a better conductor here."
Days before, at the invitation of the Global Sustainable Development Foundation, Nézet-Séguin lead an ensemble of Philadelphia Orchestra musicians and a chorale from the Philadelphia Singers performing the US premiere of composer Wang Ning's "Ode to Humanity" at the 69th Session of the UN General Assembly. It echoed the impact of the Fab Phil's expansive Asian tour earlier this year that reached remote regions in China as well as major cities there and in Japan. It was another leg of the orchestra's historic ongoing musical-cultural exchange between the US and China.
Nézet-Séguin said that the tour and the event at the UN were all part of the same vision musical and otherwise "When I was there with them and saw how eager audiences were for the music and to connect with the musicians, but that the tours meant much more than just performing concerts...At the UN, I thought it was an opportunity to show the world what we are doing. We are inspired by music from different culture, but even more its power to break down barriers. "

A few days after the UN appearance, Yannick was on the podium in Philly with superstar pianist Lang Lang, who studied at the Curtis Institute in Philadelphia. Lang Lang was knocking the house down with his entrancing keyboard virtuosity playing Mozart's Piano Concerto no. 17. After his performance, the orchestra followed suit with Strauss' Alpine Symphony as the opening work of the season long 40/40 Project, orchestral works that for the most part, haven't been performed by the orchestra for 40 years. And a way to celebrate the always buff looking maestro's 40th birthday.
Widely acknowledged for his interpretive skills of great orchestral works and depending on who you ask in Philly, he is a Bruckner or Schumann specialist, but to others it's Mahler or Tchaikovsky. Nézet-Séguin has shrewdly programmed much classical repertory that historically has been connected to the Philadelphia Orchestra's storied 'sound.' He is also an aggressive proponent of classical orchestras doing work from living composers. The 40/40 Project is part of that. In programming. " but he lends his own taste too "because I can't help it," he jokes, but guided by "what is really good for the orchestra to make them stronger and better. So that we keep evolving together."
He is further looking to 'erase' the long held conventions of certain works for classical orchestras of selected repertoire for subscription audiences, for instance, that leads to a staid play list. "All orchestras should embrace every repertoire, when we play Bach, Mozart and Haydn, we play better on Mahler and Strauss. When we play new music and play jazz, we realize how the musical progression works and how it is all interconnected."
In China, the orchestra performed Tan Dun's Nu Shu: The Secret Songs of Women, that premiered in Philadelphia last fall, in anticipation of the China tour. It is ostensibly a harp concerto, but is a film multi-media concept that tells the story of a secret ritualistic language that was passed between generations of women, which was banned by the government decades ago. Tan Dun was able to honor them by composing a piece working with the last generation of women still knew its rituals.
Nézet-Séguin said the composer provided him with an important musical work but also "essential background about the ritual aspects" and effects of the composition. "If we hadn't had that essential background, it may have sounded wrong in my just my hands," he explained. "The performances there were very moving, we could feel how moved the audience was at hearing this music. we knew how important this was," he recounts.
Working with living composers to fully realize a new classical composition is invaluable. "You can touch the essence of why something was written. It inspires us to research with that same approach to Beethoven, Brahms, Schumann and realize the intent of the composer."
To building cross-over audiences for orchestra, Yannick has included multi-media concerts, with varying success. For this season, he looked for something special to cap things off and his artistic team suggested Leonard Bernstein's controversial 1971 MASS: A Theater Piece for Singers, Players and Dancers that contemplates text from different religions.
The orchestra has most recently sold-out performances of the timeless requiems by Bach, Mahler, Brahms and others and Yannick was looking for a way to continue that series, "without it being called a Requiem. And we were searching for a way to getting closer to Bernstein's music. He has ties with the Curtis Institute of Music and I'm very attracted to his music in general. And we were searching for a community element. I think the controversy at the time it was composed was more because it was visionary," he said.
Nézet-Séguin will follow up in October conducting a program of Glazunov, Rachmaninoff and pianist Jean-Yves Thibaudet at the piano for theKhachaturian Piano Concerto. Two-weeks later the maestro kicks off the orchestra's Art of the Pipe Organ series with performances of classical and contemporary works for organ. This winter it's all Russian classics for the mid-winter St. Petersburg Festival with works by Tchaikovsky, Rachmaninoff and Shostakovitch, for starters and a new work by composer Anthony Turnage, that was inspired by jazz giant Miles Davis. .
REAL LIFE. REAL NEWS. REAL VOICES.
Help us tell more of the stories that matter from voices that too often remain unheard.