As opposition leaders took control of Ukrainian president Viktor Yanukovych's sprawling presidential palace Saturday, thousands of citizens were given unprecedented access to the compound's extraordinary treasures -- among them, a private zoo, golf course and spa.
Twitter has been abuzz with news of the president's luxurious estate, with foreign journalists and others sharing astonishing photographs of Yanukovych's property.
As opposition members stood guard, "thousands of citizens strolled through the grounds" of Yanukovych's compound -- known as "Mezhygirya" -- Saturday, "gazing in wonder at the mansions, zoo, golf course, enclosure for rare pheasants and other luxuries, set in a birch forest on a bluff soaring above the Dnepr River," the New York Times reports.
According to a fascinating 2012 post by Sergii Leshchenko, deputy editor-in-chief of Ukrainska Pravda, on the website openDemocracy, the "sheer scale" of Yanukovych's compound is "mindboggling."
It reportedly sits on 340 acres of land and includes an eighteen-hole golf course (which allegedly was built at a cost of $2 to 3 million), a tennis court, bowling alley, underground shooting range and private zoo that has been home to such exotic creatures as kangaroos and ostriches.
According to Leshchenko, who has questioned how Yanukovych could afford such excesses with his limited presidential salary, more than $9 million was spent on the fittings for his palace. This, he said, included a chandelier that allegedly cost $100,000.
Mezhygirya is "a symbol of the president's inappropriate desire for luxury, the unknown source of his wealth and the desire to hide it all behind dummy firms," Leshchenko told the AP in 2012.
However, as the New York Times reports, Ukraine's Parliament has declared Yanukovych "unable to carry out his duties and a set a date of May 25 to elect his replacement."
Protesters have welcomed the news.
Update; 3:30 p.m. -- An earlier version of this post claimed that a glittering golden toilet had been found on President Yanukovych's property.
However, despite tweets that claimed the toilet had indeed been found in the palace, it has emerged that the photo is, in fact, a hoax.
Support HuffPost
The Stakes Have Never Been Higher
Related
Before You Go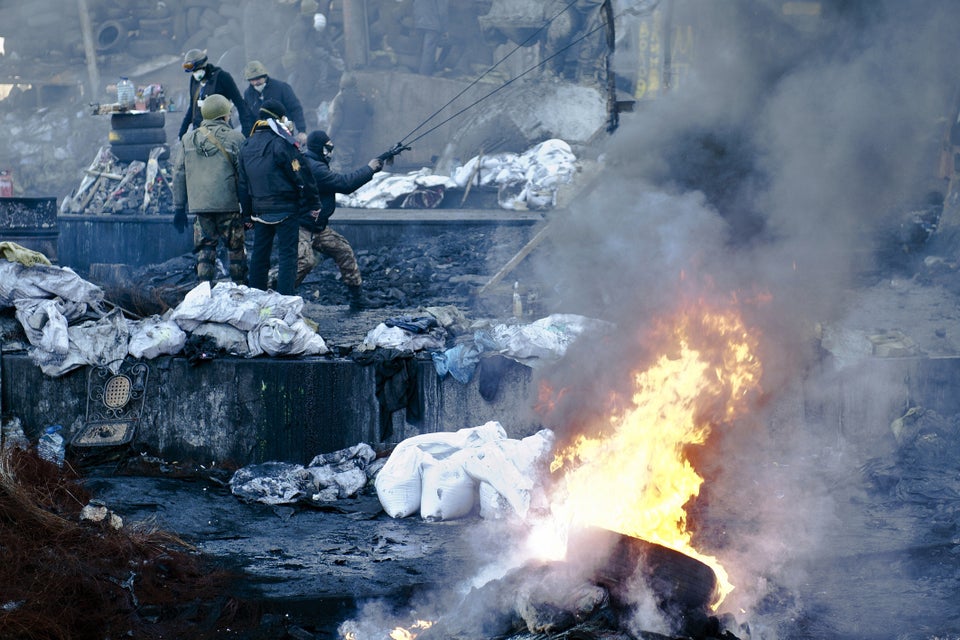 Ukraine's Protests Reignite
Popular in the Community